Dr. Peter J. Deckers Employee Appreciation Award
The Dr. Peter J. Deckers Employee Appreciation Award recognizes one outstanding employee, annually, who consistently demonstrates commitment and passion, strong leadership, exemplary professional skills and commendable personal attributes all in support of the UConn Health mission. This is among the highest honors awarded to UConn Health employees.
Congratulations to Jim Behme, Simulation Center Coordinator, our 2019 Dr. Peter J. Deckers Employee Appreciation Award winner! View the photo gallery.
Nomination Period and Process
Each Senior Leader, from UConn Health's five divisions including Institutional Support, UConn John Dempsey Hospital, School of Dental Medicine, School of Medicine, and UConn Medical Group, will submit one nominee.
The 2019 nominations closed.
Eligibility
Any UConn Health employee that consistently demonstrates the stated criteria. Prior award nominees are eligible for nomination. Prior recipients of this award are not eligible to receive the award.
Award
Through the generosity of Dr. Deckers, via the UConn Foundation, the awardee receives four lower field level box seat tickets to a Red Sox game and a certificate. In addition, his/her name is inscribed on a perpetual plaque.
Ceremony
The Dr. Peter J. Deckers award is celebrated annually at a ceremony. Each nominee is invited to attend this special event. The award is presented by the Chief Executive Officer, UConn Health, Executive Vice President for Health Affairs. The 2019 award ceremony will be held on Monday, November 25 at 3 p.m. in the Academic Rotunda.
Guidelines
Use the information below to help write a persuasive nomination. The goal of the nomination is quality, not quantity.
Be specific. Provide the selection committee specific information on how the individual's achievements have made a positive impact on the UConn Health mission. Ensure that the nominee's contributions match the specific award criteria. Address all parts of each question completely to assure the committee has all the information it needs to know about your nominee.
Show measureable results. Monetary savings, a new service, patients receiving care/services in a timelier and/or professional manner, staff morale increasing, students being better prepared. Clearly paint the picture of why someone deserves to be recognized.
Keep it brief. Write short, concise sentences and give specific detail. Avoid giving work history or job descriptions, unless it directly relates to the award criteria.
Say it like it is. Don't worry about crafting beautiful paragraphs. Feel free to use bulleted lists when appropriate. Be sure to explain the technical details in such a way that non-experts will understand, and spell out/define any unfamiliar acronyms.
Get support. Share the writing of the nomination with individuals/colleagues from your division. Ask co-workers, supervisors, students, and/or faculty, who know or work with the nominee, to submit a detailed statement in support of your nomination.
Avoid jargon. While you are familiar with your nominee's work, more than likely the members of the selection committee won't be. Keep that in mind as you describe the nature and quality of the contributions and accomplishments.
Cite multiple, specific examples. Use descriptive language and then give a situation or example that shows the attribute. Include more than one example of how the individual went above and beyond the daily responsibilities of the job.
Communicate sincerity and personal commitment. Show that you personally value the contributions of your nominee.
Selection Process and Committee
Selection Process
Each year a committee is chosen to review nominations and select the award recipient. Every effort is made to create a diverse group that represents the six division across UConn Health. Committee members are not permitted to submit nominations and are not eligible to receive an award during the time they serve.
The committee evaluates the nominations based on the award criteria and the corresponding examples. Each selection committee member rates the nomination using a 1-5 scale with 1 indicating that the response does not address the criterion to 5 indicating that the response exceeds the criterion. The average is calculated from each nomination. If there is a tie, additional consideration is given to a PAW or Husky Hero Award recipient. Then the committee then meets to make its final selections.
Selection Committee
Steve Jacobs, Director, Environmental Health & Research Safety, Research Integrity & Compliance
Deb Kaufman, Executive Staff Assistant, Office of Health Affairs
Ingrid Napolitano, IT Project Manager, Strategic Projects and Clinical Systems
Mike Nicholson, Clinical Program Coordinator, Clinical Effectiveness
Robin Perregaux, Director Organizational Staff Development & Support Services, Human Resources
Hongjie Wang, Head, Information Services, Lyman Maynard Stowe Library
Alexis Crean, Committee Facilitator/Contact, Human Resources
PETER J. DECKERS, M.D.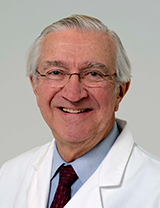 The UConn Health Employee Appreciation Award is named in honor of Peter J. Deckers, M.D., Executive Director of Perioperative Services, Dean Emeritus and former Executive Vice President for Health Affairs