Patient Support Service and Palliative Care
"A service dedicated to helping clinicians care for patients with cancer and blood disorders, reduce the severity of their patients' symptoms, and improve their quality of life." 
Oncology Supportive Care Service
Supportive Care is patient-centered and family-centered care for individuals living with serious illness. It can be provided at any stage in a serious or chronic illness. The goal is to prevent and relieve suffering and to support the best possible quality of life for patients and their families. It is meant to supplement, not replace, the treatment plan decided on by the physician and patient that could include chemotherapy, radiation, or surgery. It is complementary to the patient's treatment goals.
The Supportive Care Team takes on a collaborative, interdisciplinary approach which includes doctors, nurse practitioners, social workers, chaplains, registered dietitians, pharmacists, nurse and community navigators, and licensed mental health professionals. This team embraces patients' values, goals, and wishes when considering disease management and burden. Significant attention is given to disease management options, relief from pain, and other distressing symptoms.
The Supportive Care Nurse Practitioner serves as a key member of the Outpatient Oncology team and is responsible for providing consultative evaluations of pain and non-pain symptoms, psychosocial distress, and goals of care discussions caused by and related to the patient's cancer diagnosis.
The mission of the Supportive Care Clinic is to promote an interdisciplinary and comprehensive care plan that addresses the physical, psychological, and spiritual care needs of our patients. It will help patients live better and often longer in combination with their other medical care.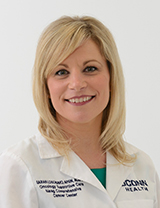 Sarah Loschiavo, DNP, APRN, FNP-C, ACHPN
Nurse Practitioner
Program Director
Email: loschiavo@uchc.edu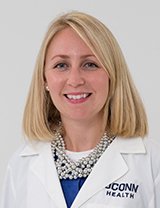 Ashley Aust, B.S.N., R.N.
Gynecologic Oncology and Genitourinary
Phone: 860-505-9104
Email: aust@uchc.edu
Fax: 860-676-3442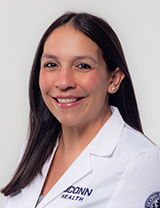 Tori-Lynn Pacelle, B.S.N., R.N.
Bile Duct, Brain, Colon, Endocrine Neoplasia, Gall Bladder, Head and Neck, Liver, Pancreatic, Rectal, Gastric
Phone: 860-466-9760
Email: pacelle@uchc.edu
Fax: 860-676-3434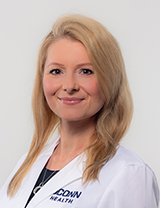 Meg Savage, B.S.N., R.N.
Leukemia, Lymphoma, Multiple Myeloma
Phone: 860-308-4483
Email: savage@uchc.edu
Fax: 860-676-3434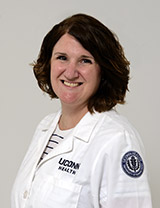 Wendy Thibodeau, M.S.N., R.N., O.C.N.
Lung, Skin, Sarcoma
Phone: 860-692-8455
Email: wthibodeau@uchc.edu
Fax: 860-676-3434
Cancer Fatigue Interdisciplinary Clinic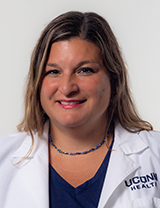 Margaret Moore, LCSW
Clinical Social Worker