The Payroll Unit provides timely and accurate payments to all UConn Health employees by following guidelines, policies and procedures set forth by UConn Health, the State of Connecticut and the Federal Government. In addition, it is responsible for processing employee payments on a bi-weekly basis, including regular pay, lump-sum payments for separating employees, workers' compensation checks, other pay due employees, changes to pay such as tax status, direct deposit, and other employee pay deductions.
COVID-19 Timecard Guidance
It is important that UConn Health track several categories of time on employee timecards due to the COVID-19 pandemic. Please review the document below to determine the paycodes and comments you should use on the timecard.
Paycheck and Accrual Information
Paycheck information is housed in two separate areas. To view paycheck stubs or pay advices for direct deposit, please visit ePay provided by the Connecticut Core-CT web portal. It is recommended that employees review ePay instructions prior to logging in for the first time. The Core-CT system is available Monday through Sunday, 4 a.m. to 8 p.m., non-pay week Thursday, 4 a.m. to 2 p.m.
For information on hours worked, hourly rates and accruals, please visit Self Service Banner.
---
KRONOS (UKG) Time & Attendance System
Version 8
---
Calendars and Schedules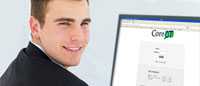 ePay: Digital Pay Statements
UConn Health employees have access to a paperless paycheck information system known as 'ePay'. The last printing of direct deposit advices was July 12, 2013.
Access to ePay is available to all employees through the state's Core-CT system. Core-CT is the State of Connecticut's human resources, payroll and financial system.
Individuals without direct deposit will continue to receive physical paychecks and will also be able to access their pay stub information online through ePay.
Physical paychecks are mailed to the employee's home address. All employees are urged to consider the benefits of direct deposit.
Core-CT Availability
Monday to Sunday
4 a.m. to 8 p.m.
Non-Pay Week Thursday
4 a.m. to 2 p.m.