The Department of Human Resources is charged with processing and facilitating requests for employee ADA workplace accommodations. If you believe you may need an accommodation, or if you are a supervisor or manager who has been presented with a request for an accommodation, please review the policy and process below and complete the forms below if you are an employee requesting an ADA accommodation.
Policy
Employee Accommodations Process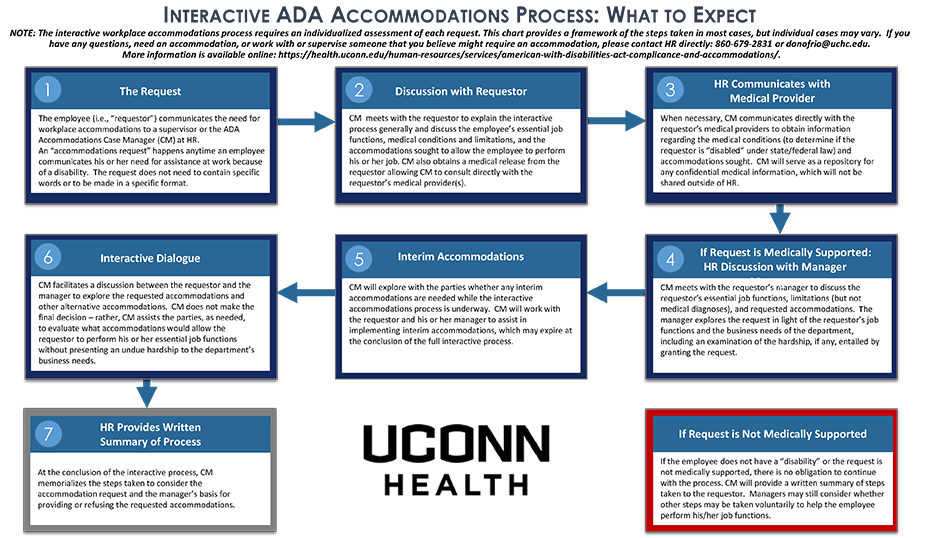 Employee Accommodation Forms
University Resources
UConn Health Committee on Access and Accommodations
UConn Health is committed to achieving equal educational, employment and health care opportunities and full participation for all members of its community, including persons with disabilities. The UConn Health Committee on Access and Accommodation is focused on assuring UConn Health is positioned to meet this goal. The Committee's primary function is to promote ongoing assessment and awareness of goals, needs, and requirements related to access and accommodation at UConn Health. It considers a range of compliance issues with ADA and other legislation related to disabilities and accommodation. It serves to facilitate coordination across all of the units and offices that have a role in assuring appropriate access and accommodation in all UConn Health services and activities. It also serves to continuously improve UConn Health's performance by identifying best practices and developing approaches to implementing them, and devising and facilitating implementation of solutions to problems.
Discrimination Complaint Procedures
The Office of Institutional Equity (OIE) encourages all members of the University community to partner in ensuring an environment free of discrimination at all University-related activities and in the working and learning environment. The University forbids all forms of disability discrimination, including the failure to provide reasonable accommodations and discrimination or harassment based on physical or mental disabilities. To that end, incidents of discrimination or discriminatory harassment (including disability discrimination, and failure to provide a reasonable accommodation) by University employees should be reported to OIE at 860-679-3563 or via email at equity@uconn.edu, or visit the OIE Investigations website.
ADA Accommodations Case Manager
Please contact the Employee Resource Center at 860-679-2426 if you have any questions regarding ADA workplace accommodations.
ADA Compliance

Laws and Enforcement Agencies
Resources
Job Accommodation Network (JAN)
The Job Accommodation Network (JAN) is the leading source of free, expert, and confidential guidance on workplace accommodations and disability employment issues provided by the U.S. Department of Labor's Office of Disability Employment Policy (ODEP).
Association on Higher Education and Disability (AHEAD)
Through progressive, visionary leadership, grounded in social justice principles, AHEAD: develops, shares, and provides relevant knowledge; strategically engages in actions that enhance higher educational professionals' effectiveness; and advocates on behalf of its membership, their institutions, their work, and those they serve ensuring full, effective participation by individuals with disabilities in every aspect of the postsecondary experience.
Student Accommodation Requests
UConn Health seeks to ensure students with disabilities have the same access to programs, opportunities and activities as all others. If you are a UConn Health student needing an accommodation, please contact Bryanna Anderson, Associate Director for UConn's Center for Students with Disabilities at bryanna.anderson@uconn.edu or 860-486-2020.