Congratulations to the 120 outstanding UConn Health staff members from across the organization selected as our 2020 Individual and TEAM PAWS Awardees. We celebrate individuals for consistently performing above and beyond the job's expectations, exhibiting being Part of a team, an Awesome attitude, a Wonderful Work Ethic, and Superior Service.
Although we will not be gathering this year, the UConn Health Community is celebrating with our honorees, in spirit and online, with videos that will run in October and November during our UConn Health recognition season. Again, congratulations to this year's awardees!
Congratulations to this week's (11/12) highlighted awardees: Pam Angelillo, Ann Marie Belanger, Robin Bibeault, Lisa Chagnon, Kim Degumbia, Lixilia Escotto, Blagoje Filipovic, Justin Fraychak, Doug Fuller, Dawn Humphries, Xiomara Martinez, Nancy McLellan
PAWS 2020 Videos
10/15 PAWS Awardees: Deb Burgyn, Sara Costa, Amy Crose, Emy Flores, Katherine Girard, Lori Grizzi, Jeanne Hurst, Melisa Jackson, Jennifer Kozikowski, Amy Lawson, and Harmony Lepeika.
10/22 PAWS Awardees: Gregory Linnhoff, Eileen Lopez, Patrycja Luke, Madeline Medina, Pam Miles, Christopher Napolitano, Alison Pohl, Rob Sutton, and Marie Ziello.
11/5 PAWS TEAM Awardees: Center for Perioperative Medicine Team, GI Team, Graduate Medical Education Team, Labor and Delivery - Water Main Break Team, Office of Logistics Management Property Team, Pohl and Wallace Team, and the Stroke Alert Responding Team
11/12 PAWS Awardees: Pam Angelillo, Ann Marie Belanger, Robin Bibeault, Lisa Chagnon, Kim Degumbia, Lixilia Escotto, Blagoje Filipovic, Justin Fraychak, Doug Fuller, Dawn Humphries, Xiomara Martinez, Nancy McLellan
PAWS Spring 2020 Awardees
Deb Burgyn, Director Ambulatory Services – Dermatology
Submitted by Christina Iwanik

Deb is an exceptional individual and employee here at UConn Health. She is the Nursing Director here in Dermatology. Not only does she keep her team running like a well oiled machine (nurses, medical assistants, and clinical coordinators), she also is a huge part 'OF' the team and never believes that any task is beneath her. She is always pitching in when needed, is ahead of the game, knows how to trouble shoot when needed, has action plans in place and will always give credit where credit is due. She always makes individuals feel appreciated and takes the time during daily huddles to give 'shout outs' and recognition to individuals when appropriate and deserving of it. Such a wonderful outlook on how the clinic should be run and how everyone should respect each other. Deb makes sure that everyone knows this and by doing this herself, she is a great role model.
Deb's attitude is bar none! I have seen her several times put together lunch time events for Medical Assistants Day, Nurses Day and Histotechnician Day, Administrative Support Day, where she (using funds out of her own pocket) thanks them for their hard work and dedication to the department. - She is always trying to keep the department 'up-beat' and comes up with new ideas for the department and staff. Very few individuals have this enthusiasm and drive to do this. While she is fair and reasonable with staff, she is always compassionate when the need arises. She always believes in having a staff that enjoys working here. While sometimes this is not possible, she does make it a point to keep her attitude positive so as to be a reflection to others.
Deb is here from 7:30am till 7:30pm, Monday thru Friday. She puts in 12 hours days, 5 days straight and is always answering her work cell in the evenings and weekends. She does not go home until she feels her day is done. She has one of the strongest work ethics here at UConn Health. Deb is a person who takes her position seriously and is always looking out for not only her staff, but the patients and their satisfaction. On occasion, I have heard her speak of going home 'early', only to find her sitting at her desk when I'm going home and her telling me she has to stay and finish something. She is truly a role model for work ethics and one that goes above and beyond what is expected of her.
Deb has been involved in several special projects throughout the past few years since her last PAWS award. She was crucial in making sure the EPIC roll out went smoothly when UConn Health rolled it out. She has taken on several clinical projects within dermatology and dermatopathology that assure that our clinic and the lab is productive and avoiding any redundancies. She is always thinking ahead and making sure that key players are involved for each project. Recently, our department was part of the specialty pharmacy roll out and Deb was one of the individuals who made sure this went smoothly. Her superior service far surpasses what some might thing superior service is. She takes the time to make sure policies and procedures are put into place that allow the patient experience to be positive, their clinical experience to be positive and also makes sure that the staff are on board with this superior service as well. Overall, Deb is an amazing individual and she does not get enough credit for her time and dedication here at UConn Health. She deserves another PAWS award and I recommend her without any reserve.
Sara Costa, Computed Tomography (CT) Tech2, Radiology
Submitted by Lauren Scott
Sara Costa has been with UConn Health since 2016 as a Full-Time CT Scan Technologist. Sara is a self-motivated team member and an absolute pleasure to work with. She will frequently take initiative to identify areas of improvement within our modality and will lead the way in addressing those issues. Sara also mentors other CT Technologists within the department, she assists with teaching other technologists tips and tricks with the various software's that we use. She is an Epic Super User and has taught many of our technologists how to thoroughly use EPIC. She also actively seeks different perspectives and creative solutions from her teammates, and is continuously experimenting with the assistance of radiologists to improve our CT Scan protocols and reconstructions.
She provides outstanding patient care and produces work of exceptional quality. Sara takes the time to fully understand the ins and outs of our CT Scan protocols and procedures and displays keen attention to detail. Everyday when Sara comes into work, she walks in with a motivated, goal-oriented attitude. Sara always does what is best for the patient's, she listens to their symptoms and makes sure their symptoms correlate to the CT Scan that has been ordered for them. She continuously keeps an optimistic point of view as well as a level head when our patient load increases in volume. She manages the workflow of the modality when need be and is looked to as a leader. Sara is also a member of the Safety Committee and actively attends meetings.
Sara is a highly dependable employee, she does not abuse sick time, she shows up everyday on time, and ready to provide excellent patient care. She is thorough with her work and makes sure that she produces exceptional images. She manages her time well and coordinates inpatients/emergency room patients to maximize patient output, and decrease patient wait time. Sara also reviews her images very closely to check for any critical findings before letting patient's leave the department. On two occasions she has found incidental pulmonary embolisms on outpatients who were in the department for a routine CT Chest/Abdomen/Pelvis. These patients were then treated same day in the emergency room.
Sara frequently goes above and beyond in her efforts to ensure consistency and generate quality CT Scan images that exceed expectations. She actively seeks feedback and uses it to enhance her work. During a recent stroke alert, Sara scanned the non contrast head CT and noticed a massive hemorrhage. She contacted the covering radiologist immediately to make the radiologist aware and within the hour the patient was in the operating room being treated. Her efforts to alert radiologists and covering physicians of possible critical findings allows the patients to receive care as soon as possible. Sara takes pride in what she does and we take pride in having her as part of our wonderful CT Scan Team.
Amy Crose, Staff Nurse CN2, OB/GYN
Submitted by Carrie Ferrindino
Amy is an OBGYN nurse who has worked at UConn for many years, she is a great team player, has a wonderful work ethic, and provides superior care to all of the patients she touches. She has always had an interest and place in her heart in bereavement and helping families mourn the loss of our tiniest of patients.
The majority of the time L&D and OBGYN is a happy place where families bring life into the world. On rare occasions we are faced with moments of sadness where families experience unexpected loss. As nurses, we are often challenged with balancing our emotions that we are feeling while trying to meet the needs of the grieving family in our care. This week, we had an unfortunate loss of a multiple birth and what I discovered during this very sad time is that Amy is incredibly gifted as a nurse and caregiver. She did what no other nurse thought of doing, and went above and beyond for this grieving family. She supported this family and brought an experience to them that they may not have ever been able to capture without her. It is because of Amy's selfless act of kindness, her dedication to her parents and their babies that were never able to breathe life into this world, and because she provides a service to all patients that every employee at UConn should emulate, I would like to nominate Amy Crose for a PAWS award.
Emy Flores, Administrative Program Assistant 2, General Surgery
Submitted Anonymously
Emy continuously makes things happen. Anytime she is faced with a challenge she meets it head on and doesn't hesitate to find a solution. She never pushes a problem off to one of her peers, even when it's not under her domain. She's not afraid to learn new things and meets issues with a "can-do" attitude.
She works in a difficult environment where not every one can participate as part of the team. She doesn't let that deter her positive attitude or influence her willingness to help, anyone and everyone. Emy has a support role in her department. She considers her role to support anyone and everyone and is not limited to just her department or her division. She's always there willing to stay late, come in early or even help a patient with directions. She's ready and willing to do it all.
Katherine Girard, Office Assistant, Patient Access
Submitted by Susan Ganci
Katherine works in registration dept. She will step up and help in anyway she is needed. You can always go to her will a registration or insurance problem and she will work at it till she gets the answer. She is always ready and willing to help anyone, anytime without hesitation. She has such a pleasant disposition and a smile. It is so nice to work with someone that takes pride in her work and it shows. Thank you Katherine in making my job a little easier knowing you are there to help anytime. She doesn't have to go as far as she does finding the answer to insurance problems but she will act like a detective, and investigate till she finds the correct answer. You know when she has the answer it is the correct one.
For her consistent positive attitude, willingness to help anyone and everyone at anytime with the highest professionalism, Katherine is worthy of this award.
Lori, Gizzi, Paralegal Specialist, Office of the General Counsel
Submitted by Alyssa Cunningham
Lori is always looking for ways to support all members of the Office of the General Counsel. No job is too big or too small for Lori, and she is always willing to lend a hand (with a smile). She takes on complex projects and is always up for a new challenge. For example, in addition to her usual litigation work, Lori has now begun supporting our risk management program. She also pitched in on a large document review project when the responsible department did not have sufficient resources to handle the work internally. Lori has a range of valuable skills and always offers to put them to work in new ways.
Lori always has her eye on what is best for UConn Health. She has a can-do attitude and is a friendly, upbeat presence in the office. She is determined to find solutions to problems and doesn't back down from a challenge even if it results in a lot more work for her! Lori's work is consistently polished and thorough. She is thoughtful about the projects assigned to her and asks questions that often times the lawyers did not think of. She maintains a keen awareness of deadlines, and her work is always timely. She is always thinking of better ways to do things and cheerfully takes on any extra work necessary to carry those plans out.
Recently, Lori was instrumental in locating patient records that had been misplaced, but which the patient needed for his continued health care. Personnel from many different UConn Health departments searched extensively, but it was Lori's tenacious problem-solving attitude that ultimately led to discovery of the records. As a direct result of Lori's efforts, the patient received the records he needed. As another example, Lori recently stepped in to help on a time-sensitive, high risk matter when the responsible department was undergoing a management and staff transition and did not have sufficient resources to handle the project within the required time frame. The specific work required was new to Lori, but she enthusiastically embraced the challenge and completed the work even before the (fast approaching) deadline. She remained calm and organized, delivering her usual top notch quality work product notwithstanding the time pressure and a need to master new skills.
Jeanne Hurst, Ophthalmology Technician, UMG-Surgery – Ophthalmology
Submitted by Jeanine Suchecki, MD
I would like to recognize Jeanne Hurst for her consistent and exemplary work ethic, dependability, team-oriented approach, and excellent patient care. Patients and colleagues have praised her for her professional, accurate, efficient and caring work. She understands the goals of the eye service and works hard to help achieve them.
Not only is she focused on providing the best possible care for patients with a thorough, kind, and efficient approach when she brings them in for assessment and imaging prior to the physician visit, she makes sure that she is anticipating the physician's needs and monitoring patient flow to find and take care of any issues. When not with patients directly she is looking ahead at upcoming schedules to identify any possible problems; making sure exam rooms are stocked and ready, and she also ensures that any incoming messages from patients are handled quickly and accurately. We rely on her to share her expertise with her new colleagues, educating them in our work flow, imaging, and electronic health record documentation. When we have been short staffed, she has stepped in to help organize the teams for the day and make sure that the day runs as smoothly as possible. She follows through on everything she does, works seamlessly with her physician and team, and her work is always done with the highest level of effort and excellence, every day. We truly appreciate Jeanne and thank her for her outstanding help in making us a team of excellence!
Melisa Jackson, Clinic Office Assistant, UMG-IMA West Hartford
Submitted by Gladys Galindo
Melisa is a team player, very helpful, patient and easy going. Always willing to help, and train. She never gets flustered, and is easy going. Melisa displays a very calm attitude. Melisa Jackson is always very helpful, takes charge when she needs to. She was very helpful when we went LIVE with EPIC and is a great super user.
Her positive attitude, willingness to help, and lead when needed, using her superior skills makes her a great PAWS candidate.
Jennifer Kozikowski, Staff Nurse CN2 – Outpatient, Radiation Oncology Nursing
Submitted by Beth Pisarsky
Jenn is a team player who collaborates constructively with her peers when working in the Cancer Center infusion room and Adult Ambulatory Care Unit. Jenn also demonstrates a high level of autonomy when working in radiation oncology. Wherever Jenn works, she always provides high quality, patient-centered care to promote positive patient outcomes. She shows genuine empathy for her patients and works to accommodate their needs. Jenn always maintains a positive attitude. She demonstrates professional behaviors even when involved in stressful situations and brings a calming presence to all situations.
Jenn consistently goes above and beyond to meet patient care needs. She has excellent nursing judgment and utilizes appropriate techniques to mediate challenging situations while advocating for her patients. Jenn utilizes professional resources and the chain of command appropriately to maintain safety for her patients and co-workers. Recently there was a complex patient seen in radiation oncology with multiple co-morbidities and a complicated psychosocial situation. Jenn used therapeutic communication to de-escalate this aggressive and agitated patient. Jenn contacted the appropriate management personnel to keep all parties informed about a potential situation. She reached out for professional support to collaborate with social work, the UConn police department, the office of patient experience, her management team, and the provider to meet the patient's needs while mediating the situation to prevent a code strong. Jenn was a calming presence for the patient. The patient left radiation oncology with a smile on her face after working with Jenn.
Amy Lawson, Employee Resource Specialist, Human Resources
Submitted by Denace Boyington
Amy is not part of my department and is not responsible for being a subject matter expert in my discipline. In her role, she answers incoming inquiries from all UConn Health employees in human resource matters big and small. She has worked collaboratively with my department at a level she is not expected to. She does it because she understands the value of teamwork, and strives to provide a top tier, white glove service to all UConn Health employees.
Amy can always find the humor in most situations, and has the ability to diffuse situations because of it. If an employee is frustrated she often can calm them down, whether it is with a joke or an understanding tone of voice. Amy deals with many upset people every day- employees who pledge to follow our code of conduct, but sometimes forget in the heat of the moment- and as a result she has built a resilience that allows her to smile through it all. Benefits would not be able to function if Amy quit her job without notice- she is that integral to her department. Not only does Amy provide white glove service to all employees, she is constantly asking questions to become better at her job. She constantly ask questions to gain a better understanding- she is not content with knowing a little bit of everything; she wants to know everything about everything. Due to this, she is on her way to being a subject matter expert in multiple disciplines across HR. Amy has a drive within her that is important for our organization to succeed.
Amy has sat down 1:1 with employees who are dying or retiring due to severe disabilities as part of her job. She walks them through how to complete paperwork, get power of attorneys signed off on, update beneficiaries- all the while knowing that the employee in front of her may not be alive much longer. She is faced with dying employees, disabled employees, retiring employees, new parents... employees who are in different stages of life, and is able to handle them with the grace and professionalism that we expect of our own medical staff. She is one of the faces of Human Resources, and I am proud to be her co-worker.
Harmony Lipeika, Business System Analyst, Strategic Projects & Clinical Systems
Submitted by Linda Manzelli and Kathy Noel
Linda States: I'd just like to formally recognize Harmony for all the diligence, hard work and support that she has shown to us in the Sleep Disorders Center during the last few months. It has been quite a journey to iron out all the bugs in getting Sleep study reports from Persante into EPIC. She persisted, took suggestions from Dr. Salmon and our staff and worked out what seems to be a seamless transition into EPIC for all our reporting.
Harmony never seemed to be phased by all the barriers to getting the job done. She persisted, found the best way to integrate reporting with patient safety, physician preferences and staff ease of use at the core. Again, she was diligent and never let this disappear from her radar, knowing how important it was to end users.
Kathy Notes: Over the course of the Epic project we have heard names of analysts but have not had direct exposure to all of them. Harmony Lapeika was a name I had heard but our paths did not cross until well after go-live. Sleep Study Results were not consistently filing to Epic. Providers were anxious as attempts to correct the problem over time were only partially successful. In an effort to finally get to the root cause, I had the pleasure of meeting Harmony who rolled up her sleeves, joined the team effort and was not going to rest until she could have 100% of these results filing. She partnered with analysts on the Epic team, and partnered with users in that department to spend many hours working with many on the team to learn every crumb of the workflow, introduce analysis and findings, and make suggestions to chip away at the problem. As she dug into every nuance of the user workflow, she was introduced to more and more complications amongst Cadence, Integration, and Ambulatory applications and their integration. One by one, she reviewed every patient, every encounter in Epic to learn exactly which results had filed (or not.) She painstakingly worked at each of these until she had a reason, a suggestion for resolution, and ultimately success rate of 99%. She spent countless hours on analysis and countless hours with users learning their workflows and suggesting modifications to result in final success! Harmony is a team player with drive to join together those needed to reach resolutions!
Harmony attacked all her work with perseverance and was inspiring to watch as she uncovered clues along the way and exemplified a positive and diligent approach as she found clues and expressed her findings in a transparent, user friendly way. Despite doors that may have appeared heavy along the way, or barriers of resource availability and time, she remained cheerful, steadfast in heading towards her goals. The IT team enjoyed working with her, the users were appreciative of all the time she spent LISTENING and her can-do attitude.
Each and every time I speak with Harmony, she is positive and willing to help - whatever it takes. The work may be drudgery at times - who wants to look at audit trails of hundreds of records to discern patterns?? - but she approaches tasks in keeping with our mission to deliver successful approaches/outcomes for our patients and our care teams. She is cheerful, eager, exhibits professionalism and works well with stakeholders and her team.
Polite inquiry to get to the heart of the matter sometimes requires steadfast dedication even when you may feel like you are interrupting people in the midst of their workday. Harmony knows what to ask, knows what to do with the information and results of her analysis and knows when to ask more questions. At the heart of this is her willingness to LEARN, to LISTEN, and to modify as needed. I have seen her deliver unpopular news in a professional transparent way and work together to drive to a positive outcome.
Gregory Linnhoff, Environmental Control Maintainer, Environmental Operations
Submitted by Cassandra King and Maria Clement
Greg displayed great team membership skills while working alongside a colleague of his. Smiling and communicating with his coworker as well as the surrounding staff. There are times when groups of employees have been observed working on the same project but not working together. Greg is quite the opposite of that. Greg delegated tasks to his co-worker and even included our own department staff in his process of trouble shooting and problem solving. Greg informed us each time he needed to step away from task and even why-he was very courteous.
Greg came in to Occupational Medicine wearing his uniform and a wide smile. He talked with all the staff, laughed with the staff and asked specific questions in relation to the issues that needed to be addressed in the patient exam rooms, testing room, Pixus room, waiting area, provider office and bathroom. Greg spent a good quality amount of time around us due to the complexity of the room issues and temperature problems. Example: One room registered at 54' F while another directly across registered at 98'! Greg saw that this would definitely be an ongoing issue and uncomfortable for any incoming patients. He voiced concern along with the department providers and staff. Greg never said one negative word or sentence the entire time he spent in our department. It did not matter if the issue was large or small; he was positive about it and determined to find a resolution. Greg made sure to check each room in the department individually and did a thorough inspection of all vents above and below. He made sure to keep track of fluctuating temperatures and brought all necessary tools to "get the job done". The entire time he was in the department, he made sure to keep us all informed of what he was doing an why. Greg also made sure it was ok to enter each exam room and that there were no patients in the rooms he needed to enter. (it may seem like a small gesture but many times people can be seen in medical settings, entering rooms without knocking or assuming they are empty). He made sure to respect confidentiality at all times.
The service he provided was beyond superior. The providers, staff and patients have struggled with unbearable and conflicting temperatures in the department for two years now. Within those two years, a few maintenance employees have tried to figure out the issue and why there were such extreme differences in temperatures i.e. one room would be so uncomfortably hot-patients would ask to leave while the next room would be so cold-patients could be seen shivering and staff's nail-beds turned purple. It almost felt like a lost cause because no-one could rectify the issue for two years. On this particular day; Greg came on the scene and was determined to fix the problem. He believed the staff when he was told it was intolerable at times. He experimented with thermostats and found that there was not a balanced air flow, un-calibrated thermostats and other issues. Greg took his time to not only fix the problem, but to explain to the staff what the root of the problem was. He informed us of the thermostats (3 separate ones) and to what rooms they each connected to. He calibrated machinery, adjusted temperatures and thermostats, opened up vents and took ceiling to floor ratios of diagnostic temperature gaging. When Greg left, we were all comfortable, the patients that were in the area were extremely grateful, his co-worker easily joined in to match Greg's contagious humor and we had a new confidence that we hadn't felt for the past two years. All the staff: COAs, MAs, APRN, RN and MDs including the present and I'm sure upcoming patients do and will continue to appreciate what he has done for us.
Eileen Lopez, Nurse Aide, OB/GYN
Submitted by Jenny Caroon
Eileen Lopez is a CNA on the OBGYN unit. Every single day that she comes into work, she has a smile on her face. She goes above and beyond every single day on the job. She is a bilingual employee and is always willing to be the official translator on our unit and off the unit. She knows what to do for our patients before the nurses can ask her to do something. She is ALWAYS busy doing something. If the postpartum side of the unit is settled down, then she goes to L&D to reset the OR and help out over there. As a charge nurse, I never have to ask Eileen to do anything. By the time I ask her to set up rooms or replenish linens, or whatever, she has already done the task. And Eileen is so friendly! We get a lot of compliments on her positive, helpful attitude. She has been a pleasure to work with for many years, and I cannot say enough wonderful things about her. She comes to work on time, does a fantastic job, and does it with a smile. She is extremely hardworking and I am grateful to have her on the OBGYN team. She deserves a PAWS award for her work ethic, her attention to detail, her willingness to help, her positive attitude, and her consistent performance on the job.
Eileen's awesome attitude is exemplary because she never complains! Eileen is always smiling on the job. She's been in this role for many years, and she does a fantastic job. Patients love her. She is helpful to both patients and staff and is always willing to lend a hand or go above and beyond to assist the staff. Her ability to be flexible and just go with what happens on a given day is such a helpful attitude. She is a great worker, translator, and staff member. Eileen comes to work on time and is always on task. She pays attention to the unit and its happenings consistently. One never has to ask her to do anything because she anticipates what is needed and does it without being asked. She is consistent in her work ethic--she is ALWAYS doing something on the unit--and on those rare occasions when everything is done, she is the first to ask if there is anything she can do to help out. Her work ethic is something that is not present in every staff member. She works hard ALL THE TIME, and is always happy to help out. She is reliable, valued by all the staff, and I cannot recall ever getting a complaint about her! Patients love her, as do the staff on OBGYN.
Eileen is responsible for her daily CNA tasks, but also is an official translator for UConn Health (English/Spanish). She makes herself available to assist patients who are Spanish speaking, which is invaluable on our unit. Her helpfulness and availability and willingness to act as a translator is amazing. One never feels frustrated or rushed when using her as a translator, and she is an excellent communicator. Additionally, Eileen has inventory duties on our unit. She is knowledgeable about our special order items and works hard to make sure we are stocked at all times. She works closely with our management team to ensure that our special orders are in stock as needed. Eileen has also welcomed the opportunity to undertake some new tasks that our manager, Carrie Ferrindino, has been looking into. Some of the nursing tasks on the Mother-Baby unit can be delegated to the CNAs, and Eileen has asked for training and been very welcoming of the new duties that she and the other CNAs on our unit will be doing. Every single day that she comes to work, Eileen is smiling, friendly, and willing to help out. She provides outstanding service to our patients and our staff. Our patients know her name and are comfortable asking her for help. The entire OBGYN unit wishes that we could have Eileen with us every day of the week. Her ability to anticipate what needs to be done, to do things independently and her communication with the patients and nurses is superior to any CNA I have worked with.
Patrycja Luke, Administrative Program Assistant 2, UMG- Anesthesia
Submitted by Michael Wilhelm
Patrycja has been an intricate part of the Anesthesia Team since her arrival. She has been professional, courteous and overall reliable since she started. When there is a concern or a change she single handedly will undertake the responsibility to ensure the schedule is covered and that personal are able to manage their professional and personal lives.
Her attitude is always pleasant no matter what the situation presents. At no point will she question what is asked of her and is accommodating to ensure the person's needs are handled. She is a hard worker and this was demonstrated with the temporary assignment of handling the work of another coworker while out on maternity leave. She was able to handle the two positions while needing little assistance or guidance.
She demonstrated superior service while we had a sudden loss of personnel and also a recent gain. While we are understaffed and the OR cases increased, she was able to ensure the people were assigned at all times, despite scheduled vacations, medical leaves, resignations and orientations. All our shifts and cases were covered with her help during a stressful time in our department.
Madeline Medina, Clinic Office Assistant, UMG-Neurosurgery
Submitted by David Kotler 
Madeline has an extremely positive personality and is a great ambassador for the Neurosurgery Dept. and UConn Health. She is constantly willing to chip in and perform tasks that don't always fall under her job description if it is in the best interest of patient care. She is a great multi-tasker and is part of the "glue" that hold our department together. Her ability to maintain contact with the providers, the Medical Assistants, and the hospital staff allows us to truly provide team based care to our patients.
Always a smile on her face; extremely good with patient interactions; always goes the extra mile to accommodate patient wishes. Always punctual; always willing to work through lunch when called upon and never complains; extremely organized; pays attention to all the details. Madeline's ability to coordinate with radiology for scheduling of difficult exams that must be done in a timely manner as we prepare a patient for surgery is exemplary.
Pamela Miles, Clinical Practice Manager, School of Dental Medicine Educational Clinics Administration
Submitted by Denise Byczko, Karolina Blajerski and Coleen Majsak
Denise states: Pam is always willing to make sure I have everything I need to accomplish my task or assigned job. In addition, she will go out of her way to search out answers for any questions I may have. Pam's attitude is geared toward success. She does not focus on what goes wrong, but instead analyzes the concern and looks to make positive changes going forward. Pam strives to boost moral for those around her. Pam will go above and beyond to make sure things run smooth. She will take on extra tasks in order to ensure the students and staff experience runs well, with little hiccups. For as long as I have worked with Pam, she has been instrumental in preparing a smooth experience for the students National Board Exam. She will stay late to set up and come in early to make sure the visiting examiners feel welcome and ensure their comfort away from home.
Karolina shares: Pam is a great leader in our dental department. she has always gone above and beyond every year for the national board exam. she is a amazing team player and manager. dental department needs more leaders like her in our department. she's always positive and willing to help. she cares about the staff and students. She's always positive and willing to help. she cares about the staff and students. The national boards which is held every year for 2 days. she is a wonderful superior and a great asset to the dental school.
Colleen adds: Pam goes above and beyond to make sure the dental examination clinics are well prepare for the students boards examination. From contacting the examiners of schedule meetings prior to the exam and constant follow throw to the last student leaving the building. Pam keeps the focus on all the details that make the examiners continue to return year after year. Pam keeps a positive attitude and works until every box is checked off. Once everything is in order she remains vigilant to follow through with any concerns. Pam enjoys what she does and really her attitude speaks volumes. Pam, Constantly works on the flow of the dental exam. Working with staff and examiners to have change implemented with simplicity.
Christopher Napolitano, Mental Health Clinician, Psychiatric Clinic
Submitted by Robin Browne
What to say about Chris....he is an amazing team player. He brings positivity to the team with use of humor thus, bringing smiles to stressed staff members. He also lightens up meetings by reframing questions that result in more open discussions between staff. He assists staff with any mechanical issues like a stuck desk drawer or bathroom lock. Many staff stop into his welcoming office to decompress because there is always an open invitation. Chris understands what it means to help those around him feel better even if only for a moment. His attitude affects others and often helps them see the lighter side of the situation at hand.
Chris is a therapist who also facilitates a weekly positive psychology group therapy session. He discusses many topics in the therapy sessions to help patients think differently about themselves and look at the world in a more positive way. In the group sessions, he is the person the patients banter with and they test his endurance. His attitude never waivers, and he has healthy appropriate responses to all the comments and jokes. He is quiet and humble and never boasts about his abilities. Chris is always willing to stay late to accommodate any patient in need. He thrives to make the environment better not only in team work but in appearance. He has spent many hours designing bulletin board announcements for the waiting room. He is in the process of purchasing pictures for the conference room to make it more conducive for the therapy group sessions.
Chris is not afraid to raise awareness to his supervisor about inefficient systems that have a negative effect on patients. He always advocates for better patient care services. He does this in a non-aggressive way and offers suggestions to fix any broken system. He does not sit idly by and wait for someone else to do something. He is willing to be part of the solution to a problem and is not afraid to speak up on behalf of his vulnerable patients. In summary, the patients and staff at 10 Talcott think the world of Chris. He is an unsung hero at UConn and should be recognized for the positive impact he has on the team and patients. I can't think of anyone more deserving of a PAWS award.
Alison Pohl, Research Compliance Monitor 2, Research Compliance Services
Submitted by Ron Wallace
Alison IS a team (of one). She is also part of the 'get stuff done' team for Institutional Biosafety Committee administration and whenever there is something extraordinary that needs to be done, stuff that no one else is stepping up to do, she is there doing it. Alison's middle name is alacrity. The answer is yes, I can help you. I don't know how she does it, but her work is complete and ahead of schedule. She cares a great deal about what she does and her commitment to that is evident.
Until recently, Alison has been the sole person to administer the Institutional Animal Care and Use Committee that oversees the ethical and compassionate use of animals in biomedical research here. She has been a major force in maintaining compliance on this Committee. One of the ways she does this is by knowing the regulations so well that she can help people to do the research they need to do while at the same time meeting the regulatory requirements. She has also added unscheduled compliance trainings for people who can't come to regular trainings and traveled to Storrs on Sundays to train summer students. Further, and outside her job description, she has contributed her microbiology knowledge to the Environmental Health and Safety Biosafety program.
Rob Sutton, Infrastructure Architect, Unified Communications
Submitted by Michael Petruzzi
Rob is in integral part of our information technology department. Network Security Administration necessitates that he is interact with nearly if not all team leads representing every facet of the information and unified communications technology areas. He does so with efficiency while also providing guidance that adds value to any initiative. Rob is a team player, is always willing to help and offer guidance where it is needed. He never lets a teammate down. He always makes himself available This is especially true when the need to maintain up times is in question, doing so even if it means skipping his lunch or performing under less than ideal circumstances such as when suffering from illness. His door is always open and he is tireless in performing his duties.
Rob is always willing to share his knowledge and to take a second look without questioning the merits of the request provided the context is appropriate. The list of projects that have realized success as a result of his participation are widely known and the intangibles are even more important to the success of our organization. Rob Sutton exemplifies the meaning of the term Team Player.
Marie Ziello, Social Worker 2, Department of Social Work
Submitted by Sarah Loschiavo
It is with great pleasure that I write this letter nominating Maria Ziello, LCSW for the PAWS Award. I believe she is an exceptional nominee based on her clinical practice skills, commitment to patient & family centered care and unwavering dedication to oncology patients. Maria has demonstrated these skills consistently over the last 4 years as an integral member of the Oncology Supportive Care interdisciplinary team. Maria is an expert in her specialized field of oncology social work. She understands the complex issues raised by cancer and eloquently navigates their social situation from diagnosis through survivorship or end-of-life. Maria knows that finding ways to cope with these concerns brings an enormous sense of relief to both the patient and their loved ones. She meets the needs of patients daily in the cancer center, infusion room, radiation and hospital. On top of her daily work, she provides individual counseling, locates services that help with home care or transportation, coordinates care, guides patients through insurance or financial barriers.
Maria ALWAYS has a positive attitude despite significant challenges that arise daily with patient care. She runs back and forth from the outpatient pavilion to the hospital several times a day to address patient, family and staff needs selflessly. Maria is a dedicated employee with an incredible work ethic. She serves on many interdisciplinary teams and is always willing to expand her role to meet the needs of patients and colleagues. She has been known to question her day off due to patient needs and needs encouragement to take time care for herself!
Maria has led a quality improvement project in the cancer center seeking to increase advanced care planning in oncology patients. She is a co-creator of the Head and neck support group at UConn. Maria consistently meets the unique, individual, delicate and challenging needs of our cancer patients EVERYDAY. She is a pillar of patient and family support from diagnosis to survivorship or end-of-life. As the director of the supportive care program, it is truly a pleasure to work with Maria.
PAWS Fall 2020 Awardees
Pam Angelillo, Staff Nurse CN3, UMG-Ears, Nose And Throat
Submitted by Kate Downey
A team is always made up of a diverse group of individuals? Why is Pam Angelillo is great ? Because she works well with EVERYONE! She shows genuine Commitment, she's reliable and responsible, always be ready to help and most importantly supports and respect others. Preaching positivity is easy. Putting it into practice and being genuine about it is more difficult. Pam is somehow able to do this in the workplace with ease.
Pam always shows everyone respect; she's consistent, stay's calm and poised in the most hectic situations and avoids gossiping and harmful talk about, and against, others. A recent example of this is when she stopped today while on her lunch to help a patient from the Cancer Center who had fallen and was injured in the parking garage. He fell and as bleeding from his head. While others were just simply walking by, Pam stopped to ensure he was taken care of and attended to. Pam uses her problem solving skills, kind heart and TEAM attitude to ALWAY go out of her way to provide care and conflict resolution.
Ann Marie Belanger, Medical Assistant, UMG-Internal Medicine Simsbury
Submitted by Patricia Tracey APRN
Annie is an integral part of the Simsbury UMG team. She is a very experienced Medical Assistant (MA) and a very important part of our patient care team. She is my dedicated MA but on my days off works with all the providers in our office. She seamlessly attends to the many tasks sent her way. She easily adapts to the styles and preferences of whichever provider she is working with. She is always on time when rooming patients ensuring a smooth patient flow. She has a friendly, calm demeanor that endears her to staff and patients alike. She readily jumps in whenever she can be of assistance to anyone in the office. She is often called upon to take on extra tasks when someone is out or if a float staff needs assistance orienting to our office. She cheerfully works as a very valuable member of our team. I have told her many times that she makes my job easier - I am so grateful to have worked with her.
Annie is pleasant, friendly, and cheerful. She has been my dedicated MA for many years and I consistently get outstanding feedback from my patients after she rooms them or answers one of their phone calls. They find her easy to talk to and very kind. Annie has the rare ability to be both efficient and make each patient feel like she is only there for them. She is eager to learn new things and consistently asks me questions in order to better serve our patients. She recently started classes to become an RN. Her attitude is exemplary every day! Annie arrives early to work and is "on task" at all times during her shift. She readily takes on extra assignments in addition to her "regular duties." She is often the MA asked to train a new MA or a float MA. I have 100% confidence in her and know that if I send her a message it will be done in a timely and excellent manner. Annie is able to anticipate what I will need when she rooms a patient, often setting up equipment before I have asked her when she realizes a certain procedure will be performed during the exam. Annie goes above and beyond every single day.
Annie bends over backwards to meet the needs of all patients. She often makes several phone calls to get to the bottom of an issue before she even lets me know there has been a problem with a refill, order or an appointment. Annie is a self starter with the goal of making the patient experience as good as it can be. Recently when one of my patients found out I was retiring he asked which provider in our office would "get Annie." He said that he would prefer to see the provider who will have her as his/her MA. This sense of connectedness and loyalty is a direct result of Annie's superior patient care and service day in and out. Annie deserves to be recognized for her outstanding job performance and I hope she will be awarded this well deserved PAW!
Robin Bibeault, Staff Nurse CN2, UMG-Storrs Administration
Submitted by Yanitza Reyes
She [Robin] is perfect example of a team player! No matter what she is doing she takes time to listen and help the entire staff. She is always smiling, positive and encouraging. She comes early and always is the last to leave. Patient care is her number one priority! She is available at all times and we want to acknowledge her for always going above and beyond.
Lisa Chagnon, Secretary 2, UMG-General Dermatology
Submitted by Bryan Wasik
Lisa has gone above and beyond while working in DermPath, our dept. has been receiving emails from outside offices regarding issues with specimens and Lisa has been quick and prompt with her responses and actions to get these issues fixed. When Lisa is given an assignment she jumps right into action and has a positive attitude no matter what the task is. Lisa's work ethic is consistent and done with 100% love of the job - she is a team player and always jumps in when she needs to. When the office is contacted about a mistake or concern regarding a specimen Lisa drops what she's doing to get the issue handled in a timely manner.
Kim Degumbia, Medical Assistant, UMG – IMA Southington
Submitted by Tracy Dube
We had a patient see one of our doctors. Once the patient checked out I noticed she was in the parking lot for about 3 hours. I told Kim the patient was having trouble starting her car. she was in the parking lot for 3 hours no one helped her. Kim went down to the parking lot to see if she could help the patient. Kim ended up jumping the car. the car started and the patient was able to go home. I knew if I went and told Kim the patient was out in the parking lot for 3 hours and no one was helping her. Kim would go and help her. ( the patient was an older woman) and alone. If I new how to jump a car I would have helped her. Kim did what exactly I thought she would do. Is help the patient. She is a team player.
Lixlia Escotto, Clinic Office Assistant, UMG-Family Practice Storrs Center
Submitted by Brandi Quick
While I have been working from home, Lixlia has gone out of her way to help me and others on the team get information we need to do our jobs better, she is always willing to help. She in friendly, helpful and encouraging. Always willing to go above and beyond to help her fellow employees.
Blagoje (Filip) Filipovic, Infrastructure Architect, Unified Communications
Submitted by Deb Kaufman & Kerri Goodwin
Filip has gone above and beyond to support the multimedia needs of the Office of Health Affairs in the new normal of virtual meetings brought on by the Coronavirus pandemic. From very early on, Dr. Andy wanted an effective tool to communicate with all of UConn Health. Filip was on it! Within days, Dr. Agwunobi held his first of many noon audio calls attended by 700+ employees. Filip has been present for every call since day one. From there, we instituted the use of WebEx for all meetings, including high profile meetings of the Board of Directors. Filip has been a constant support to our office and available 24/7 to troubleshoot and brainstorm the best possible outcomes for our internal and external users. He shares his expertise with us, keeps us informed as the technology evolves and is invested in our success. Filip responds within minutes to urgent and non-urgent requests. Just this morning, in the middle of a meeting, a camera failed and Filip was there in minutes to replace the faulty equipment. He will jump in to assist external meeting participants that would otherwise hold up important meetings. He is always professional, efficient and pleasant. Filip's services during this time were in demand at UConn Health but he always delivered. He is an exceptional employee and a fantastic human being. He deserves a PAWS and our appreciation.
Justin Fraychak, Intrventnl/Spec Procedure Tech, Operating Room Unit
Submitted by Shannon Curtis
Justin works as an interventional radiologist tech for our Hybrid OR. Currently, he has been deployed as a temperature taker in the Employee entrance of Garage 2 in the mornings. Justin has been flexible in changing his position for the better of the hospital. Justin Graychak is the best temperature taker I have come across. He greets every employee as if you are good friends, with a hearty "Good morning" (Or even a "Happy Taco Tuesday on Tuesday!). He makes appropriate jokes with staff. I've said that I feel like I'm on the Price is Right with his, "Come on Down!". He makes it a point to thank every staff member for coming to work every time. He maintains a positive attitude and really sets an optimistic tone for the day.
Justin has never complained about his job role changing during this time. He maintains a positive attitude. He has made the the best out of the current pandemic situation. When taking temperatures, if he gets an obviously inaccurate reading, he utilizes his critical thinking skills to repeat until he is satisfied with the result. He truly takes his role seriously. This morning, Justin was in a full rhino suit to greet staff. He threw out a rhino joke as he took my temp and thanked me for coming to work. He creates smiles on all staff member's faces coming in.
Doug Fuller, Telecommunication Analyst/Coordinator, Unified Communication
Submitted by Gaylord Womack
Doug has excellent communication skills on a consistent basis with all three entities of the Unified Communications team. He would be the first person to handle a task before putting someone else in a difficult situation. I am proud to say he is my coworker. It an honor to work with someone side by side, who has been employed here for 30 yrs., and I can honestly say Doug consistently works with a great level of respect with coworkers of all levels.
Doug manages to plan and coordinate his work with mobile phones, telecom, and network team. He is very dependable, he displays a great concern for his role and makes himself available for assistance 24/7. Doug is a great inspiration for those who are working during the COVID19 Pandemic. He has been physically available around the entire campus, tirelessly working on projects in a positive manner that he work ethic becomes infectious to others around him.
Dawn Humphries, Medical Assistant, Cardiology
Submitted by Linda Manzelli
Dawn is a medical assistant in the Cardiology OP clinic. She has been the backbone of our MA team for many years. She consistently looks for ways to improve work flow, encourage and support her team mates and works to portray a positive, can do attitude in both patient care and teamwork. Dawn is a problem solver - when issues arise, she looks at the entire picture to come up with solutions vs complaining of why something is not working. Dawn has always been dependable, flexible and willing to go above and beyond what is expected. She volunteers for extra duties, looks forward to anticipate needs and implements solutions.
During the COVID 19 pandemic Dawn received a call from a an old friend this AM, saying that he had some industrial N95's and wondered if he could donate a few to the Health Center. Dawn is a dynamo, and answered "why just a few?" She calmly explained the crisis facing our Health Center workforce, especially those on the in patient front lines with a shortage of N95 masks and proper personal protective equipment. Her friend was easily persuaded..... Dawn just arrived at the West Dock loading bay with her SUV packed with several cases; $3,435 worth of industrial N95's and handed them off to our logistics people!! She then proceeded to organize a "healthcare heroes" basket for our colleagues on the front lines, filled with personal care items, snacks and other novelties to see them through. Dawn is a dynamo and we are proud to say she's part of our Calhoun Cardiology Team.
Xiomara Martinez, Medical Assistant, Pulmonary Clinic
Submitted by Gail Alston
Xiomara is someone you can count on, if someone is out of the office, or if there is something that needs to be done you can count on her to do it without being asked. She takes it all in strive and raises to the occasion. She also takes the initiative to step up. she is the go to person in the office. The patient and staff can count on her to know or get answers to their question. She is always willing to help, as well as go that extra mile for everyone. Xiomara takes it all in strive with an awesome attitude.
When our office was short staff for a number of months. Xiomara stepped up and trained a number of students as well as two newly hired coworkers all the while maintaining her normal workload. which was extremely challenging but she rose to the occasion and got the job done. She took on the added responsibilities without missing a beat. She also help with assisting the newly hired doctors and nurses with the flow of the office. Xiomara is an over achiever she has no problem with taking the lead and doing what need to be done to make our department run as smooth as possible. She is the person that the patients, the doctors, the nurses, coworkers, and vendors know they can count on.
Nancy McLellan, Pulmonary Coordinator, Pulmonary Function Lab
Submitted by Linda Manzelli & Dr. Mark Metersky
In 2014, Uconn Health started to provide a more robust bronchoscopic service. While previously we did fewer than 50 bronchoscopies per year, shortly after the arrival of our Interventional Pulmonologist, volume rapidly increased and the complexity of the procedures grew. Nancy, from day one viewed this growth as an opportunity to learn and develop a new skill set, both in assisting during the bronchoscopies but also in developing workflows and navigating the patients through the institution to expedite their care and patient needs. Currently, we are doing over 200 bronchoscopies per year, and Nancy's ownership of this service fosters its growth. During this time, she has always exemplified a positive attitude and never asked anyone to do anything that she wasn't willing to do herself. Perhaps, the most endearing quality is that she treats every patient that she comes in contact with as if it was a dear loved one to her. Nancy exemplifies what a healthcare provider should be, she embodies the passion and determination we value. This is why she's not only deserving of the award but she embodies what the award represents. During the COVID-10 pandemic, PFT lab operations had been stopped for some weeks. With the COVID cases abating, she has been instrumental in ensuring the smooth and safe reopening of the PFT lab. This has required a tremendous amount of time and effort on her part in coordinating the task of reopening the lab, with engineering and infectious disease experts and she has accomplished this seamlessly. Thanks to her, we have been effectively ramping up tests, all the while ensuring that the safety of the patients and the staff in the lab. This was no surprise, during the Epic transition, we had some unique and persistent challenges, as there was difficulty integrating our PFT equipment and reporting software into Epic. She dealt with these challenges with good grace and patience, despite having to spend many extra hours trying to fix the problems. I consider her an asset to our department and am proud to be her colleague. She always accommodates a patient who urgently needs a test done at the laboratory. She is always kind, compassionate, and cheerful and does not get weighed down by how busy or taxing the workload is. She can be depended on to ensure the completion of any task entrusted to her. She is an advocate for patients and always strives to ensure their wellbeing. She is a team player who always keeps the morale of her team high. Her work ethics and compassion to patients is exemplary. Nancy McLellan is the Lead RT for the pulmonary function test (PFT) lab as Pulmonary Coordinator. She performs a stellar job in running it efficiently. She serves as a capable leader for the technical personnel in the lab.
The PFT lab has been progressively getting busier over the years and she has been vital in its growth. Thanks to her guidance, our lab is able to maintain high standards and perform a multitude of studies relevant to the assessment of a patient's respiratory status. She is hard-working and dedicated, someone who can always be relied on, and who will do her utmost to help. If she is approached by anyone for assistance, I have never seen her refuse, no matter how busy she is. She always steps up to provide the help needed and often goes above and beyond.
Nancy has been the lead resource in helping our interventional pulmonologist, Dr. Omar Ibrahim get his complex programs up and running smoothly. This was a new service when Dr. Ibrahim came to UCONN Health approximately 4 years ago. Nancy worked diligently in setting up inservices, ordering supplies, coordinating care and work flow with the OR and PACU. As we now begin another program, endobronchial valve placements (first in the area) Nancy again has stepped up to lead this initiative with Dr. Ibraham.
TEAM Spring 2020 Awardees
Center for Perioperative Medicine Team
Team Members: Marc Paradis MD; Susan Bongiorni, Nicole Cronan, Gina Fratini, January Giudice, Lisa Hannon, Melissa Lang,  Leslie Noe, Robin Roman, MD; Steve Ruiz, MD; Susan Samsel, Meagan Zolla
Submitted by Rebecca Andrews, MD

I would like to nominate the Center for perioperative medicine of which Marc Paradis is the medical director. In primary care, our job is to coordinate many aspects of care for patients. There are times when patients are not capable of having procedures that are necessary for their health such as vaccines, blood work, or dental cleanings secondary to disabilities. We made a request to have all of the above done under sedation for a patient so that he did not have to be afraid , or scared, or get injured trying to have these procedures. Without hesitation, Dr. Paradis agreed and gathered the necessary team on email to pin down the details. The periop team asked for the orders they would need and coordinated the rest. The humanity seen in these gestures would have been enough however when I thanked the team - one of the nurses replied that "no thank you was necessary, this is our job". This is UConn Health at its best.
GI Team
Team Members: Annina Chase, Michelle Gaity, Linda Mladek, Rahul Sao, John Birk, Michael Wilhelm
Submitted by Michael Wilhelm

The people I am nominating had demonstrated a team effort that is not seen in many hospital systems today. They are able to interact with each other seamlessly and also are able to take "orders" during important situations. The cohesiveness of these people with their unit allows for excellent patient satisfaction as well as patient safety. The fact is that the people that work in this unit seem to work not only together but synergistically. They are able to handle any situation that is given to them and allows for excellent care no matter what the situation presents. They are able to work without a question being asked. Not only that they seem to also predict what the other team members are thinking.
While taking care of a patient during a colonoscopy and on induction of anesthesia the patient began to have seizure like movements. The people helping with the patient during that case worked together and quickly not only activated a "Code Stroke" but also ruled out a stroke and further discussed unified showing the patient may have a seizure. Upon the presenting of the Neurology team, the story of what happened was quickly delivered and all things needed or recommended by the Neurology Team were already completed. This not only ensured the patient was safe during the case, but also rapidly able to be delivered for further evaluation. In the end the patient did well and was ablate go home I believe the same day. It is the quick thinking and actions of this team that allowed for patient safety to not only be delivered but proof that these individuals not only represent what is needed in healthcare but what makes UConn an excellent healthcare facility.
Graduate Medical Education Team
Team Members: Jacqueline "Kiki" Nissen, MD; Steven V. Angus, MD; Stephen Bayley, Melissa Demetro, Jill Goldsmith, Michelle Huynh, Wendy Miller, MD; Mark Siraco, Bethany Steinway, Jody Terranova, DO; Martha Wilkie
Submitted by Christina Iwanik
The GME (Graduate Medical Education) Department: TOGETHERNESS – In my opinion, there is no other department here at UConn Health that exemplifies the meaning of 'Togetherness'. EVERY DAY, this department works together to get assure that all aspects of Graduate Medical Education comes together and allows for a smooth workflow. Their commitment to the residents and fellows here at UConn are bar none! EFFORT - Each and every member of this department puts in 110% effort daily! On a daily basis, they are always on top of their game and their knowledge base is bar none. They will always take the time help Program Directors, Associate Program Directors, Assistant Program Directors, Administrative Officers and Program Coordinators across all specialties that have fellowships and residencies. If you ever need an answer, the GME department has designated individuals who help assist and guide programs daily. ATTITUDE - We live in a word where your attitude determines if you succeed or fail. This GME team has truly the best attitude within the academic side of UConn Health. They always stay positive and are willing to help other programs with anything they may need. They truly have a positive attitude towards their work! MOTIVATION - The GME team is always motivating programs to do better. There is not a month that goes by that this team does not give all the programs a heads up as to what is needed to 'better' their program. During the Program Directors meetings, where Program Coordinators are also invited to attend, you will always find that the speakers (GME team) are always motivating the GME programs in a positive way. They constantly bring up best practices and take the time to work with each program in any aspect of their needs. They do this with a smile and a 'let's make this work' attitude.
While there are several successful tasks and projects implemented by the GME office, here is a list of just a few of the successful tasks and projects that the UConn GME Department has gone above and beyond the call of duty towards each:     1) Resident Wellness – integrated new health programs and activities for the residents and fellows that help their overall wellness.  These programs assist residents with their mental and physical wellbeing to help make them better physicians.  When residents/fellows are healthier, they of course come to work, are productive and are more likely to enjoy the workplace.  This then helps the facilities they are working at be more financially productive as they are seeing more patients when they come to work and not calling out sick.    2) Resident/Fellow Travel Authorization Process Streamlined – this process needed to be corrected on so many levels.  The GME office was able to take out the redundancy that program coordinators have been frustrated with for several years when using the UConn Health travel authorization process.  Residents/Fellows are not state employees and having them use the prior authorization procedures were not efficient and time friendly.  This new process is now extremely easy, time saving and productive thanks to the GME department and their push for efficiency.    3) Streamlined Academic Processes and New Resident/ Fellow On Boarding Process - this has positively changed the way academic on boarding was done in the past.  To many hours and staff were used in the past to assure that all residents/fellows were on boarded accordingly.  The new process had helped coordinators and new residents/fellows with their paperwork and submissions that are needed prior to their start dates to show that they are 'fit for duty' and able to treat patients accordingly and legally.  This new and streamlined process had completely minimized time and paperwork for the GME office itself, along with the programs and the new residents/fellows.  Residents/Fellows have commented that they are extremely impressed with the efficiency and easy navigating of the process.  Coordinators are grateful that redundancy is much lower than it was from 5 years ago.  Coordinators now can be working at their areas as opposed to taking time away from the program to assist in what once was a time consuming process.    4) Faculty and Program Director Development – established quarterly meetings for Program Directors that give them the tools and education they need to assure that their programs are compliant with the ACGME (American College of Graduate Medical Education).  Not only with compliance, but with overall education that assists the program directors, associate program directors, assistant program directors and faculty who teach the residents and fellows daily at either UConn, Hartford Hospital, St. Francis, the VA in Newington and the Hospital for Special Care.  The GME office is constantly assisting the programs with all issues that faculty and program directors have on a daily, weekly or monthly basis.  They take the time to listen to each program and their needs to implement and assist them with any new directions that need to be taken either for the program itself or for the resident/fellow in question.  Faculty and Program Directors can now save time and department dollars by attending these development meetings and not have to go on far away conferences to learn the information.    5) Program Coordinator Development – established meetings and a ½ day yearly conference for all program coordinators from UConn Health, Hartford Hospital, St. Francis, the VA and the Hospital for Special Care.  Coordinators are able to attend these meetings and conference so as to better educate themselves with the new policies and procedures that are coming up the pike or any and all critical changes that need to be implemented immediately as per either the UConn School of Medicine or from the ACGME.  Coordinators are able to call the GME office at any time to get any assistance and guidance needed to help make their jobs more efficient and productive.  The development meetings and conference that are implemented by the GME office, allow coordinators to collaborate with each other (from other specialties) and gives each of them a chance to work on best practices for the programs they support.  These meetings also give the coordinators the education they need without having to spend department dollars on traveling to a course of conference out of state.
Labor and Delivery – Water Main Break Team
Team Members: Tara Distasio, Beth Dickens, Jen Charette, Patty Dos Santos, Lina Godfrey, Jess Pena, Karen Piazza
Submitted by Wendy Robinson

Thursday night when I was notified about the water main break I was in L&D. I was busy making phone calls and trying to get an initial handle on the situation. Every single staff in L&D/OB offered to help. They made phone calls for me, answered my phone, delivered water, shared info with other units, allowed me to borrow Karen for the rest of the shift and just overall their support was amazing. Any situation that involves waking up all of administration on the middle of the night is a stressful situation and the support of all of the staff made it so much less stressful for me. I did not have to ask any of the staff to help me. They immediately asked what they could do the help and immediately organized and completed tasks I delegated to them. The units were busy with their own patients and they reassigned their unit responsibilities and tasks to assist me with the code yellow. They remained positive and supportive to me throughout the time I remained on the unit. The charge nurse Lena came up to the command center for updates and to remain supportive.
Over the years I have watched in awe as the staff in L&D/OB provide the highest quality of care to their patients. While they many times are sharing in the greatest joy in a families lives there are also times they are apart of great sadness and tragedy. All of the staff always exhibit professionalism, extensive knowledge of their specialty and compassion. They remain calm in the most stressful situations and always make sure the patients know the staff here are completely capable . They support their patients though good and bad outcomes. Difficult labors or too quick labors and the staff response if immediate and shows the exceptional capabilities of the staff.
Office of Logistics Management Property Team
Team Members: Juana Mendoza, Mark "Bill" Murowsky, Christine Olender, Kimberlee Varasconi
Submitted by: Keith Petit and Kimberly Young
Keith states: During a time of significant change in how UConn Health handles capital and controllable inventory, they helped shape processes and procedures that made the job easier on institutional departments, were more cost effective, used technology to both save time and improve record-keeping, and showed exemplary customer service and positive attitude even when met with resistance and lack of trust. They brought our annual inventory accountability rate from 95% in 2016 to 99.5% in 2019, which also caused us to have no state or federal audit findings for the first time in six years. Their dedication to improving processes for customers, has improved trust and fostered a new environment of collaboration with UConn Health departments which will only help to continue the trend of zero audit findings and inventory accuracy.
They routinely help units run reports from the online inventory system, give assistance in analyzing those results and help with tracking down items which may be accountable to more than one department. Also, the fact that UConn Health now has zero audit findings ensures that our institution will not have a negative impact on grant funding due to improper use or accounting of equipment. This will lead to more dollars coming into the institution for research.
Kimberly says: Kimberlee Varasconi is a supervisor in the OLM Capital Asset Unit. Mark Murowsky, Christine Olander and Juana Mendoza assist her in conducting annual inventory. Since joining the unit she has contributed to their processes to make annual inventory of assets a much easier and less intrusive process. She and her team now use online tracking, mobile desktops and advanced scheduling to help units achieve higher find rates during the first round of annual inventory. Higher find rates means less returns during the spring to reconcile assets and less disturbance to other units. Her team preschedules inventory so that they are able to be escorted in sensitive areas, can get feedback from employees on unfound items and can scan items which employees may have on loan. Kim and her team are always pleasant and helpful when performing purchase order research and assist units in getting the necessary paperwork to keep their inventories up to date for auditors. This helps the institution remain finding free and gives us the best chance for obtaining future grants. Their professionalism and dedication to UConn Health are evident in everything they do. I highly recommend them for the TEAM award.
Pohl and Wallace Team
Team Members: Alison Pohl and Ron Wallace
Submitted by Dr. Anthony Vella
With the upcoming renovation of the 3rd floor L building, multiple research areas needed to be decommissioned so that construction work may begin. Alison Pohl and Dr. Ron Wallace assumed the responsibility to decontaminate multiple freezers and refrigerators ensuring the proper disposition of material needing disinfection. This project was very time consuming, complicated and physically demanding. Their initiative and expertise combined with a selfless and positive attitude enabled the department to meet critical deadlines and ensure compliance. We are most grateful!
Stroke Alert Responding Team
Team Members: Nichole Albini, Allaa Almoushref, MD; Michael Baldwin, MD; Jason Carrese, MD, Kirsten Ek, MD; Lyndsay Escajeda, Sean Johnston, Abhas Khurana, MD; Aneta Kozlowska, Sanjay Mittal, MD; Anne Niziolek, Alexis Perry, Margo Petrunti, Sylvia Polanco, Elsy Sajan, Michelle Santos, Patel Smit, MD; Bettye Smit-Cromwell, MD; Rebecca Sopelak, Jennifer Sposito, Kaitlyn Standish, Molly Welsh
Submitted by Jennifer Sposito and Anne Niziolek
Jennifer notes: We should take a moment and highlight the exceptional display of multidisciplinary teamwork from this morning's Medicine 3 Stroke Alert. Stroke was recognized and TPA was given 24 minutes from the alert time and 27 minutes from her last known well time. A Spotlight Shout-out to our Nursing Assistant Aneta Kozlowska who was walking with the patient when all of a sudden the patient dropped her cane not once but twice and started drifting to the right and becoming off balance with speech trouble. She quickly assisted the patient back to bed and alerted the Medicine 3 Primary RN Michelle Santos who along with MA Aneta Kozlowska called a Tier 1 Stroke Alert. Medicine 3 team came together seamlessly and while the Medical Team Dr. Carrese, Dr. Allaa Almoushref and Dr. Bettye Smit-Cromwell placed orders and helped facilitate, the RNs Alexis Perry, Kaitlyn Standish, Elsy Sajan, Sylvia Polanco and Rebecca Sopelak lead by nurse manager Annie Niziolek helped obtain a crucial finger stick, vital signs, place the patient on the monitor and hover pad and then expedite the patient for CT scan. ICU Rapid Response Team APRN Molly Welsh and RN Lyndsay Escajeda with Primary RN Michelle Santos expedited the patient to CT scan with neurology team Dr. Patel Smit and Dr. Sanjay Mittal. CT tech Nichole Albini helped obtain the initial head CT, read clear by Dr. Michael Baldwin. With no other medical contraindications the patient was deemed a TPA candidate, which Sean Johnston mixed immediately so the patient could receive right on the CT table. The patient is now safely in the Neuro-ICU. Everyone should be beaming with pride with the quick recognition & swift action with these brain saving interventions.
With stroke, time is brain. The literature shows the earlier the intervention, the better chance the patient has to reduce permanent disabilities like paralysis and the inability to speak. time saving efforts. With the patient at the center of our mission and values, this team has been a shining example of working together, seemingly effortlessly, motivated to help save our patient.
Anne states: The Med3 Team worked together in a great effort to provide great care for this patient that was actively having an active stroke. They were motivated to have the best outcome for this patient and provide the best care. This team came together and had ownership as if this patient was EVERYONE's patient, not just the RN assigned to the patient. They were beaming with PRIDE as they helped save this patient's life!
On 1/28/2020 we had a nurse aide recognize that there was a change in the patient's condition while walking with the patient. Aneta Kozlowska immediately notified the RN Micelle Santos and a STROKE Alert was called by the HUC Adriana McGinn. Med 3 team sprang into action with safely stabilizing the patient, obtaining crucial information that was relayed to the team as they arrived. The unit worked together as a fluid team and the patient received TPA within record time. This team RNs Alexis Perry, Kaitlyn Standish, Elsy Sajan, Sylvia Polanco and Rebecca Sopelak helped Michelle and Aneta during the most critical time for this patient and helped this patient have a positive outcome. As we waited for the response team Dr. EK and her team we asked to step in and help with this patient and without hesitation they came in. This was only a few minutes but when time = tissue every second is priceless. ICU RRT team APRN Molly Welsh and RN Lyndsay Escajeda with Primary RN Michelle Santos expedited the patient to CT scan with neurology team Dr. Patel Smit and Dr. Sanjay Mittal. Our stroke coordinator Jennifer Sposito was at the bedside as CT tech Nichole Albini helped obtain the initial head CT, read clear by Dr. Michael Baldwin. With no other medical contraindications the patient was deemed a TPA candidate, which Sean Johnston mixed immediately so the patient could receive right on the CT table. The patient is now safely in the Neuro-ICU. There is a saying that reads… Be the type of Nurse you want to work with. I feel that the Med 3 staff truly believe this and exemplified this in their teamwork during this event.
TEAM Fall 2020 Awardees
Carole and Ray Neag Comprehensive Cancer Center Gynecologic Oncology Team
Team Members: Ashley Aust, RN, BSN; Kathleen Manion, RN, BSN; Karen Metersky, APRN; Alicja Paci, RN, BSN
Submitted by Dr. Bradford Whitcomb
This group of nurses provided continuous care to gynecologic cancer patients throughout the COVID-19 initial pandemic wave at UConn Health, Carole and Ray Neag Comprehensive Cancer Center. Their combined teamwork resulted directly in improved patient outcomes for complex conditions and protected these patients and other staff members from becoming infected with COVID-19. They continued working throughout the pandemic beyond a "full time" schedule. They assured timely assessments for patients receiving chemotherapy. New patients with possible or known gynecologic malignancy were rapidly assessed by our Nurse Navigator with the utmost attention to detail and prioritization; all done with an dedicated, positive attitude. Motivation that drives this team is palpable. Although not in the Emergency Department or in the ICU, these providers every day placed themselves, and their loved ones, in harms way to provide the necessary care to our patients. They should be recognized at the highest levels for this performance.
-Cared for gynecologic cancer patients through telehealth and in person continuously throughout the COVID-19 wave in CT.
-Assured priority care to those who required intervention, and safety by distancing for those who did not. This likely prevented COVID-19 transmission, and may have saved lives.
-Maintained the flow of patients throughout this period of the pandemic, which leads to continued patient care, workload, and improved value of care for UConn Health. This is likely to result in improved revenues in the long term.
-Absolute selfless, yet the safest, personal sacrifices one could expect from a nursing team.
-Developing a "new normal" for workflow and patient care during the gradual return to services, again which will result in improved perceptions of a safe clinic/institution and encourage patients to stay with the UConn Health Cancer Center.
JDH Pharmacy Team
Team Members: Adam Jankowski, Marel Kolodziej, Vlad Rozvidowsky, Oleg Bobak, Renata Kirejczyk, Daniel Vo, Kaylee Goodrich Tomasso, Gillian Kuszewski, Sylvia Cavero, Susan Jerwann, Morgan Le, and Anthony Romanelli
Submitted by Kimberly Metcalf
The Pharmacy Team performed a herculean effort in taking on a task of creating, formulating, and producing hand sanitizer from raw materials. In response to the COVID 19 pandemic, executive orders allowed pharmacists to compound and dispense hand sanitizer from individual ingredients. Our pharmacy team stepped out of their comfort zones, got down to the grass roots of their training, and compounded hand sanitizer in mass production. The pharmacy team sourced individual ingredients in a market that has already been wiped out. Our buyers and pharmacists thought outside the box and sourced ingredients in creative ways to create over a thousand 2 ounce bottles of hand sanitizer and more can be made available as needed.
The compounding of hand sanitizer from raw material is not something the pharmacy typically performed. Each member in he department came together as a team to develop the path forward to source ingredients, development of the sanitizer formula, procedures in compounding, and final packaging. It was impressive to see all individuals working together with diligence and passion. Staff stayed late into the evening for several evening to produce an enormous amount of hand sanitizer above and beyond their current duties. The patient census was up and their current work/duties are already elevated despite this initiative that was desperately needed. The team produced over 1000 bottles in less than a week and in the nick of time since the Materials department have just run out of outside manufactured hand sanitizer. I also checked with other area hospitals as to their pharmacy departments' activity in making hand sanitizer. I was proud to discover that we are the only hospital pharmacy department that has stepped up right away to call upon this duty and support our clinical staff.
Rehab Services – Outpatient Team
Team Members: Lori Bouthet, Michelle DiBona, Christine Fernald, Hultine, Hannah, Rhonda Hickey, Mark Pillsbury, Catherine Trahiotis
Submitted by Cathy Trahiotis
This morning while sitting in our clinical office, we heard a noise coming from the ceiling which sounded like gushing water. Rhonda and I acted quickly, surmising that it was probably a water leak and gathered up all the electrical equipment, including computers and removed them from the office. Unfortunately, our supervisor was on a call and was unable to assist us so we called facilities,and explored where the leak was coming from upstairs. Someone was drilling through a pipe so the water was gushing from the ceiling , coming through the ceiling tiles requiring several garbage as buckets; towels, plastic, etc. What I loved about this event was that in this potential emergency, we all came together as a TEAM-- and assisted in removing important books and items that would have had to be replaced by thinking quickly, even though some of us were seeing patients. This potential fiasco was averted through teamwork, initiative and ingenuity. After about 20 minutes of water leakage from about 20 areas, the leaking stopped. We were left with a good feeling of comradery and shared meaning. I hope this brightens your day.
Congratulations from
Dr. Andrew Agwunobi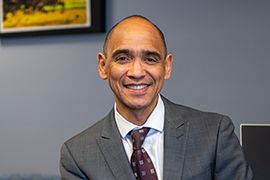 Health care can be challenging at the best of times, and this of course has been anything but a normal year. Yet amid the uncertainty, so many of you have risen to the challenge, bringing hope and inspiration though your work.
I am proud that annually through the PAWS award, we celebrate employees who continually go above and beyond to support our mission and who embody the best of our aspirations. Given the need to avoid large gatherings, I invite you to watch this series of short videos as we highlight 120 PAWS awards winners.
Every member of the UConn Health family is amazing but join me in thanking and celebrating these individuals who make the rest of us proud.
Thank you.
— Andy
Submit a PAWS
Congratulations to the awardees! Do you know a UConn Health faculty, staff or volunteer who consistently performs above and beyond the expectations of their job, exhibiting being Part of a team, an Awesome attitude, a Wonderful Work Ethic, and Super Service? Complete a PAWS Award Nomination Form.
Nominate a TEAM
Is there a special work group, cross-functional work group, task force, special project team department or committee that demonstrates Togetherness, Effort, positive Attitude and Motivation that furthers the mission of UConn Health? complete the TEAM Award Nomination Form.