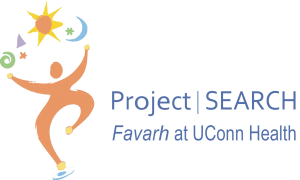 Project SEARCH Favarh at UConn Health is a unique, business-led, one-year, school-to-work program that takes place entirely at the workplace. Since 2014, UConn Health has partnered with Favarh to host Project SEARCH interns. Total workplace immersion facilitates a seamless combination of classroom instruction, career exploration, and relevant job-skills training through strategically designed internships. Based on an international model developed at Cincinnati Children's Hospital in 1996, Project SEARCH is dedicated to building a workforce that includes people with disabilities.
Agency Partners
UConn Health has partnered with Favarh/The Arc of Farmington Valley, based in Canton, a local chapter of the ARC, a worldwide organization that supports people with intellectual, physical and developmental disabilities. Other agency partners include the Connecticut Department of Developmental Services, Department of Rehabilitation Services, and Region 10 Public Schools.
Get Involved
1. Become a host department
2. Become an email mentor
3. Conduct a life/employability skills course
Any UConn Health department interested in becoming involved should contact Rosie Wright, roswright@uchc.edu.
Any student or young adult interested in applying for the program, should contact Tammy Annis at tannis@favarh.org, or call 860-693-6662 x126.