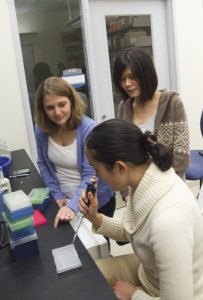 Researchers at UConn Health used stem cells derived from patients with Angelman syndrome to identify the underlying cellular defects that cause the rare neurogenetic disorder, an important step in the ongoing search for potential treatments for Angelman and a possible cure.
Up until now, scientists trying to understand why the brain cells of individuals with Angelman fail to develop properly have relied primarily on mouse models that mimic the disorder.
By using human stem cells that are genetically identical to the brain cells of Angelman syndrome patients, researchers now have a much clearer and more accurate picture of what is going wrong.
In a study appearing today in the journal Nature Communications, the researchers report that the brain cells of individuals with Angelman syndrome fail to properly mature, causing a cascade of other developmental deficits that result in Angelman syndrome.
"We looked at the electrical activity of these brain cells and their ability to form connections, which is critical to the working circuits in the brain,"says UConn Health neuroscientist Eric Levine, the study's lead author.
"We found that the cells from Angelman patients had impairments," says Levine. "They didn't develop the same way as they do in people who don't have the disorder. They failed to develop mature electrical activity and they didn't form connections as readily."
Angelman syndrome appears in one out of every 15,000 live births. People with Angelman have developmental delays, are prone to seizures, and can have trouble walking or balancing. They have limited speech, but generally present a happy demeanor, frequently laughing and smiling…(more)
---