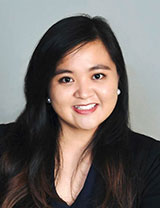 Christina Corpus, D.O.
She/Her
I was born and raised in Jacksonville, Florida. My interests in the medical field started at a very young age thanks to my parents. My mom, an ICU nurse, and my dad, a Family Medicine physician, are without a doubt my biggest inspirations and supporters. Because of their influence, I truly appreciate medicine and taking on the role of a primary care provider, educator, and leader.
During my undergrad years, I attended The Florida State University (Go Noles!) and received my Bachelor of Science degree in Biochemistry. I was a member of the Women in Math, Science, and Engineering organization, the FSU Honors program, the Filipino Student Association and later became President of the Pre-Student of Osteopathic Medicine Association. I kept busy with honors studies, encouraging women to pursue the STEM field, research, spreading my Filipino heritage, and volunteering. I also had an amazing opportunity to travel to Quito, Ecuador with the organization, MEDLife. I provided medical assistance and education in areas such as, OBGYN, Pediatrics, Dentistry, and Pharmacy. My time in Ecuador encouraged me to pursue medicine even more. During my senior year, I enrolled myself at Southeastern School of Health Sciences where I earned my Clinical/Medical Assistant certification.
After gaining clinical experience for a year, I decided to further my education. I was accepted into an accelerated one-year graduate program at Lake Erie College of Osteopathic Medicine in Bradenton, Florida where I earned my Master's degree in Medical Sciences. I was then accepted into LECOM's Medical School. My time at LECOM was dedicated to my studies, cancer and osteopathic research, and organizations such as LECOM's Family Medicine Club and LECOM's Christian Medical Dental Association. I completed my clinical rotations in Jacksonville, Florida, and gained experiences that reaffirmed my passion for Family Medicine. I enjoy promoting health, preventing disease, and being an advocate for the patients I serve.
Outside of medicine, I enjoy kayaking, paddle boarding, fishing, and rock climbing. I also enjoy cooking Filipino food, baking, and DIY projects. I love going to the movies, trying new places with good food, and playing videogames/ board games. My soon-to-be husband and I couples matched into the UConn Primary Care - Internal Medicine and Family Medicine programs. We are beyond honored and excited to start our journey with the UConn family!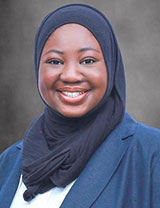 Maryam Idris, M.D.
She/Her
I was born in Nigeria and had the fortunate opportunity to grow up for some time in Brunei, a few years in Nigeria, and almost a decade in Saudi Arabia. After high school, I moved to Doha, Qatar and attended the integrated six-year medical curriculum at Weill Cornell Medicine-Qatar.
My experiences in medical school molded my interest in the field of family medicine. I have always been interested in both women and children's health and involved myself in activities and interest groups surrounding those interests over the years.
After learning about how versatile the field of family medicine is and how passionately I wanted to be a healthcare provider for vulnerable populations, I set myself on the path to becoming a family medicine physician. I hope to become a physician that can provide care and promote the health and well-being of every member of the community regardless of age as well as focus on my interests in women and children's health. I also truly value continuity of care and building substantial relationships with my patients; a unique aspect of family medicine that I admire.
In my spare time, I love to play badminton and volleyball, watch TV shows, and spend quality time with friends and family.
I am truly thrilled and grateful to be joining UConn Family Medicine and look forward to what the future holds.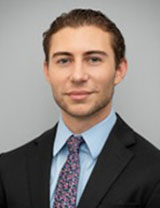 Samuel Lawyer, D.O.
He/Him
I was born and raised in New York's Hudson Valley and graduated from University of Rochester with a Neuroscience B.S. and a Psychology B.A. As a teenager, I worked as a tennis pro at our local gym and became very involved with sports, leading to my time teaching tennis at the New York Military Academy and pursuing competitive play in high school and college.
My time as an athlete heavily influenced my interest in health and wellness. I attended Touro College of Osteopathic Medicine after my undergraduate years, somewhere I could stay close to my family and work in the community that raised me. Family medicine became my passion as I enjoyed the relationships I could build with my patients and as I enjoyed being able to give to my community. I'm so excited to be here for residency at UConn and become a member of the greater Hartford area!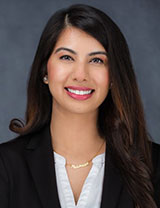 Nosheen Sandhu, M.D.
She/Her
I was born in Chandigarh, India and moved to Toronto, Canada when I was 5 years old. Growing up my parents nurtured my love for the sciences throughout my childhood into early adulthood. At first, it was by reading books and taking me to science museums then later through their support and encouragement. My journey through medicine was filled with exploration, unconventionality, and perseverance. I completed my medical degree at St. George's University, where I further explored my interests in family medicine during my 3rd year rotations. I am drawn to family medicine because it allows me to follow patients throughout their entire lives, giving me a chance to intervene and catch illnesses before they arise. Preventative medicine combined with my passion for mental health advocacy make family medicine the perfect fit.
Outside of medicine, I'm extremely passionate about traveling. I thoroughly enjoy immersing myself into different cultures and learning from them, which makes traveling a truly rewarding experience for me. I also enjoy spending my free time trying different restaurants, watching K-dramas, and playing with my pups.
The residents and faculty here at UConn are so kind and passionate that I was instantly drawn to the program. This program is very resident focused with an emphasis on wellness, which will encourage learning and mentorship throughout my training. I am so thrilled and honored to be joining the UConn family!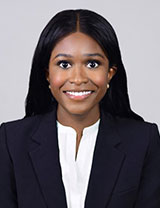 Oyinda Tunde-Byass, M.D.
I am a British-born, Nigerian-Canadian, primarily raised in the Markham-Stouffville region of the Greater Toronto Area, Canada. Growing up in Canada was nothing short of joyous and inspirational. I was constantly surrounded by diversity, and attribute this to my love for people and their unique stories. I completed my undergraduate degree as a student-athlete at Dalhousie University in Halifax, Nova Scotia, where I received my Bachelor of Science in Kinesiology. My four years along the east coast of Canada were some of my most formative, and also where I developed my passion for healthy active living and preventive medicine.
I attended St. George's University for my medical training, which gave me the unique opportunity to study in three countries— the United Kingdom, Grenada, and the United States. This allowed me to see the implementation of traditional medicine in varying socioeconomic and cultural settings. Although I knew prior to medical school that I wanted to become a family medicine physician, my third- and fourth-year family medicine rotations only bolstered my desire to join this amazing field. To me, family medicine is at the beautiful intersection of preventive medicine, humanitarianism, and sociology. The ability to create lifelong connections with patients, whilst providing health care and advocacy is something I find special. Family medicine really has it all, eh!
Outside of work, I can be found in the gym, outside riding my vintage road bicycle, or reading a book. I also love spending time with family and friends, and chatting over delicious food.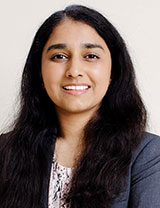 Sravya Uppalapati, M.D.
I was born in India and moved to North Carolina at the age of five. Growing up, I enjoyed playing tennis competitively and volunteering in the community. I attended Virginia Commonwealth University (VCU) for undergrad and medical school. I had opportunities to work with underserved populations, address food insecurity and deliver medical care in Virginia. I also traveled to India, Spain, Peru and Singapore during college!
I enjoy all aspects of family medicine and specifically love the geriatrics population! I was drawn to UConn for its friendly people, emphasis on community medicine and well-rounded approach in taking care of patients. I hope to combine my interest in writing with medicine.
In my free time, I enjoy traveling, yoga, learning new recipes with my husband and spending time with family and friends!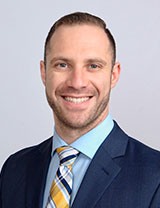 Felix Vergilis, D.O.
He/His
Hello everyone! I strongly believe that our outlook dictates how we perceive our reality and the circumstances that arise. We all deserve to live life instead of simply exist in it. For this reason, I choose to say "YES!" to the majority of life's opportunities. But before that, I guess we should start with the basics.
I was born on Odessa, Ukraine and raised just outside San Francisco, CA. I received my Bachelor's in Physiology from CSUEB and attended NSU-KPCOM for medical school in Fort Lauderdale.
Throughout my teens and undergrad I enjoyed a wide array of jobs including being a lifeguard, running my own business, managing an ice rink, being an MC at night clubs, teaching high school, and working as an EMT. One night while taking care of a patient on the side of the freeway, I was struck by a vehicle and woke up on the other side of the guardrail. After being discharged with only pain medication and no physical therapy, I sought out chiropractic care and after 4 months of treatment, I finally felt like myself again.
At this point, my dream is to build a practice that focuses on osteopathic manipulative therapy while simultaneously integrating mental health awareness with each encounter. My interview at UConn not only made me feel a sense of belonging, it also solidified the belief that my training will undoubtedly facilitate turning my dreams into a reality.
I'm also an avid traveler – 31 states and 29 countries! Being exposed to different cultures, living conditions, and the world's beauty has opened my eyes to a completely different way of life. In my free time I enjoy exercising, exploring new coffee shops, meeting new people, and motivating others through my YouTube Channel!