What happened during COVID time? What changes COVID brought to our program?
Office: Asylum Hill Family Medicine Center
When cases of COVID-19 in our local population began to increase in March both our office (Asylum Hill Family Medicine) as well as the hospitals in which our residents rotate quickly responded to ensure that we could continue to provide quality care to our patients while maximizing the safety of our clinicians and staff. This was accomplished via several mechanisms. One was to transition outpatient visits to telemedicine (video or phone) as amenable to reduce the exposure inherent in in person visits. Acknowledging that not all evaluations are amenable to telemedicine we instituted protocols incorporating screening and the use of personal protective equipment (PPE) within the office for both staff and patients in accordance with CDC recommendations. As part of this protocol we do not perform in person evaluations on patients who have symptoms suspicious for COVID but offer telemedicine visits where they are evaluated and sent for testing as indicated. If the provider believes they need a higher level of care (i.e. evidence of respiratory distress), we send the patient to one of our hospitals FURI clinics (outpatient clinics equipped for and dedicated to the evaluation of patients with fever and upper respiratory illness) or to the emergency department. In the rare instance that a patient in the office has symptoms of a URI our office has protocols established to care for that patient. We require the use of a mask at all times in our office. When seeing patients, we additionally require the use of eye protection and follow all CDC and state recommendations. As our local cases of COVID have declined, we have increased in person visits and resumed office procedures using a protocol to guide providers to what kind of visit to schedule depending on the reason for the visit and exposure risks of the patient.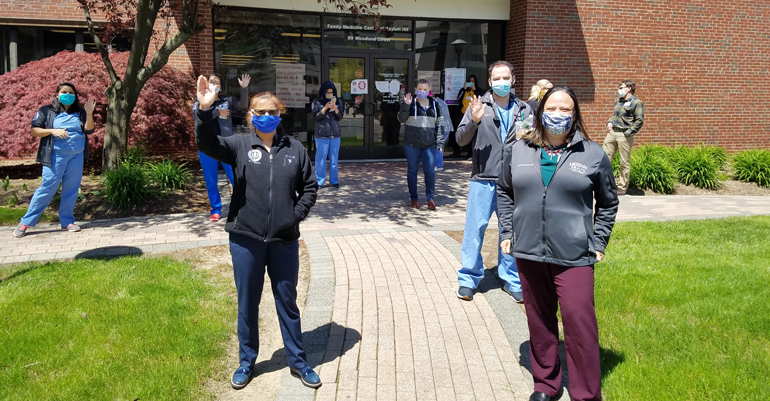 Hospital
Residents evaluated patients identified as PUI and COVID during certain rotations including OB, ICU, EM and our Family medicine inpatient service (for emergencies and admissions). Adequate PPE was (and is) always available for those evaluations. For our inpatient service in the hospital, in order to conserve PPE and make sure it was available when needed, direct interactions (examinations) with patients either confirmed to have COVID or identified as a person under investigation (PUI), were carried out by the attending faculty during daily rounding. In these instances, residents remained active in the care of these patients by communicating with them telephonically or via tablets in the patients rooms. With these safeguards in place, we were able to balance caring for our patients, both those with and without COVID, while keeping ourselves healthy.
Impact of COVID on select rotations and other activities
Some of our rotations such as Sports Medicine, GYN, outpatient surgery, and geriatrics were not scheduled during peak COVID time due to the cancellation of elective outpatient procedures, state restrictions and the closure of some offices. Our program re-allocated all affected residents to our office and other rotations that were able to accommodate them including Emergency medicine and other inpatient experiences. Our didactics were transitioned to Webex (remotely) for that period to ensure distancing. We are still offering didactics remotely as amenable and have resumed having hands on activities like simulations and procedure workshops with modifications to ensure the safety of all during these sessions.