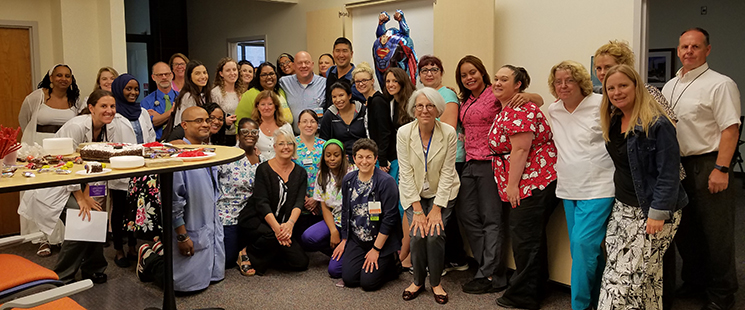 (Patient inquiries: please call the Family Medicine Center at 860-714-4212)
The Family Medicine Center at Asylum Hill is the ambulatory practice site for our faculty and residents who teach and train in our program. Located directly across the street from Saint Francis Hospital and Medical Center, our Family Medicine Center is very convenient for our residents and faculty who spend so much time in both the hospital and the office. The practice center is a very busy (21,000 visits per year!) primary care facility with 18 exam rooms, two procedure rooms, on-site phlebotomy lab, a resident work room and precepting room as well as a large administrative wing with two conference rooms for state-of-the-art teaching.
Everyone who works at the Family Medicine Center is committed to educating family medicine residents and medical students from UConn Health. The entire staff is also committed to serving the local community and to promoting an ideal model of family medicine. We hold the conviction that it is both possible and right to provide the same quality of care to families across the spectrum of ethnic and socioeconomic status, in a single setting.
The Family Medicine Center is NCQA certified as a Patient Centered Medical Home. We provide a wide range of primary and preventative care to all ages. Residents work with the Practice Management team to support the PCMH status as part of their education in health systems management.
The Family Medicine Center at Asylum Hill has a long history of providing health care to our multi-ethnic, inner-city community. Our low staff turnover helps provide the familiar face and contact for patients who have been coming to our practice for years. We are proud of our work with our community and proud of the care we provide to our patients.