Welcome From the Program Director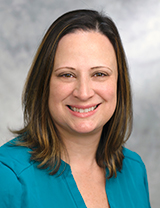 I am very excited to share with you details about our Family Medicine Residency Program. We hope you find this website helpful as it answers many of the common questions students ask about training in our program.
UConn Family Medicine Residency Program is committed to educating the next generation of family physicians to provide comprehensive, compassionate, and culturally competent care to families in the neighborhoods that they serve while promoting health and wellness to our Hartford community.
Our program aims to produce family medicine physicians that care for the underserved and urban populations addressing social determinants, health disparities, and psychosocial needs. We also aim to produce family medicine physicians who are able to practice full-scope inpatient and outpatient medicine in our community.
Our sole site for training residents is the Family Medicine Center at Asylum Hill and our main inpatient hospital is Saint Francis Hospital part of Trinity Health Of New England. Both are located in a vibrant and culturally diverse neighborhood, which provides you with the opportunity to learn the art and science of family medicine in an urban setting.
Our faculty is committed to providing comprehensive, high quality, family-centered medical care to our community in Hartford, Connecticut. We are leaders and active participants of different community efforts and programs that serve our city and our state.
I invite you to explore this website. I think you will agree there is a great deal of opportunity here at UConn Family Medicine. As an added benefit, Hartford and the surrounding communities are a terrific place to live and enjoy. Please feel free to contact us if we can support your career path in Family Medicine in any way.
Kenia Mansilla-Rivera, M.D.
Program Director
Associate Professor, Department of Family Medicine
Make sure to check out our Instagram @uconn_familymed for updates, additional information, and direct communication with our residents!
The UConn Family Medicine Residency program will conduct all residency interviews virtually this season. This is undertaken in order to reduce health risks associated with travel and in person interviewing and promote an equitable process for all applicants.