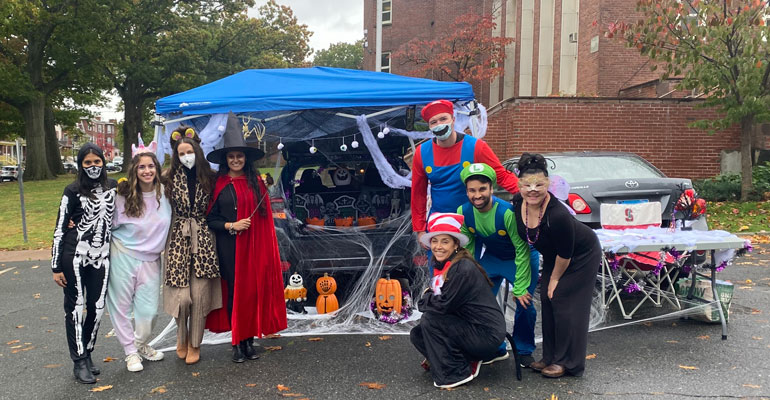 Our residents come from a variety of different backgrounds and cultures, which makes our program unique. We foster teamwork and mentorship between classes, which helps to build a familial atmosphere and make Asylum Hill a home away from home. Because of this, we are still able to have fun and learn from each other even during difficult rotations.
As a University administered program, we have the opportunity to learn from knowledgeable yet approachable faculty with a wide array of interests. Not only do we have core UConn faculty but we also learn directly from family medicine physicians in the community. They are all dedicated to teaching and adjust to each individual resident's learning style to encourage a collaborative environment. While we respect them in the workplace, they are also no stranger to having fun with us, will often join us at dinners, birthday parties, and can sing some mean karaoke at office events.
In our program, residents from all levels of training are encouraged to participate in residency decisions such as designing curricula, addressing administrative issues, and evaluating faculty. UConn and Saint Francis Hospital GME also invite us to engage with interprofessional teams and be a part of committees that affect resident life within our community. We also have residents who represent our program at board meetings for the Connecticut Academy of Family Physicians and national conferences around the country.
Family medicine is celebrated at the School of Medicine as faculty and residents from our program are integral to the education of medical students. We assist in training them during their core lectures in first and second year, and as they rotate with us through their family medicine clerkships and sub-internships in their third and fourth years. Residents can also volunteer to teach clinical skills or act as faculty for programs at the medical school to get more experience as an educator.
Overall our Family Medicine program affords us many opportunities to pursue whatever interests we may have. Selecting a residency program can be extremely difficult, but we encourage you to look for programs that prioritize what is important to you. What we have made here is a community, and while the individuals in our program inevitably change annually, we remain culturally diverse and mutually supportive and it is our goal to find residents who want to join us!
– Residents