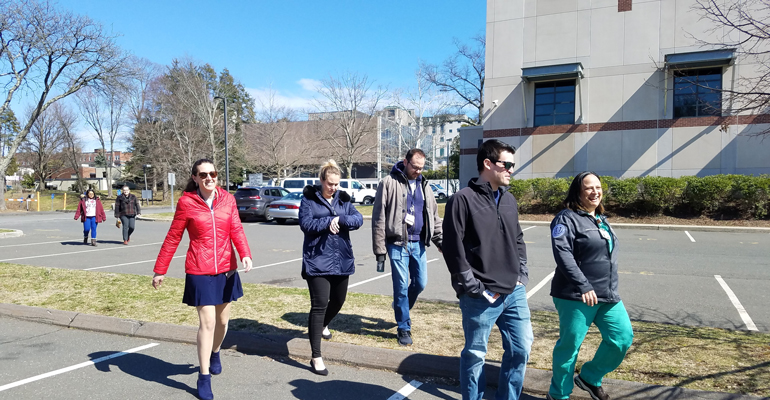 At the University of Connecticut Family Medicine Department, we strongly believe that well-being in medicine is not simply the absence of burnout, but rather a cornerstone of medical training. We recognize that residency is a uniquely stressful time and are committed to creating a program that produces resilient healthcare providers by teaching about well-being and creating space for it.
Well-Being Committee and Well-Being Retreats
Our well-being committee arranges for scheduled resident well-being retreats as well as education about ways that well-being can be implemented in day to day life. Residents are encouraged to be a part of this committee to influence how they want their well-being to look. During well-being retreats (which occur 1-2 times per year), the faculty cover all clinical duties to allow the residents to truly take time away from the clinic and hospital.
Intern Enrichment
Every intern starts their residency training at UConn Family Medicine with a month of Intern Enrichment. During this month, interns learn about hospital logistics, get an intro to patient care in the clinic, and participate in a variety of didactics. Just as importantly, they get the opportunity to learn about our well-being resources and to have time to bond together as a class to best support each other going forward.
R1 Support Group
Intern year is a time of great adjustment and it is important to have regular time scheduled to discuss the achievements and challenges of it. R1 support group is a chance for interns to meet monthly in the presence of a couple faculty members (Dr. Perrin as well as Dr. Guajardo from our Behavioral Health department). These sessions are much appreciated as interns are able to come together despite being on different rotations and offer support and understanding to each other.
R2 Support Group
Second years attend monthly support sessions together.
R3 Support Group
Residents start planning to transition into the role of an independent provider during their last year of residency. During R3 support group, third year residents have monthly meetings with a couple faculty members about how to prepare for this transition (financial management, board prep, applying for jobs) in order to alleviate some stress during this time.
Faculty Advisors
Every resident is assigned a faculty advisor at the start of their training. This advisor periodically checks in with them to help with professional development and offer support. They are also available in between these meetings to address any concerns including well-being.
Free Counseling
Free confidential counseling is available to residents, and all residents are given information on how to access this during their training.
Other
Our residents truly enjoy each other's company. They often find well-being outside of work, and participate in activities together such as karaoke, game night, trivia, hiking, going out to eat, and tubing.
UConn School of Medicine Graduate Medical Education is committed to supporting the well-being of all our residents and fellows during their training program.  For a full list of resources offered through UConn Health, the Capital Area Health Consortium and the broader community, please visit the Graduate Medical Education Office Well-Being website.