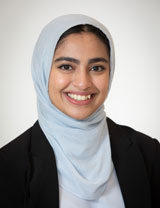 Lubna Farooqui, M.D.
She/Her
I was born in Massachusetts and lived the majority of my life in Connecticut. I graduated from Quinnipiac University with a B.S. in Biomedical Sciences and minors in Immunology/Microbiology, Chemistry, and Global Public Health. I was also one of the Global Engagement Fellows and got to Oxford for the Human Rights Consortium. This is where my interest in public health, advocacy, and teaching began. During my time at University of Connecticut School of Medicine, I was involved with advocacy and mentoring through SNMA, AMA, and FMIG. I was able to further explore my interest in teaching by creating and moderating a learning session on ethical research for first year medical students and serving as a 4th year preceptor at a Family Medicine clinic. I found myself going through my third year of medical school liking a little bit of all the specialties medicine has to offer and loving being able to develop meaningful and lasting relationships with my patients and their families, and Family Medicine allows me to enjoy both of those things and so much more!
In my free time you can find me playing card or board games with family and friends, hiking on weekends (nothing too crazy though!), and doing yoga outdoors in the summer. I've recently become more interested in cooking and trying new recipes (and I think may have perfected the perfect chocolate chip cookie). I am so happy to be at UConn for my Family Medicine Residency and look forward to what the future holds!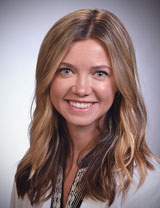 Mary Garside, D.O.
She/Her
I was born in Providence, RI, and raised in Windham, NH, a small town in the southern part of the State. In college, I attended Sacred Heart University in Fairfield, CT. where I received a Bachelor of Science degree in Neuroscience and a Minor in Psychology and Chemistry. In undergraduate, I spent much of my time mentoring pre-med students as well as children in the community. I was fortunate to volunteer in underserved local elementary schools where I gained insight into everyday hardships some children endure, which sparked my interest in preventative medicine in pediatrics.
I went on to attend the University of New England College of Osteopathic Medicine in Biddeford, ME. In medical school, I continued to spend time working with children by volunteering at local schools and the Ronald McDonald House. My interests grew to include women's health, infant care, adolescent medicine, and mental health awareness. I realized my passions in medicine spanned across all topics and included all ages, genders, and walks of life. Family medicine became the specialty that encompassed all I love in medicine, and it brings a unique ability to establish life-long relationships with patients.
In my free time, I like going on runs outside and spending time at the lake with my family. I also enjoy traveling to new places and discovering new restaurants and coffee shops with my fiancé! We love hosting game nights and BBQ's as well as playing with our cute cat, Teega! I am so excited to train at UConn and I look forward to taking care of my future patients in this wonderful area!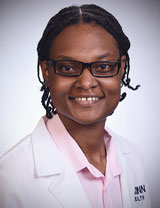 Zaenia Jeffrey, M.D.
She/Her
I was born and grew up on the beautiful Caribbean Island of Grenada. Small island living comes with a unique experience of closeness and community. My neighbors were like my immediate family, and we treated each other as such. This sense of communal living initiated my interest and passion for community health.
I earned both my Bachelor of Science in Biology and my medical degree from St. George's University. Being steeped in the principles of closeness and community, volunteerism has always been important to me. During my medical education I volunteered at different clinics, with groups at St. George's University and with members of the hospital where I completed clinical rotations in the U.S. These rich experiences allowed me to meet, interact and bond with members of the community in such a special way.
When choosing a medical specialty, I reflected on the things I enjoy most about medicine. I enjoy interacting with diverse groups of people, the outpatient setting, and having the ability to treat and manage the variety of ailments that walked through the door. I am passionate about preventative medicine, forming long-term relationships and patient advocacy. Family medicine was my best bet at extracting all those elements and more. Family Medicine was my perfect match.
In my free time, I really enjoy writing poetry and looking at sports (namely cricket and basketball). I value spending time with family and friends. I also enjoy having a good laugh; I believe that's why I am so good at telling jokes. In fact, I tell the funniest jokes because even when no one else laughs at them, I will.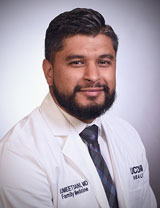 Sumeet Saini, M.D.
He/His
I was born and raised in Toronto, Ontario, Canada, where I also completed a Bachelor of Science in Kinesiology and Health Science at York University. Upon completing my bachelor's degree, I attended Saba University School of Medicine in the Caribbean Netherlands. During my medical education I had the opportunity to reside on the small island of Saba with a population of only about 2000 people. Saba was my home for two years as I completed my basic sciences portion of medical school. During my clinical years I traveled to various states, which exposed me to a wide array of patient populations while learning from the most experienced physicians. It is through these latter two years of my medical training that I saw how Family Medicine was the perfect residency for me.
I am an individual who aspires to be a jack of all trades which speaks to my wide variety of interests and hobbies. I'm an avid automotive enthusiast and of Formula-1 Racing, I also enjoy physical training, playing recreational sports, learning new skills and embarking on various DIY projects. Central to my interests is problem-solving, a skill I continue to train, improve and employ as I take work through my residency training with this Family Medicine Residency. It is for this reason that I was drawn to the specialty of Family Medicine where I could work with the most diverse patient populations, form long standing relationships with my patients in their pursuit for their health-related goals and needs. I am excited to embark on the next chapter of my career.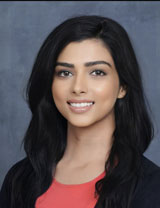 Hamda Sajjad, M.D.
She/Her
Pakistani-Canadian born and partly raised in Sharjah, United Arab Emirates. I graduated from the University of Toronto with Honors Bachelor of Science, specializing in comparative physiology. I am the youngest of six siblings, four of whom are in the field of medicine, so my interest in medicine started at a young age. Being surrounded by physicians and spending time with patients myself, I was not only drawn to this rewarding path but also realized the importance of continuity of care, which centered my interest in family medicine.
I attained my medical degree from the American University of the Caribbean School of Medicine. In all my clinical rotations, I enjoyed learning about everything and loved building long-lasting relationships with patients and caring for the very young to the very old - partaking in a continuity of care that transcended generations was an enormous privilege. Although I had started medical school with the determination of pursuing this amazing specialty, my clinical rotations further solidified my interest in this field.
I am thrilled that I matched at a program that not only fosters a supportive and immersive learning environment but also offers opportunities for community engagement. I am excited and honored to start this journey with the UConn Family Medicine team and look forward to being part of the Hartford community.
In my free time, I enjoy traveling, baking, playing board games and watching movies especially of the horror/thriller genre.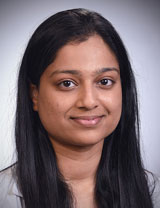 Thanu Shree, M.D.
She/Her
I was born in Nagpur, India and moved to Doha, Qatar with my family when I was three years old. I was primarily raised in Qatar and would describe myself as a Global citizen. This could be attributed to that fact that I grew up in a diverse country with people from all over the world. After graduating high school, I decided to go to Weill Cornell Medical College in Qatar. I had the good fortune of interacting with a wide variety of patients during my medical training which primarily molded my interest in family medicine.
In addition to my medical training, I had the opportunity of being able to practice medicine in regions like South East Asia, Middle East, South Asia and North America. I truly value these experiences as they have shaped my commitment and resolve to pursue Family Medicine and more specifically to be able to help patients from underserved communities.
My specific interests include preventative and lifestyle medicine. I wish to combine the knowledge I will gain as a Family medicine physician with preventative/lifestyle medicine to better serve vulnerable/underserved populations. I believe this is the key to better health outcomes in the future due to the holistic and longitudinal care Family medicine physicians provide to patients.
In my spare time, I love to do salsa and bachata dancing, watching TV shows, biking, and basically anything outdoorsy.
I believe that UConn's family medicine program is the perfect fit for my interests. I will be able to provide longitudinal care for vulnerable populations which is something that is deeply satisfying for me and has been a lifelong aim. I am very excited to be a joining UConn Family Medicine and I cannot wait to see what the future holds for me.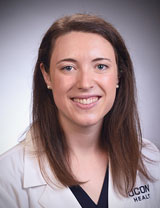 Cordelia (Cordy) Stewart, M.D.
She/Her
Originally from Bangor, Maine, I grew up in a loving, large family that instilled in me the values of community and compassion for others. As a student-athlete at Bowdoin College, I pursued a double major in Hispanic Studies and Biochemistry before attending Tufts University School of Medicine. While at Tufts, I participated in the Maine Track program, where I honed my skills in caring for medically underserved and rural populations. My passion for family medicine grew as I engaged with diverse communities throughout New England, which I am excited to now bring to Connecticut.
In addition to my medical pursuits, I have been actively involved with a non-profit organization, Water for ME, focusing on community outreach, education, and water quality research. Through collaboration with local and international teams in Honduras, Colombia, and Haiti, our organization works to improve access to clean drinking water. My medical interests include sports medicine, medical education, and the role water quality and nutrition play as social determinants of health. I am excited to join UConn's Family Medicine program for its focus on global health, sports medicine, and culture of teamwork.
Outside of medicine, I enjoy various forms of being active by exercising, spending time outdoors, and cherishing moments with family and friends. And if there are dogs involved, it's even better!