Matthew Hall, D.O.
Program Director, Family Medicine Sports Medicine Fellowship, UConn Health
Primary Care Sports Medicine, UConn Health
Team Physician, UConn
Matthew Hall, D.O., is a primary care sports medicine physician who started at the University of Connecticut after completing a Sports Medicine fellowship at UConn in 2013. Dr. Hall's passion for teaching and academics began during his Family Medicine Residency at Brown University, where he served as chief resident. For the past two years, Dr. Hall has been core faculty for the Primary Care Sports Medicine Fellowship and served as UConn team physician. Currently he is team physician for UConn baseball, women's basketball, field hockey, women's ice hockey, rowing, men's soccer, and tennis. Since starting at UConn, Dr. Hall has also been medical director for UConn Club Sports.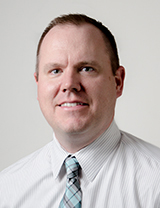 Jeffrey R. Brown, M.D.
Director, Primary Care Sports Medicine, Connecticut Sports Medicine Institute
Assistant Director, UConn Primary Care Sports Medicine Fellowship
Dr. Brown completed his residency in Family Medicine at University of Rochester/Highland Hospital and a fellowship in Sports Medicine at University of Connecticut. His practice focuses on the non-operative management of orthopedic injuries, sports-related concussion, and medical conditions that affect participation in sports, such as exercised induced asthma, common illnesses and skin conditions.
He is a team physician at Central Connecticut State University and the University of Hartford.