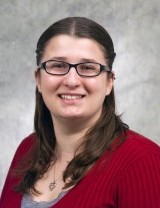 The 34th Annual Graduate Student Research Day (GSRD) took place on Thursday, June 26, 2017. This was a very special day for all our graduate students at UConn Health. The day included student talks, a poster session and a keynote address by Dr. Mark Tuszynski, professor of neurosciences at the University of California-San Diego.
Several awards were given out, and we are pleased to announce and congratulate Carissa Sirois, Ph.D., Candidate in Neuroscience AoC, for 1st place (tie) in poster presentations. Carissa presented, "Establishing a molecular phenotype for Angelman Syndrome induced pluripotent stem cell-derived neurons " and is doing her thesis research in the Chamberlain Lab.
Read more about this event, as well as see a listing of all student achievements throughout the year.
---