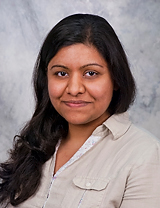 Mandakini Singh recently defended her public thesis defense, entitled "Mechanism of Spontaneous Electrical Activity in Mouse Developing Cortex – Subplate Zone" on April 13, 2017; major advisor Dr. Srdjan Antic.
She began her postdoc at UConn Health in the department of Department of Neuroscience with Dr. Srdjan Antic.
On behalf of the Department of Neuroscience Program – we wish Dr. Singh much success!
---