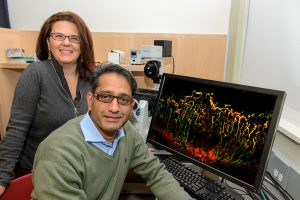 Age-related macular degeneration is the leading cause of blindness in the U.S., and UConn scientists are working toward a way to enable earlier detection of a condition that leads to it.
Led by Royce Mohan, associate professor of neuroscience at UConn Health, a team of researchers is developing a fluorescent small molecule imaging reagent to help identify preclinical stages of ocular fibrosis, or the growth of blood vessels from the back of the eye into the retina.
The researchers, including Paola Bargagna-Mohan, assistant professor of neuroscience, and Dennis Wright, professor of medicinal chemistry in the UConn School of Pharmacy, believe this biomarker probe could have major treatment implications, as this fibrosis is associated with an aggressive form of age-related macular degeneration – known as wet AMD – that causes rapid vision loss.  Read more about this early detection.

---