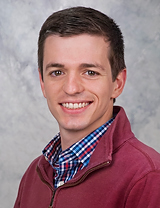 A team of UConn Health graduate students, led by Neuroscience Ph.D., M.B.A. candidate Matthew Hammond, recently won first place in the Connecticut Center for Entrepreneurship and Innovation (CCEI) Startup Challenge Strategy Competition.
The team, consisting of Hammond and Immunology M.D., Ph.D. candidate Jeremy Grenier, proposed to start Immunomod Biotherapeutics, a biotech company focused on developing therapies to treat harmful inflammation in the brain. The proposal is largely based on Hammond's thesis research studying immune responses following intracerebral hemorrhage in the lab of Assistant Professor Lauren Sansing, M.D. Additionally, the project builds on Hammond's National Research Service Award, which is a predoctoral fellowship funded by the National Institute of Neurological Disorders and Stroke.

"The neuroscience and business training I've obtained at UConn, together with Jeremy's medical and immunology background, really supplemented one another to yield an effective team," says Hammond. Although he cannot fully disclose his ideas, Hammond says he hopes to "target the harmful components of the acute immune response in the brain following injury, while preserving pathogen defense and augmenting long-term neurological recovery."
The CCEI, a School of Business entity, holds the strategy competition annually to give students across all UConn campuses the opportunity to receive feedback on their ideas and obtain funding for startup ventures. Among almost 60 entrants in the strategy competition, Immunomod Biotherapeutics was selected as the overall winner and was awarded $20,000. Hammond and Grenier are currently exploring the next step toward developing and patenting their first therapy.

---