By Lisa Catanese for UConn Health Today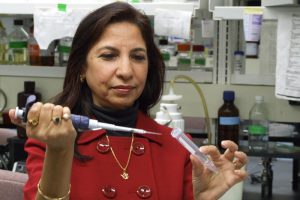 A UConn Health researcher is the recipient of a prestigious investigator award for her study of neurodegenerative diseases and the hope it may bring to those suffering from multiple sclerosis and related diseases.
Rashmi Bansal, professor of neuroscience, was selected by the National Institute of Neurological Disorders and Stroke (NINDS) to receive the Javits Neuroscience Investigator Award, a seven-year grant given to only a select number of outstanding scientists for their superior competence and outstanding productivity. The award recognizes a body of work from an investigator with a history of exceptional performance.
"I had submitted a proposal to renew my current five-year grant because it was coming to an end," Bansal says. "It is a competitive renewal process, and I had to provide a proposal for my next ideas. I was very happy to hear that it was selected for the Javits Award."
This work involves research on a protein called fibroblast growth factor and the role it plays in diseases such as multiple sclerosis (MS). Fibroblast growth factor helps the body make myelin, the coating on nerve cells that protects the cells' axons, which are what carry nerve impulses.
"Myelin is important for nerve condition," she explains. "In people with MS, myelin is broken down. My research involves understanding how myelin is made and how this growth factor supports it. We hope that this knowledge can be applied in the long run to devise strategies for myelin repair in MS and other demyelinating diseases."
MS is a debilitating disease in which the body's immune system destroys myelin, eventually causing irreversible damage to nerves. It often strikes people in their teens and early 20s, and in severe cases can cause them to lose their ability to walk or see. MS symptoms can be treated and the progression of the disease can be slowed, but there is no cure.
Bansal has published an estimated 50 papers on her research. "I was interested in studying a subject that was disease oriented," she says. "MS is a very prevalent disease and nobody clearly knows why people get it. There are some interesting aspects to this disease, such as the fact that it affects women more than men." Javits awards are made to distinguished investigators who have a record of substantial contributions at the cutting edge of neurological science, who are leaders in their field, and who can be expected to continue to be highly productive during the seven-year award period.
Nominations for the award are made and approved by NINDS staff and by members of the National Advisory Neurological Disorders and Stroke (NANDS) Council. The award was established in 1983 by the U.S. Congress in honor of the late New York Senator Jacob Javits, who was afflicted with amyotrophic lateral sclerosis (ALS, also known as Lou Gehrig's disease) and was a strong advocate for support of research in a wide variety of disorders of the brain and nervous system.
---