Welcome to "A Day in the Life!" where you can get to know our residents and see into their daily life.
PL-3 Sravya Gourishetti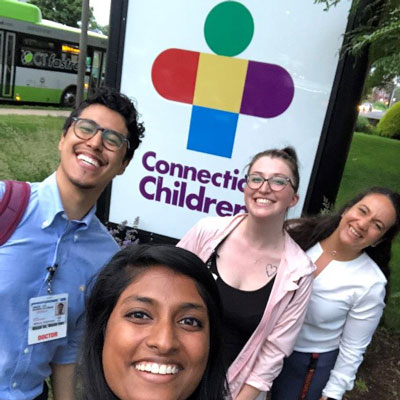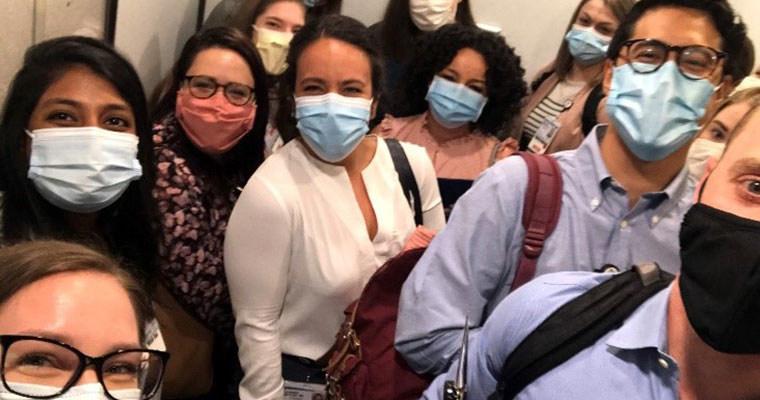 Tell us about yourself – where did you grow up and where did you go to school?
I was born in Hyderabad, India, but grew up for most of my life in Massachusetts! I lived in multiple towns as a kid, but a majority of the time I was in Boxborough, MA. For college, I wanted to explore a new state and a new part of the country so I went off to the University of Illinois at Urbana-Champaign. After graduation, I came back to Massachusetts and worked as a research tech at the University of Massachusetts Medical School. I went to Campbell University School of Osteopathic Medicine for medical school. After living in multiple different states, all of which had amazing people that made me want to stay, I decided that no place is like home. I was absolute ecstatic to have the opportunity to come back to New England as a resident at UConn.
Why did you choose our residency program?
The things that were most important to me when choosing a residency program to call home for the next 3 years were co-residents and leadership that feel like family, support for residents who want to explore the different fields within pediatrics as they decide they future specialty, and opportunities for residents to get involved in all aspects of education such as teaching medical students, participating in research, and being involved in resident well-being.
During my virtual interview day with UConn, I was immediately drawn to the nature of the people that interviewed me. They asked questions to genuinely understand my personality and made me feel comfortable enough to chat with them as if I had known them for years. Watching the residents interact with each other at the meet and greet prior to the interview day made it clear that they felt extremely comfortable with one another and their faces lit up talking about the different ways they have seen residents support each other during hard times. Lastly, the opportunities for residents are endless and that is what sealed the deal for me. I fell in love with the Connecticut Children's family on my interview day and am so thankful to get to call them my family now!
Why did you want to be a pediatrician?
Pediatrics is one of the specialties that I felt I will be able to have the most positive influence on a patient's life and help set them up for success. Even on the most tough days, seeing kids lights up my day. The patient population is special and is also the most in need of our help and guidance. Pediatrics is the perfect specialty for me because I want to be the person to help provide for patients and families by guiding them and giving them the resources they need to live the most healthy life they can.
What have you liked best about being a resident at Connecticut Children's?
The best part about being a resident at Connecticut Children's is my co-resents and new family. In such a short time, my co-residents have shown me what comradery and support looks like. With surprise baked goods, to plans every Friday night with co-residents, to text messages checking in on me, I have never felt alone here.
What's been your favorite experience in residency so far?
During my first rotation on the inpatient team, I was taking care of a patient with a very complex medical history. Every day I pre-rounded on her and she told me about the bed time story she heard the night before. Prior to her discharge, she asked if she could put a sticker on my badge. I told her I feel honored that she wanted me to have one of her stickers and she told me that telling me stories was the best part of her hospital sleepover. It is this moment that reminded me how amazing being a resident can be and how much I love my job.
What do you want to do after residency?
I want to do a cardiology fellowship. During one of my 4th year medical school rotations, I saw how diverse the patient population is and the variety of clinical presentations and patient management that you can do as a pediatric cardiologist. From the cath lab to the echo lab to counseling patients on healthy eating, the pathology is broad and there are lots of opportunities to improve these patient's lives from procedures to anticipatory guidance.
What do you enjoy doing outside of the hospital?
I love spending time with my family who are only a short drive from Hartford, my friends, and my significant other. Exploring the numerous trails in Connecticut is one of my favorite things to do on my days off. I also really enjoy experiencing the different breweries and restaurants in the area.