Welcome to our new series "A Day in the Life!" where you can get to know our residents and see into their daily life.
Lenora Codrington, M.D., currently a PL-2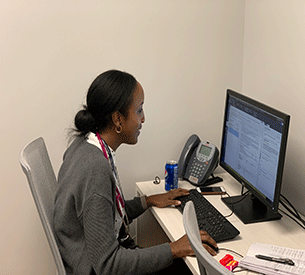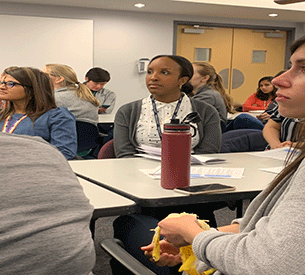 Tell us a little about yourself, where did you grow up and where did you go to school?
I was born in Brooklyn New York and moved to Queens when I was in high school. I attended Lincoln University in Pennsylvania for college and was a part of the competitive dance team. For medical school, I went to NYIT College of Osteopathic Medicine.
Why did you chose our residency program?
I chose Connecticut Children's/UCONNpediatric residency program because on my interview day I saw how dedicated to resident education the program was and I was impressed by the vast exposure to common and rare disease processes. I was also impressed with the knowledge of the attending faculty as well as residents. Also the patient population we treat reflects one in which I plan to dedicate my future medical career.
What's the best part of working in pediatrics?
It sounds clichéd, but I love kids. I'm a big kid at heart and enjoy being surrounded by children. I love coming in on Halloween wearing my costume and turningthe frowns of sick children into smiles. I don't know of any other medical field where you get to do that.
What do you like to do during your free time?
After a long day of work, I like to kick up my feet and Netflix and chill. If I have a little more energy I'll go out to dinner, catch a movie, or even go salsa dancing on the weekend. I still enjoy dancing and hope to continue to dance in the future.
What has been your favorite thing about being a resident at Connecticut Children's?
Residency is about learning and growing as a medical professional. Connecticut Children's is a supportive environment promoting interdisciplinary partnership and empowerment. We all work as a team to create an environment focused on the care of our patients.
What do you want to do when you graduate?
I am still deciding between becoming either a general pediatrician or a neonatologist.