Welcome to our new series "A Day in the Life!" where you can get to know our residents and see into their daily life.
Elizabeth Vargas, currently a PL-1 through a day in the Emergency Department at Connecticut Children's.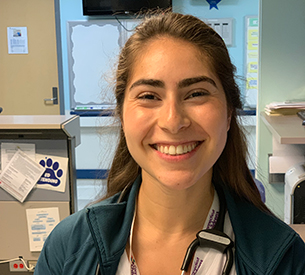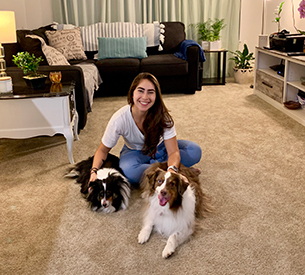 Liz, tell us about yourself – where did you grow up and where did you go to school?
I'm was born and raised in Queens, New York; my family is from Colombia. I attended college at Quinnipiac University in Hamden, Connecticut (that's where my love for Connecticut started.)
Between college and medical school I took two gap years and worked in New York City as a medical and surgical assistant for a dermatology and plastic surgery practice.
I went to medical school at New York Institute of Technology College of Osteopathic Medicine.
I'm elated to be back in Connecticut for residency. I have the best roommates, my two dogs: Oliver an Australian Shepherd and Annie a Shetland Sheepdog. Outside of work, I love to Salsa dance, spend time outdoors, and run/workout.
Why did you choose our residency program?
When applying for residency, I wanted a program at a children's hospital that was part of a large academic center and prioritized resident education. I also wanted to work with a diverse population and was looking for a program with a strong advocacy curriculum. I also wanted to be somewhere with faculty that I could identify with and work with as my role-models/mentors.
When I rotated at Connecticut Children's as a visiting medical student, I found all the things that were important to me. Even as a student, I felt like an integral part of the team, my learning was prioritized, and I learned a tremendous amount in just 4 weeks.
The wide variety of pathologies we see at Connecticut Children's is not only excellent for learning but also makes the day exciting. Along with "bread and butter" medicine we see things I thought I would only read about in textbooks.
The culture at Connecticut Children's is supportive and team-oriented which is important to me because I feel it leads to quality patient care and makes for an open, honest, and respectful work environment.
Why did you want to be a pediatrician?
I chose pediatrics because I enjoy being able to care for children in all stages of their lives and I believe that addressing medical problems early-on gives patients the best chance at quality of life.
What have you liked best about being a resident at Connecticut Children's?
My favorite thing about being a resident is the hands-on learning and constantly being surrounded by inspiring physicians. I have also found a new love for procedures which I've gotten a lot of exposure with and now have a growing, confident skill set already in these first few months of residency.
What's been your favorite experience in residency so far?
My first day in the ambulatory primary care center, I saw a patient for a toddler well-child check. I was able to answer all of the Mom's questions and build a good rapport with the child. He was very talkative with me and seemed to enjoy the visit. At the end of the visit, his mother told me her son is usually quiet with doctors and she was shocked at his positive response to me. She told me she appreciated my listening and addressing all of her concerns, she felt confident leaving the visit with the plan we had worked together to establish. Her older daughter was with them during the visit and she asked if moving forward she could have me be the primary care physician for both her son and her daughter as she felt very comfortable and trusted me. Moments such as this one are exactly why I went into pediatrics. I was able to reassure a parent, work with the family to create a care plan that worked best for them, and establish a long-lasting relationship.
What do you want to do after residency?
I want to do an endocrinology fellowship.  The profession is very near and dear to my heart as I was diagnosed with Type 1 Diabetes while in college. My personal journey, along with my experience as a 4th year medical student rotating with Connecticut Children's Endocrinology department solidified my passion for endocrinology!
What do you enjoy doing outside of the hospital?
I love spending time outdoors; I make a strong effort to do so even for just a few minutes every day! My favorite place to run is the West Hartford Reservoir! I have two dogs, Oliver and Annie and I love taking them to parks and trails. I workout at the gym or take a class at Orange Theory Fitness a few times a week.
My absolute favorite hobby is Salsa dancing, I've been doing it for more than half my life. There are a few spots in Hartford and New Haven that are great for social dancing so I go to one after work whenever I can. I unwind from the day by curling up with a book on my patio or by my apartment complex's pool.