Welcome to "A Day in the Life!" where you can get to know our residents and see into their daily life.
PL-1 Jenna Scanlon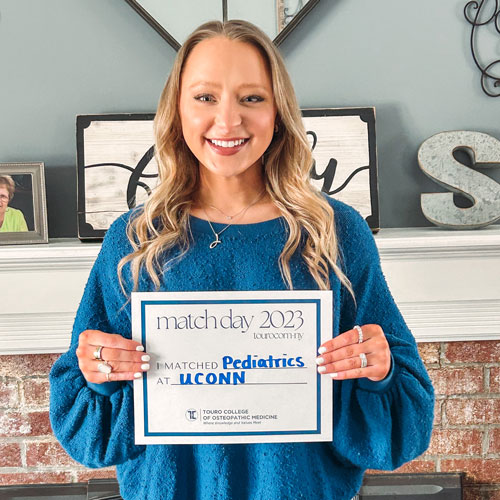 Jenna, tell us about yourself – where did you grow up and where did you go to school?
I grew up in Auburn, MA along with my twin brother and our younger sister. Both of my parents grew up in Auburn and I was lucky enough to live less than 10 minutes away from all of my aunts, uncles and cousins. Apparently, no one ever wants to leave our hometown! I suppose I'm no better because I attended college just down the street in Worcester, MA at the College of the Holy Cross. I studied Biology and played on the Women's Soccer team which is how I met my husband Eddie who played on the Holy Cross Men's Soccer team. After college, I moved to Boston and worked at Dana Farber doing clinical research in lung cancer. Three wicked awesome years later, I moved to New York and started medical school at Touro College in Middletown. Now, my family is thrilled to have me back to living less than an hour away!
Why did you choose our residency program?
Being able to do my training at Connecticut Children's was a dream come true for me. I had lots of family and friends who worked here and always spoke so highly of the level of care, teaching, and respect that was among the institution. I was lucky enough to be able to do a rotation during my fourth year of medical school and saw firsthand why this place is so special. The people here make it so that you want to go to work every day. I think ultimately though I enjoyed the entire recruitment and interview season with so many great programs, I knew in my gut that this is where I wanted to be. I cannot wait to see what the future holds for me at Connecticut Children's!
Why did you want to be a pediatrician?
The cliché answer is that I've wanted to be a doctor for as long as I can remember and specifically, I wanted to be a doctor for children. This is mostly true but throughout my medical school rotations I did start to question if this was truly the specialty that I wanted. I have grown as a woman, a wife, and a healthcare professional and my interests and priorities changed along with that. Ultimately, I knew I wanted to officially pursue Pediatrics because when I thought about the day to day and future me driving into work every day, starting your Monday with an adorable 4-year-old was much more appealing than anything else.
What have you liked best about your intern year at Connecticut Children's so far?
The people here have made the transition into residency so much better than I could have imagined. My co-residents are welcoming, warm, funny, smart and the ultimate cheerleaders. Starting as an intern can be intimidating and scary but the support I feel from my seniors, the faculty, and all the staff at Connecticut Children's have quickly made this place feel like home. I now understand why so many residents end up coming back as fellows and attendings.
What has been your favorite experience as a resident?
My favorite experience as a resident is finally being able to introduce myself as Dr. Scanlon! Just kidding, but it is such a surreal feeling the first time you introduce yourself to a patient after completing 4 (what feels like 400) years of medical school. I actually have to say that my favorite part has been gaining the confidence to be an active and vital member of a healthcare team. The attendings and senior residents give you just the right amount of autonomy to feel independent while still providing the support you need. It's amazing how much I have already learned in such a short period of time that I am actually starting to feel like a real physician.
What are you considering for your career after residency?
Two months into residency I have changed my mind about this at least three times (lol!) Initially, I had an interest in Acute Care and potentially pursuing a fellowship in Neonatology or Cardiology. While I still think both of those fields are amazing and fascinating, given my brief background in Oncology, I can't seem to shake the thought that perhaps I'm destined for Hematology-Oncology! To be honest, with every month that passes and every experience I have with different attendings and patients I realize how cool medicine is and all the different paths it could potentially take me. Hopefully when I'm updating my answers on the PL-3 page in 2 years I'll have a better answer!
What do you enjoy doing outside of the hospital?
If you could not already guess, I am super close with my family. Growing up in such close proximity will do that to you! I love being able to spend time with my parents, siblings, aunts and uncles and being able to go out to breakfast with my grandparents. If you're ever in Auburn and stop in at Tiny Tim's you will probably see them there. My husband and I love exploring new restaurants and breweries around the area. Hartford has so many great places to eat and things to do. We are particularly big fans of the Hartford Yardgoats which is the local baseball team. What I love about this residency program is that I still have time to do all the things I love, like workout, go to my friends' weddings, spend time with family and friends and of course scroll TikTok when I'm not doing boards questions, your life exists outside of the hospital!