Overview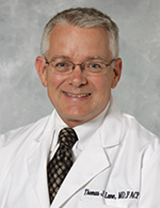 Since the program's inception in 1989, we have pursued our mission to train exemplary general internists, skilled in providing high quality, coordinated, comprehensive, continuous and compassionate primary health care to adults in any health care setting. Our program utilizes diverse care settings and a broad mix of patient populations to provide a thorough grounding in the entire range of general internal medicine. Our curriculum is equally divided between inpatient and outpatient experiences, with an emphasis on office practice, continuity of care, health promotion, and the health of communities. Our dedicated faculty provides a rigorous and warmly collegial training environment. Our graduates are successful in pursuing careers in general internal medicine or obtaining subspecialty fellowships.
The Primary Care Internal Medicine Residency Program has a class size of 16 residents in each year, and three PGY4 Chief Medical Residents.
The program's small size promotes a warm, social atmosphere, almost like a family. Each academic year is divided into 13, four-week block rotations that highlight both inpatient and outpatient experiences in internal medicine.
"Our outstanding faculty team will help you become the doctor you want to be."
Other Program Highlights
A Second Longitudinal Ambulatory Clinic in the Specialty of the Resident's Choice
Personal and Professionalism Development Curriculum
Clinical Skills Assessment Program
Hospitalist Track
Women's Health Track
The core curriculum of the residency program involves general inpatient medicine, critical care, ambulatory care, continuity clinic, electives/selectives, geriatrics, and emergency medicine.
Residents participate in scholarly activities that range from local and regional presentations of case reports and journal clubs to national presentation of laboratory or clinical research. Abundant opportunities for subspecialty research and research mentoring are available.
We encourage you to come take a closer look at the Primary Care Internal Medicine Residency Program.
Thomas J. Lane, M.D., FACP
Program Director