Hartford Hospital
The majority of residency is spent at Hartford Hospital which has a vastly diverse patient population. Here you will have you Obstetrics, Gynecology, Oncology, Maternal-Fetal Medicine, Primary Care, Family Planning, and clinic chief rotations and will spend about 55% of your time during residency.
Following the American Civil War, Hartford was the richest city in the United States for several decades. Today, Hartford is one of the poorest cities in the nation with 3 out of every 10 families living below the poverty line. In sharp contrast, the Hartford metropolitan area is ranked 32nd of 318 metropolitan areas in total economic production and 7th out of 280 metropolitan statistical areas in per capita income. Highlighting the socioeconomic disparity between Hartford and its suburbs, 83% of Hartford's jobs are filled by commuters from neighboring towns who earn over $80,000, while 75% of Hartford residents who commute to work in other towns earn just $40,000.
The patient demographics of the Women's Ambulatory Health Clinic: 65% Hispanic or Latino, 16% African American, 9% Other/Unknown, 8% White, 1% Asian, and 1% American Indian.
Free lunch Friday is especially popular among the residents! It is a great opportunity for the faculty and residents to sit and converse on a weekly basis. It is a good way to sit down and reinvigorate after a long week, especially for those on Labor and Delivery.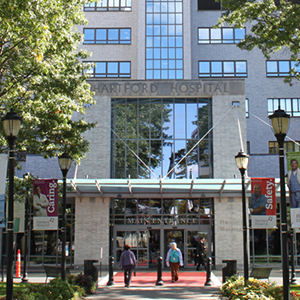 UConn Health
The academic hub where the main administrative offices are located, UConn Health is where you will have Maternal-Fetal Medicine, Gynecologic Oncology, and Reproductive Endocrinology and Infertility rotations and spend roughly 20% of your time during residency.
The demographics of Farmington are very different from Hartford and New Britain. As an affluent suburb of Hartford, it is home to the world headquarters of several large corporations including Carrier Corporation, Otis Elevator Company, and Carvel. The racial makeup of the town is 92.91% White, 1.55% African American, 0.12% Native American, 3.72% Asian, 0.59% from other races, and 1.11% from two or more races. Hispanic or Latino of any race is 2.19% of the population. The mean income for a household in the town is $123,157, and the mean income for a family is $154,585.
Patient Demographics for UConn Health: 83% White, 11% African American, 2% Asian, 4% Other.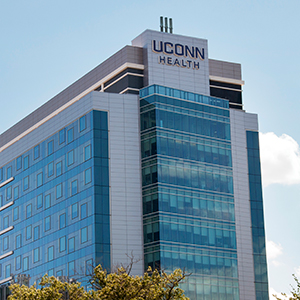 The Hospital of Central Connecticut
The Hospital of Central Connecticut is included in the Hartford HealthCare family. Here you will have your Obstetrics, Gynecology, MICU, and Oncology rotations. You will spend about 25% of your time during residency.
As of the census of 2010, the racial makeup of New Britain is 61.38% White (47.7% Non-Hispanic, 13.68% White-Hispanic), 10.9% African American (8.1 Non-Hispanic Black, 2.7 Black-Hispanic), 0.1% Native American, 2.3% Asian, 0.06% Pacific Islander, 19.1% (18.1 Other Hispanic) from other races, and 1.9% from two or more races. 36.8% of the population is Hispanic or Latino of any race. The median income for a household in the city is $35,357.
New Britain has the largest Polish population of any city in Connecticut, and by 1930 a quarter of the city was ethnically Polish. Also referred to as "Little Poland," the city's Broad Street neighborhood has been home to a considerable number of Polish businesses and families since 1890. In recent years, the Polish community has been credited with revitalizing the area both culturally and economically. Media is served by three Polish language newspapers and a television station, and many businesses and civil agencies are bilingual. The post office branch in Little Poland is the only one in the nation with the word "post" written in Polish to welcome visitors.