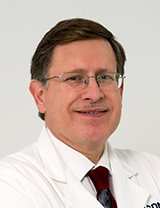 The UConn Neurology Residency Program provides an outstanding training experience in the art and science of Neurology, combining the strengths of two primary training sites, the University of Connecticut (UConn Health) and Harford Hospital (Hartford HealthCare), as well as experiences at Connecticut Children's, and other affiliated hospitals. While our two main training sites are separate clinical entities, they share a commitment to providing a unified training experience for our Neurology residents. The clinical neuroscience enterprise at Hartford HealthCare is organized under the auspices of the Ayer Neuroscience Institute directed by Dr. Mark Alberts, who is also Chief of Neurology at Hartford Hospital. At UConn Health, I direct the academic and clinical programs at UConn John Dempsey Hospital and our Outpatient Pavilion, and oversee our research and didactic programs for medical students and residents across all sites. Since the faculty at Hartford HealthCare and Connecticut Children's have affiliate academic appointments at UConn, and UConn sponsors the residency and fellowship programs, I also serve as the academic chair of Neurology, working closely with Dr. Alberts to ensure that the continued growth of clinical programs for optimal patient care also meets our educational needs and provides an unparalleled training environment.
The management of stroke patients is an example of how these experiences are complimentary. At Hartford Hospital, an 867-bed urban facility in downtown Hartford that is the flagship for the Hartford HealthCare system, residents manage a busy inpatient service as part of the Comprehensive Stroke Center, with primary responsibility for patient care. At UConn Health, a 224-bed suburban hospital in the beautiful Farmington valley, stroke patients are co-managed by vascular neurologists, hospitalists, neurocritical care specialists, endovascular neurosurgeons and interventional neuroradiologists in the context of a Thrombectomy-Capable Primary Stroke Center. Each facility has its own strategy for management of critically ill neurology patients, and learning to work in both models will prepare residents for a variety of practice scenarios.
Our comprehensive (4-year) training program has grown significantly in recent years. In 2017, we initiated an expansion from 5 to 7 residents per year, which allowed us to improve the inpatient services at Hartford Hospital with a "day float" rotation, add a second consult resident at UConn John Dempsey Hospital, and increase our elective rotations earlier in residency training so residents can make informed decisions about subspecialty fellowships. We also continue to increase our fellowship offerings, with training in vascular neurology, interventional neurology, headache, neuromuscular diseases, movement disorders, epilepsy and sports neurology. Within the next few years, we expect to add fellowships in pediatric neurology, neurocritical care, multiple sclerosis.
Any training program is only as good as its faculty, and we are proud to have an accomplished, diverse and well-trained faculty across all our training sites, representing almost every subspecialty. The faculty has grown significantly at both Hartford Healthcare and UConn. Many of our faculty are our own former resident trainees, who went on to fellowships at highly competitive programs across the country and then returned to UConn or Hartford Hospital to help train the next generation of neurologists. Others, like Dr. Jaime Imitola, who directs the Multiple Sclerosis and Translational Immunology Research Program at UConn Health, are M.D./Ph.D. physician scientists new to Connecticut, attracted by the region and the opportunity to participate in our threefold mission of education, research, and patient care.
The true test of a training program is how it responds to a crisis. When it became clear in early March 2020 that the COVID-19 pandemic would create enormous stresses on our hospital systems and prevent routine outpatient clinic experiences, we rapidly shut down our outpatient clinics and elective rotations, transitioning to phone and telemedicine video visits. The residents who were no longer able to participate in outpatient electives helped manage the crisis by creating a temporary 24/7 inpatient neurology service at UConn Health, freeing up the medicine hospitalists to manage critically ill COVID patients. Consults on COVID-positive patients were conducted as safely as possible, sometimes with only the attending or one resident donning PPE to see the patient, or conducting the consult via video. Our neurophysiology suite was transiently converted to overflow hospital beds as outpatient EEGs and EMGs were cancelled. As the first wave of COVID patients peaked and ebbed by late June, we transitioned back to a consult service, reactivated our electives, and gradually transitioned back to in-person clinic visits for most patients, though phone or video visits are still possible when needed. We have equipped our clinic exam room computers with cameras and microphones so they can serve as HIPAA-compliant video offices as well as standard clinic rooms. We adjusted the flow of our clinic to minimize patient wait times and ensure safe interpersonal distance in the waiting room, and we provide appropriate PPE for residents to work safely. We equipped the clinic with a retinal camera to partially replace direct ophthalmoscopy, which is difficult when wearing PPE. Throughout the crisis, our resident didactic programs continued as scheduled, all via Zoom meetings. We have adapted our patient care and educational/training program to allow us to continue to provide the highest quality neurological care while protecting our resident trainees and ensuring that they can meet training milestones and graduate as highly competent neurologists. I am extremely proud of our trainees and faculty, who adapted beautifully without complaint and proposed innovative solutions as problems arose.
Since we cannot predict the COVID risk associated with travel for residency interviews, our program, like most, will again be conducting video interviews. We are sad not to have the opportunity to meet you in person and show you our hospitals, clinics and facilities in person, but brief videos by residents and faculty will help give you a sense of the place and the people. When and if conditions allow, we hope to be able to invite you here for an in-person visit.
Neurology is a rapidly changing field with new discoveries and treatments appearing on a regular basis. At UConn, you will have the opportunity to learn the latest trends in neurological care and participate in research that shapes the future of neurology. We welcome your interest in our program and look forward to helping you reach your full potential as physicians and neurologists.
L. John Greenfield, Jr., M.D., Ph.D.
Chair, Department of Neurology
UConn Health