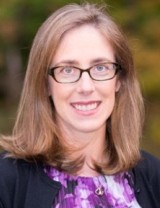 Erica A. Schuyler, M.D., FAAN, FANA
Residency Program Director
I grew up in Westport, MA which is a small coastal town. I went to Wesleyan University in CT and then did functional brain imaging research for several years at the NIH before attending Johns Hopkins for medical school. I did my residency and two years of epilepsy fellowship at University of Michigan and then joined Hartford Hospital in 2009.
In addition to being Program Director, I'm an Associate Professor at UConn and the Associate Chief of Education at Hartford Hospital. I have been very active with the AAN and am currently the Chair of the Consortium of Neurology Program Directors and serve on the Graduate Education Subcommittee. With the AAN, I have been working to reform the fellowship application timeline, to help programs with their transition to virtual recruitment, and to advocate for support of our IMG physicians.
Outside of work, I enjoy my time with my husband and two sons. My hobbies include ballroom dancing and hiking and I read a lot—mostly sci-fi and fantasy series.
View Medical Rounds with Dr. Schuyler on Hartford HealthCare's YouTube Channel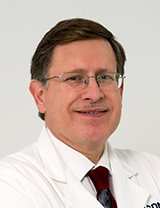 L. John Greenfield, M.D., Ph.D.
Chair of UConn Health Department of Neurology
I was born in Baltimore, MD during my father's surgical residency at Johns Hopkins (yes, he is the Greenfield who developed the Greenfield IVC filter). I lived in Oklahoma City, OK and Richmond, VA before attending college at Yale University where I was a humanities major. I graduated from the M.D./Ph.D. program at the University of Virginia in Charlottesville with a Ph.D. in neuroscience, and did my neurology residency training at the University of Michigan in Ann Arbor, followed several years later by a fellowship in EEG and epilepsy. I was a junior faculty member in the lab of Dr. Robert Macdonald at Michigan, and then left in 1999 to start my own laboratory at the University of Toledo which eventually received NIH funding. I also directed the M.D./Ph.D. program there for several years. In 2010, I moved to Little Rock to become chair of Neurology at the University of Arkansas for Medical Sciences, and in 2016 I came back to Connecticut as chair of Neurology at UConn Health in Farmington.
My research interests include the molecular pharmacology and physiology of seizures and epilepsy, especially the role of GABAergic inhibition, as well as antiepileptic drug trials, high density EEG, and survey studies of emotional and cognitive comorbidities of epilepsy. I take a very active interest in the clinical and didactic training of neurology residents, managing the monthly journal club, chairman's rounds and evidence based medicine courses and piloting an on-line basic neuroscience review. I recently edited the 2nd edition of an introductory EEG text called "Reading EEGs: A Practical Approach."
My extracurricular interests include early music performance on renaissance and baroque lutes, photography and astronomy.
Dr. Greenfield's Profile on UConn Health's YouTube Channel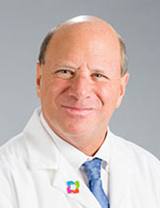 Mark Alberts, M.D.
Chief of Ayer Neuroscience Institute
My education began at Duke University as an undergraduate with a major in chemistry, and specialization in biochemistry. I graduated with magna cum laude honors. This was followed by graduating from Tufts University with an M.D. degree and AOA honors. I completed a neurology residency at Duke, followed by an NINDS (NIH) fellowship in vascular neurology. After serving on the faculty at Duke University, I went to Northwestern University and Northwestern Memorial Hospital, where I led the stroke center. After 11 years in frigid Chicago, I moved to the University of Texas Southwestern Medical Center in Dallas, where I was appointed as vice-chair of Neurology and director of the Comprehensive Stroke Center. My experience there led to my current position in Hartford Connecticut where I lead the department of neurology and have a system-wide appointment as co-lead of the multidisciplinary Ayer Neuroscience Institute at Hartford HealthCare (HHC).
Dr. Alberts' video introduction to candidates
Overview of The Hartford HealthCare Ayer Neuroscience Institute
Dr. Alberts' videos on Hartford HealthCare's YouTube Channel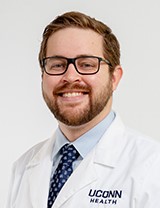 Jose Montes-Rivera, M.D.
Neurology Residency Program Site Director, UConn Health
I was born and raised in San Juan, Puerto Rico. I then moved to New Jersey, where I attended college at Princeton University and medical school at Rutgers (RWJ) medical school. I moved slightly north to New York City for my training in neurology and epilepsy at Mount Sinai Health System, and moved further north to Connecticut after that to join the faculty at UConn where I serve as an epileptologist and the neurology residency site director. I find that teaching residents neurology and EEG interpretation is one of the most – if not the most – rewarding experience in my line of work. Outside of work, I am an obsessive baseball fan, I enjoy watching and discussing a variety of movies, and I love a good game of bowling.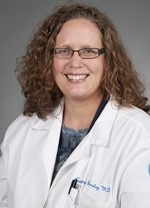 Catherine Hosley, M.D.
Neurology Residency Program Site Director, Hartford Hospital
I grew up in Enfield Connecticut, just a bit north of Hartford, and I was actually born at Hartford Hospital. I attended Bates College in Lewiston, Maine where I studied Biology with a secondary concentration in Medieval Art and History. I had the opportunity attend classes at Glasgow University in Scotland during my junior semester abroad to manage most of the credits for that! After college, I worked as a laboratory technician at Children's Hospital Boston for five years helping to develop and study a transgenic mouse model of vasopressin deficiency. While that work was interesting and technically challenging, it did ultimately convince me that clinically based work was my true interest.
I attended Boston University School of Medicine and then matched at Dartmouth to complete my internship and Neurology residency. This was followed by a year at the University of Rochester to complete a vascular neurology fellowship. In 2010, I came back to Hartford as the first neurohospitalist "style" attending in the department to help staff a growing inpatient neurology inpatient and consult service. I currently have clinical and administrative roles at Hartford Hospital including director of Inpatient Neurology and Hartford Hospital site director for the Neurology Residency Program. My clinical work is within the inpatient stroke program and I have a strong interest in palliative and end of life care as well as patient/family based communication and education.
Outside of work, I have a number of hobbies that I never seem to have quite enough time for! I love to cook and bake, enjoy world food cuisines and wines, garden (or try to garden in my fairly shady yard), and crochet. I'm a big reader and jump between total fluff and more dense "learning". Like almost everyone, I love to travel, but one of my happiest places to go is pretty close by—my family's summer place up in the Adirondacks—it is a wonderful place to relax up in the woods!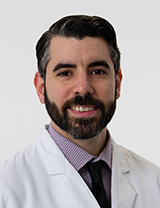 Matthew Imperioli, M.D.
Core Faculty, Neurology Residency
Program Director, Neuromuscular Fellowship
I am a Connecticut native and grew up in Newtown, Connecticut. My undergraduate training was at the Massachusetts College and Pharmacy and Health Sciences and my graduate medical training was at St. George's University in Grenada. I am a former UConn Neurology residency graduate and went on to complete a fellowship in Neuromuscular Medicine at the University of Michigan. I am currently the director of the Neuromuscular Center at UConn Health and the Neuromuscular Medicine Fellowship program director. My clinic interests include myasthenia gravis and disorder of the autonomic nervous system. I joined the UConn Health faculty in 2015 and have been really excited to see our neurology residence continue to grow and expand. Outside of neurology, I enjoy skateboarding, snowboarding, music, and traveling with my family.
Power of Possible: Peripheral Neuropathy featuring Dr. Imperioli on UConn Health's YouTube Channel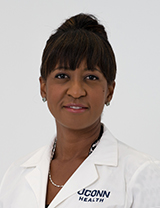 Marie Eugene, D.O.
Core Faculty, Neurology Residency
UConn School of Medicine Neurology Clerkship Director
I completed medical school at the New York College of Osteopathic Medicine followed by Neurology Residency at the University of Connecticut. After completing Epilepsy Fellowship at Yale, I returned to join the faculty at the University of Connecticut. I think back to Neurology residency at UConn fondly. My chief resident took us under his wings and guided us through the first year. The faculty was also very engaged and eager to teach. When it came time for me to be a senior Neurology resident, I felt compelled to teach and provide guidance to the incoming junior Neurology residents given the positive influence that my senior resident had on me. This appreciation for teaching students and residents has persisted and has served as the underpinning for my decision to become a medical educator. Teaching and working with students and residents over the years has been one of the more rewarding aspects of my career.
Outside of work, I enjoy spending time with my family, traveling, and swimming.