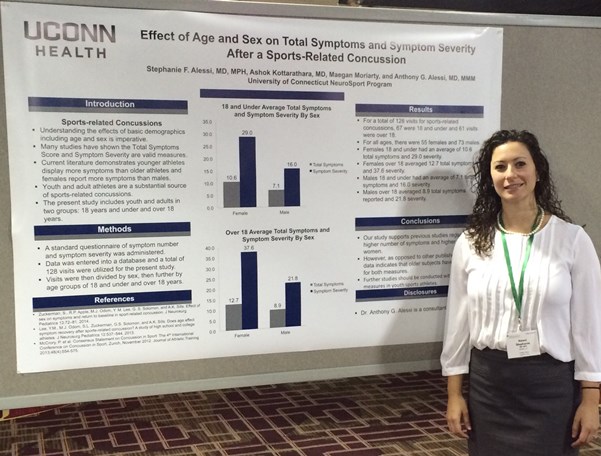 Our program boasts specialists in the various neurological subspecialties, each with their own approach to patient care, education and research. Active participation of this faculty in the department lends strength to educational and clinical activities. Each resident is assigned a faculty advisor who is responsible for helping the resident with research and with preparation for a grand rounds presentation at the end of their third year. In addition, a required research project for third year residents is part of our curriculum.
Research and publication are desirable components of the educational process and there is ample opportunity through elective rotations at the UConn affiliated hospitals for residents interested in research. Recent examples of research projects and publications in peer-reviewed journals or presented at national subspecialty conferences or regional professional meetings are listed below:
Publications
Subhendu Rath, Ahmed Shaikh, Priya Narwal, Ankit Gupta, Rare disease / CASE REPORT: New-onset headaches secondary to spontaneous intracranial hypotension. BMJ Case Reports 2018 June 2018.
Rohini Manaktala, Subhendu Rath, Bharti Manwani, Amre Nouh, Case Report of an Adult Presentation of Aggressive Acute Disseminated Encephalomyelitis. Connecticut Medicine, March 2018.
Mehta T, Desai N, Mehta K, Parikh R, Male S, Hussain M, Ollenschleger M, Spiegel G6 Grande A, Ezzeddine M, Jagadeesan B, Tummala R, McCullough L., Outcomes of early carotid stenting and angioplasty in large-vessel anterior circulation strokes treated with mechanical thrombectomy and intravenous thrombolytics. Interv Neuroradiol. Jan 2018.
Christoph Stretz, Amanda R Mook, and Yan Zhang Pearls & Oysters: Transient neurologic events in a patient with leptomeningeal metastases; Neurology. 2017 Aug 1;89(5).
Mehta T, Hussain M, Sheth K, Ding Y, McCullough L. Risk of hemorrhagic transformation after ischemic stroke in patients with antiphospholipid antibody syndrome. Neurol Res. June 2017 PMID: 28475479.
Mehta T, Datta N, Patel S, Mehta K, Hussain M, Kureshi I, Ollenschleger M, Nouh A. Trends in Endovascular Treatment of Aneurysmal Subarachnoid Hemorrhages Intervent Neurol 2017;6:236-241.
Mazaris P, Mehta T, Hussain M, Inoa V, Singer J, Spiegel G, Kureshi I, Ollenschleger M. Endovascular Treatment of Complex Distal Posterior Cerebral Artery Aneurysms with the Pipeline Embolization Device. World Neurosurg. 2017 Apr 17.
Christoph Stretz, MD, Xianyuan Song, MD/PhD, Brendan D. Killory, MD, Martin D. Ollenschleger, MD, and Amre M. Nouh, MD - Rheumatoid meningitis – diagnostic and therapeutic observations – The CT Journal of Medicine, March 2016.
Finelli PF, Nouh A. Three-Territory DWI Acute Infarcts: Diagnostic Value in Cancer-Associated Hypercoagulation Stroke (Trousseau Syndrome). American Journal of Neuroradiology. 2016 Jun 30.
Stretz, C, Mook, A, Modak, J M, Rodriguez, J M, and Nouh, A M. Gerstmann Syndrome in a Patient With Aggressive Mucormycosis. The Neurohospitalist, 28400906 April 2017.
Montalvo M, Merkler A, Gialdini G, Martin-Schild S, Navalkele D, Samai A, Tadi P, W, Nouh A, Hussain M, Goldblatt S, Hemendinger M, Chu A, Song C, Kamel h, Furie K, Yaghi S, PR interval Prolongation and Cryptogenic Stroke: A Mulitcenter Retrospective Analysis, May 2017 Journal of Stroke and Cerebrovascular Disease.
Presentations
AAN Conference, April 2018 Los Angeles
A Rare Case of Creutzfeldt-Jakob Disease with Elevated Anti-Thyroid Antibodies, Dr. Subhendu Rath, Dr. Ilavarasy Maran, Dr. Yan Hou, Dr. Lawrence Bluth
Late Onset Fabry Disease: A Mimicker of CNS Demyelinating Disease, Dr. Subhendu Rath, Dr. Ninad Desai, Dr. Lucas Benchaya, Dr. Matthew Imperioli
Unusual electrodiagnostic feature in patient with severe Myasthenia Gravis, Dr. Karan Tarasaria, Dr. Subhendu Rath, Dr. Annie Daniel
A Rare Case of Neuroborreliosis Presenting with Intracranial Hypertension, Dr. Anvi Patel, Dr. Subhendu Rath, Dr. Sarah Benchaya, Dr. Amre Nouh
Case Report: Hypertrophic Pachymeningitis (HP) from IgG4-RD (related disease) - A rare presentation or its most common cause?" Karan Topiwala, Chrisopher Hampton, David Waitzman, Carl Boland
A bout of confusion: Atypical presentations of Anti-Leucine-rich-Glioma-Inactivated 1(LGI -1) encephalitis - an emerging cause of limbic encephalitis (LE)" Dr. Karan Topiwala, Anvi Patel, Neil Datta, Yan Zhang, Isaac Silverman
Acute Motor Axonal Neuropathy (AMAN) presenting with truncal and appendicular ataxia, Ashmanie Mahatoo, Karan Topiwala, Amre Nouh, Yan Zhang, Isaac Silverman, Annie Daniel
PLS in a Connecticut ALSA Center: Retrospective study of progression rate and clinical course in 46 patients ; Neil Datta, M.D.; Kevin Felice, D.O.
ISC January 2018 – Los Angeles
Cognitive Impairment in Mild Stroke, Ilavarasy Maran M.D., Susan Taboada APRN, Francesca Ferrante, Laura Grenier CRA, Ilene Staff Ph.D., Isabelle Taboada, Amre Nouh M.D.
Stroke Patterns among Patients with Left Ventricular Assist Device: A Single Center Experience, Aparna Vaddiparti M.D, Ilene Staff Ph.D., Jason Gluck D.O., Amre Nouh M.D.
"Systolic Blood Pressure on Initial Presentation: A Predictor of Infarct Size in Large Vessel Anterior Circulation Stroke Treated with EVT," Tapan Mehta, Subhendu Rath, Dimitre Mirtchev, Mohammed Hussain, Louise McCullough, Martin Ollenschleger
Effects of blood pressure variation within 24 hours of cerebral large vessel occlusion mechanical thrombectomy and clinical outcomes" Mohammed Hussain, Violiza Inoa, Subhendu Rath, Tapan Mehta, Janhavi Modak, Jussie Lima, Ilene Staff, Daniel Lee, Charles Bruno, Martin Ollenschleger
AES Conference December 2017 Houston
Case of musical aura in a patient with Von Hippel- Lindau Syndrome, Sarah Meira Benchaya, Marie Carl Eugene, Jose Montes-Rivera
Autoimmune Epilepsy Associated with Anti-Contactin-Associated Protein-Like 2 (CASPR2) Antibodies: A Case Report, Yan Hou, Marie Carl Eugene, Jose Montes-Rivera
AAN Conference, Boston, April 2017
HSV Encephalitis associated with off-label Rituximab use in relapsing multiple sclerosis, Aparna Vaddiparti, MD, Bharti Manwani, MD, PhD, Catherine Hosley, MD, Matthew A. Tremblay, MD, PhD.
Plasmapharesis led to clinical recovery in a case of super refractory nonconvulsive status epilepticus caused by Hashimoto's encephalopathy, Bharti Manwani, MD/PhD, Sarah Benchaya, MD, Yan Zhang, MD/PhD.
A case of Anti ganglioside antibody negative Bickerstaff's Brainstem Encephalitis- Miller Fisher overlap syndrome, Bharti Manwani, Subendhu Rath, Lawrence Bluth, Anne Daniel.
Cerebral Vasculities in a patient with Crohn's disease on Adalimumab, Subhendu Rath; Aparna Vaddiparti; Yan Zhang
A Rare Case Of Seasonal Episodic Paroxysmal Hemicrania, Subhendu Rath, Amre Nouh.
Seeing double: Trigeminal neurotropic melanoma as primary recurrence site, presenting as diplopia, Datta N, Roy B, Bakradze E, Waitzman D.
Weak above the knees: Lumbar Root Non-Hodgkin Lymphoma invasion, Datta N, Roy B, Meira L, Boland C.
A case of Pontine sparing CLIPPERS Variant with both supratentorial and cervical spinal cord involvement. Aparna Vaddiparti, MD, Alexandra Flowers, MD, Phyllis Grable-Esposito, MD, Paul Schwartz, MD, PhD.
Understanding National Trends of 30 Day Readmission in Multiple Sclerosis, Tapan Mehta, Smit Patel, Ninad Desai, Matthew Tremblay.
National Trends of Readmission Rates and Related Cost in Epilepsy Subgroup, Tapan Mehta, Smit Patel, Erica Schuyler.
Society of Vascular and Interventional Neurology, November 2016, Brooklyn
Causes, Cost, and Rate of Readmission in Moyamoya Disease, Tapan Mehta, Jussie Lima, Amit Patel, Mohammed Hussain, Martin Ollenschleger, Inam Kureshi, Amre Nouh.
New Generation Endovascular Devices Associated with Higher Rates of Functional Independence in Posterior Circulation Stroke, Jussie Lima, Mohammed Hussain, Tapan Mehta, Martin Ollenschleger, Daniel Lee, Charles Bruno, Inam Kureshi, Amre Nouh, Nora Lee.
International Stroke Conference, February 2017, Houston
Trends of Angioplasty for Cerebral Vasospasm in Endovascularly Treated Aneurysmal Subarachnoid Hemorrhages, Tapan Mehta, Smit Patel, Mohammed Hussain, Priya Narwal, Dimitre Mirtchev, Amre Nouh, Martin Ollenschleger, Inam Kureshi.
Simulation Based Medical Education Improves Door to Needle Times in Acute Ischemic Stroke Management. Tapan Mehta, Sara Strauss, Dawn Beland, Ilene Staff, Gilbert Fortunado, Nora Lee.
Migraine History is the Only Predictor of Negative Diffusion Weighted Imaging in Patients treated with IV-Thrombolytic, Jussie Lima et. al.
Early MRI Facilitates Stroke Evaluation and Decreases Length of Stay for Ischemic Stroke Patients, Bharti Manwani, Subhendu Rath, Matthew Woodward, Ilene Staff, Gilbert Forunato, Janhavi Modak, Christoph Stretz, Nora Lee.
North East Cerebrovascular Consortium, Newport, RI, October 2016
"Analysis of a Two-tiered Triage System for Ischemic Stroke and Factors Associated wtihi Delay in Thrombolytic Treatment" Tapan Mehta, Mohammed Hussain, Dawn Beland, Lincoln Abbott, Amre Nouh.