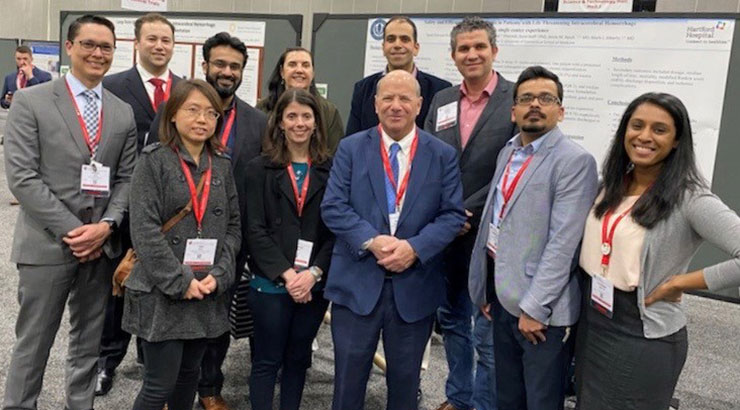 Our program boasts specialists in the various neurological subspecialties, each with their own approach to patient care, education and research. Active participation of this faculty in the department lends strength to educational and clinical activities. Each resident is assigned a faculty advisor who is responsible for helping the resident with research and with preparation for a grand rounds presentation at the end of their third year. In addition, a required research project for third year residents is part of our curriculum.
Research and publication are desirable components of the educational process and there is ample opportunity through elective rotations at the UConn affiliated hospitals for residents interested in research.
Some recent examples of research projects and publications in peer-reviewed journals or presented at national subspecialty conferences or regional professional meetings are listed below:
Publications
Hamza Coban, Sarah Germaine, Ian Dimaandal, Nicholas Haberli, Charanpreet Padam, Marina A Creed, Jaime Imitola. Real-world experience of ocrelizumab initiation in a diverse multiple sclerosis population. Multiple Sclerosis and Related Disorders, May 2021
Smit D Patel, Karan Topiwala, Vasu Saini, Neel Patel, Mubashir Pervez, Fawaz Al-Mufti, Ameer E Hassan, Priyank Khandelwal, Robert M Starke.
Hemorrhagic reversible cerebral vasoconstriction syndrome: a retrospective observational study. Journal of Neurology, Feb 2021
Haberli, N., Coban, H., Padam, C., Montezuma-Rusca, J. M., Creed, M. A., & Imitola, J. Babesia microti infection in a patient with Multiple Sclerosis treated with Ocrelizumab. Multiple Sclerosis and Related Disorders, January 2021
Smit D Patel, Ryan Kollar, Patrick Troy, Xianyuan Song, Mohammad Khaled, Augusto Parra, Mubashir Pervez. Malignant cerebral ischemia in a COVID-19 infected patient: case review and histopathological findings. Journal of Stroke and Cerebrovascular Diseases, Nov 2020
Smit D Patel, Rafique Haynes, Ilene Staff, Ajay Tunguturi, Sedeek Elmoursi, Amre Nouh.Recanalization of cervicocephalic artery dissection. Brain Circulation, Sept. 2020
Yaghi S, Trivedi T, Henninger N, Giles J, Liu A, Nagy M, Kaushal A, Azher I, Mac Grory B, Fakhri H, Brown Espaillat K, Asad SD, Pasupuleti H, Martin H, Tan J, Veerasamy M, Liberman AL, Esenwa C, Cheng N, Moncrieffe K, Moeini-Naghani I, Siddu M, Scher E, Leon Guerrero CR, Khan M, Nouh A, Mistry E, Keyrouz S, Furie K. Anticoagulation Timing in Cardioembolic Stroke and Recurrent Event Risk. Ann Neurol. Oct 2020
Shadi Yaghi, Eva Mistry, Ava L. Liberman, James Giles, Syed Daniyal Asad, Angela Liu, Muhammad Nagy, Ashutosh Kaushal, Idrees Azher, Brian Mac Grory, Hiba Fakhri, Kiersten Brown Espaillat, Hemanth Pasupuleti, Heather Martin, Jose Tan, Manivannan Veerasamy, Charles Esenwa, Natalie Cheng, Khadean Moncrieffe, Iman Moeini-Naghani, Mithilesh Siddu, Erica Scher, Tushar Trivedi, Aaron Lord, Karen Furie, Salah Keyrouz, Amre Nouh, Christopher R. Leon Guerrero, Adam de Havenon, Muhib Khan, Nils Henninger.Anticoagulation Type and Early Recurrence in Cardioembolic Stroke: The IAC Study. Stroke, August 2020
Smit D Patel, Ninad Desai, Schweta Rane, Neel Patel, Rupak Desai, Tapan Mehta, Martin D Ollenschleger, Anil Nanda, Robert M Starke, Priyank Khandelwal. Trends in hospitalizations and epidemiological characteristics of adults Moyamoya disorder in the United States. Journal of the Neurological Sciences, Dec 2020
Karan Topiwala, Karan Tarasaria, Ilene Staff, Dawn Beland, Erica Schuyler and Amre Nouh, Identifying Gaps and Missed Opportunities for Intravenous Thrombolytic Treatment of Inpatient Stroke. Frontiers of Neurology Feb. 26, 2020
Coban, H., Siddiqui, A., Creed, M. A., Rai, W., & Imitola, J. Preventive neurology concepts for training the next-generation and closing gaps in real-world Multiple Sclerosis Care. Multiple sclerosis and related disorders, October 2020
Presentations
American Neurological Association Meeting, October 2021
Crista Carty, Daniyal Asad, Sarah Germaine, Hasmik Amirjanvan, Lindsay Joslyn, and Karen Medin
Electroencephalographic Patterns in Patients with COVID-19: A Single Center Observational Study.
American Academy of Neurology, April 2021
Jose Montes-Rivera, Biju Gopalakrishnan
Bone density screening in epilepsy patients, Abstract 1966
Sarah Germaine, Hamza Coban, Ian Dimaandal, Annie Daniel
An overlap syndrome: Myositis specific and Myositis associated antibodies in dermatomyositis Abstract 4694
Keerthana Nalamada, Hamza Coban, Katrina Badiola, Ahmad Daher
A Rare Case of Co-occurrence of Astrocytoma and Oligodendroglioma, Abstract 4975
International Stroke Conference, March 2021
Tarasaria K, Asad SD, Nouh A. Utilization of Advanced Imaging Paradigms improve patient triage at Stroke Centers in a Stroke System of Care
Society of Neurointerventional Surgery Meeting, April 2021
Fayad, M., Elmashad, A., Lima, J., Bruno, C., Ollenschleger, M., Kureshi, I., Mehta, T.
A Rapidly Growing Symptomatic Distal Lenticulostriate Artery aneurysm treated by surgical clipping
Fayad, M., Patel, S., Elmashad, A., Lima, J., Ollenschleger, M., Bruno, C., Kureshi, I., Mehta, T.
Outcomes of Particle Vs Liquid Embolic Materials Used in Middle Meningeal Artery Embolization for the Treatment of Chronic Subdural Hematoma 
ACTRIMS Forum, February 2021
Sarah Germaine, Nicholas Haberli , Hamza Coban, Jaime Imitola. Emerging Cases of Severe Babesia microti infections in Multiple Sclerosis patients treated with Ocrelizumab: Report of two cases
American Neurological Association Meeting, October 2020
Danison Emmerson, Karan Topiwala, Lisa Knopf, Erica Schuyler. Risk Factors For Diagnosis Of Seizure In The Inpatient Stroke Code Population
ACTRIMS-ECTRIMS Meeting 2020
Hamza Coban, Sarah Germaine, Ian Dimaandal, Nicholas Haberli, Charanpreet Padam, Marina Creed, Jaime Imitola. Real-world Experience of Ocrelizumabinitiation in a Diverse MS population
American Academy of Neurology, April 2020
Subendu Rath, Hamza Coban, Annie Daniel.  A Rare case of dysferlinopathy presenting with recurrent rhabdomyolysis
International Stroke Conference, February 2020
Modak J, Asad SD, Lima J, Nouh A, Ollenschleger M

Endovascular Therapy in patients over 80 years of age with acute ischemic stroke