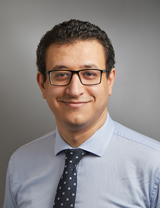 Mohamed Afify
Medical School: Tanta University Faculty of Medicine, Egypt
I come from Egypt, the land of the Pyramids! I was born and raised in a city called Tanta, where went to high school and afterwards Tanta University School of Medicine. After graduating, I worked as a primary care physician in underserved rural village for 6 months. Afterwards, I did an internship at the Italian Military hospital in Alexandria for a year. Then I started critical care residency for 8 months, before I moved to the US to work as a research fellow at Yale University comprehensive epilepsy center. There my love for neurology blossomed and so, I decided to take the next step and seek residency training in neurology. It was the happiest moment of my life when I learned I matched into neurology at University of Connecticut. I'm thrilled to go through this new journey at my new home.
My favorite thing to do in my free time is reading, especially fantasy. My favorite author is J.R.R.Tolkien and I'm a big fan of Harry Potter. Other than that, I would go running for exercise or watch a match of my favorite soccer team (P.S. Liver Pool).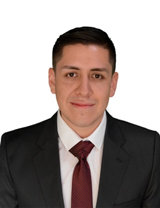 Juan Cabrera Pulla
Medical School: Universidad de Cuenca Facultad de Ciencias Médicas, Ecuador
I was born and raised in Cuenca, a small city in Ecuador. From an early age, I knew that I wanted to study medicine. I graduated from the University of Cuenca and decided to come to the United States to continue my medical preparation. Being away from my family and friends has been quite challenging but at the same time, they are the ones who have supported me since the beginning of this journey.
My interest in Neurology began when I was a child after my great grandmother was diagnosed with Parkinson's at age 60. This was a crucial moment where I realized the importance of the nervous system. I've always been fascinated with the human brain, because of how it allows us to define our reality, perceive and react to our environment, determine our personality, and relive countless memories.
I had the opportunity to work as a physician in different clinical settings during my year as an intern in Ecuador. I believe that treating neurological disorders results in the improvement of all aspects of life that make us who we are: how we think, move, communicate, or even accomplish the most complex activities.
Besides medicine, I love animals especially dogs, I like reading, jogging, doing outdoor activities with friends and family.
I am very thankful for being part of this wonderful program for my training in Neurology.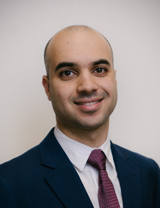 Sherif Elsayed
Medical School: Ain Shams University Faculty of Medicine, Egypt
Hello everyone! I am originally from Mansoura, a city in the north of Egypt. I went to medical school at Ain Shams University in Cairo then moved to the US for clinical rotations and research experience.
I love the field of Neurology especially the vascular and critical aspects of it. I am also interested in research and statistics which I would like to continue improving throughout my career. I find UConn a wonderful place to train especially for its friendly and welcoming environment.
Outside of medicine, I love spending time with family, soccer, reading, history, and recently got interested in the current issues facing the environment, climate, wildlife, and marine life.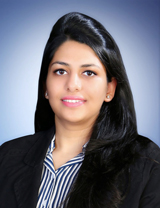 Shriya Gupta
Medical School: Dayanand Medical College and Hospital, India
I was born and brought up as a Punjabi, North Indian girl from India and did my medical school from Dayanand Medical College and Hospital, India. Since I entered medical school, I have had the desire to explore myself and the world and to reach beyond my limits, so I decided to pursue my residency and further training in the U.S and was beyond thrilled when I got matched at UConn.
I have always been captivated to traverse towards the unknown which led me to follow my passion towards being a Neurologist and make an effort in trying to understand the workings of the ever elusive human brain!
Besides medicine, I dabble a little in painting, especially with soft pastels, sketching, a little bit of singing, dancing, baking and always eager to learn new things and add another feather in my cap!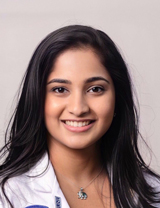 Neeharika Krothapalli
Medical School: University of New England College of Osteopathic Medicine
I was born in India and lived in Singapore for about six years before moving to Connecticut with my family when I was younger. I discovered my deep passion for neurology in middle school with exposure to amazing role models in the field. I attended Dartmouth College for undergrad, majoring in neuroscience. During my time in college, I had the opportunity to spend a semester abroad in Tanzania working in clinical research trials on malaria and pregnancy through the Harvard School of Public Health. There, I discovered my interest for global health that informed the journey I took in pursuing a Master's in Global Medicine at the University of Southern California. Through the program, I also spent time with Floating Doctors to serve remote island communities in Panama before attending medical school.
Residency is a formative time in a physician's career and I am thrilled to be at such a supportive program with seasoned clinicians to guide me in the art of neurology. In my spare time outside work, I enjoy dancing, cooking, traveling and taking long walks on the beach!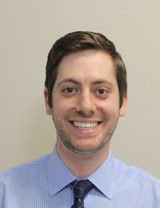 Ethan Miller
Medical School: Saba University School of Medicine
I was born and raised in Toronto, Canada. I attended Queen's University in Kingston, where I received a Bachelor of Science in chemistry. I became interested in neurology as soon as I started studying the nervous system in medical school. I enjoy learning about the complexities of the brain and spinal cord, and being able to localize lesions. My academic interests are vascular neurology and epilepsy; but I am still exploring the various subspecialty fields within neurology, as it is all intriguing! Outside of medicine, I enjoy traveling the world, fishing on weekends, playing the guitar and piano, practicing karate, and watching movies.
Fun Facts: I hold a black belt in Shotokan karate and I was the lead guitarist and singer in a rock band.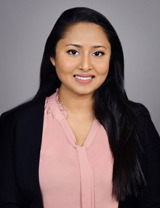 Aysha Siddika
Medical School: St. George's University School of Medicine, Grenada
I was born in Bangladesh and moved to the states with my family years ago. My family settled in Brooklyn and it became my home over the past 17 years.
I completed my Bachelors degree in biochemistry from Stony Brook University, and spent few years in the area after graduation for work and eventually Masters degree in Public Health. While getting my MPH, I realized my passion for Medicine. Neurology had always intrigued me even as a student, so choosing it as a specialty after medical school was a no brainer. I've always found the undiscovered aspects of Neurology fascinating. It's the challenge of unveiling the hidden mysteries what keeps me motivated.
I love adventure, I like learning new cultures, exploring new places and natural wonders especially near any beach. I may have a soul of a mermaid. I also like reading historical fictions, learning history in general. I enjoy watching Comedies like SNL, that 70s show, love re-reading the Harry Potter books, collecting anything related to Harry Potter. But most importantly, I am a proud New Yorker in heart no matter where I end up.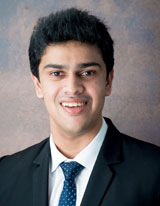 Anvesh Balabhadra
Medical School: Gandhi Medical College and Hospital, Secunderabad, India
I spent a majority of my life growing up in Hyderabad, India. I always had an affinity towards the brain since I was kid, so neurology came very naturally to me. There's a lot we know about the brain, but there's a lot more that we don't, and that's why I love it so much! Fields of particular interest are stroke, endovascular, and neuro-oncology.
Outside of medicine, I play an array of video games, but mainly DotA 2. Other interests include travel, exploring local cuisine, swimming, soccer, cricket, F1, and anime!
Fun Fact: I eat ice cream everyday.
"Whatever you do, always give 100%. Unless you're donating blood" - Bill Murray
"Don't you know the first law of physics? Anything that's fun costs at least 8 dollars." - Eric Cartman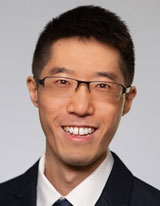 Jeffrey Chen
Medical School: St. George's University School of Medicine, Grenada
I was born and raised in northern Jersey, where I spent countless hours practicing piano and cello, playing tennis with my father, and solving math problems until they haunted me in my dreams. After high school, I studied chemical and biomedical engineering at Carnegie Mellon University. Then, I worked as a chemical engineer at an ethylene refinery plant for 3 years before I decided to embark on my medical journey at St. George's University. I felt that I have always gravitated towards neurology because there are many disciplines to explore and there is much potential about the brain that we have yet to unlock. For now, I will keep an open mind before I commit to one particular sub-specialty in neurology.
When I have free time, I like to play tennis and hearthstone. My favorite vacation spot is Taiwan because I love the night market street food as well as hanging out with my relatives!
Favorite Movies: The Terminator series, Total Recall, The Matrix, Parasite, Ex Machina, The Imitation Game, Harry Potter series, Marvel Movies
"If you're good at something, never do it for free." – The Joker
"Many of life's failures are people who did not realize how close they were to success when they gave up." – Thomas A. Edison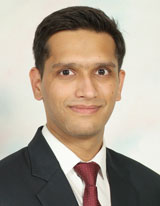 Ankush Maheshwary
Medical School: Government Medical College, Amritsar, India
I was born and raised in the city Amritsar, the cultural heartland located in northern India. I went to the Government Medical College, Amritsar for medical school to become the first M.B.B.S. of the family.
During my year of internship at a tertiary care center, I thoroughly enjoyed solving the diagnostic challenges presented by the neurological patients and got a true insight into the vastness of clinical presentations. Within neurology I'm especially interested in movement disorders and behavioral neurology.
Outside of work I like to explore different hiking trails around the city. I enjoy playing ping pong, chess, and board games. Activities that help me de-stress are cooking and running marathons (movie marathons!).
My pursuit for residency has brought me to UConn, where I have found a second home. I'm thrilled to be part of this program and excited to share the journey with my amazing co-residents.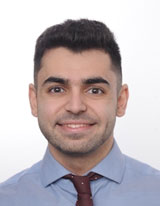 Yoram Ebrahimi
Medical School: Sackler School of Medicine, New York State/American Branch at Tel Aviv University
I'm originally from Great Neck, NY on Long Island. I did my undergraduate education at Binghamton University with a B.S. in neuroscience. I did my medical school at Sackler School of Medicine at TAU. Living in Israel was one of the best decisions I've made, helping find a good balance between work and lifestyle.
My interest in neurology started in undergraduate when I did research in neuroplasticity. It was one of the systems that made so much sense to me. I enjoyed how the brain integrated aspects of medicine and psychology but I found all aspects of neurology to be fascinating, whether it was epilepsy, autoimmune disease, neurodegenerative, neuromuscular disease - it all fascinates me. I'm mainly interested in cerebrovascular disease. Ever since I was in medical school, I found many exciting opportunities for research, and want to dedicate time to develop in this field.
In my free time, I like to go the gym or go for a run, living in Israel was a great environment for fitness. I often like to wind down with my guitar, playing music from classic rock to alternative. I enjoy practicing and learning about meditation. On weekends, I like to go home to spend time with my friends and family.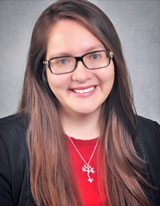 Brenda Pulgarin
Medical School: State University of New York Upstate Medical University
Hi! I'm Brenda. I was born in Ecuador and moved to NYC when I was 6. I have lived most of my life in NYC being exposed to amazing people and cultures as I navigated my college years at NYU. I decided to go to medical school at Upstate Medical in Syracuse. There I found a love for nature and the outdoors.
My passion for neurology emerged through my interest in understanding how people think and why they do the things they do. How all the pieces fall together to make up so a person is and what they say and do. I had the privilege of working along amazing faculty who instilled their passion for neurology onto me. I knew I was meant to be a neurologist after my first neurology thrombectomy case when I heard the joy in the voices of the endovascular surgeons as they celebrated the successful removal of a clot. Through these experiences I have developed an interest in stroke, endovascular and critical care. However, I am keeping an open mind as I explore all the amazing fields in neurology.
In my free time I love to bake, especially for other people. I love trying new recipes and altering ingredients to find out which spice combinations bring out the best flavors. I also love to explore both nature via trails and visiting parks as well as exploring new places. I am interested in exploring restaurants and attractions in the area. With my fascination for exploring its not surprising that I love to travel, visit new places, try new food, and meet new people!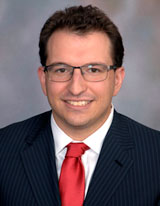 Jordan Siegel
Medical School: Lewis Katz School of Medicine at Temple University
I take great pride in being a Connecticut native, born in New Haven and grew up in New Canaan. In fact, my dad had to stop eating Pepe's to join my mom in the delivery room! Despite these roots, I am an eternally optimistic Philadelphia sports fan as my parents grew up in the City of Brotherly Love. I moved in high school to San Diego, California where not only did I become spoiled with great weather, but I met my eventual fiancée. Despite the weather, I attended the University of Pittsburgh where I was first to exposed to medicine via clinical research (including on strokes!) in the emergency room. After Pitt, my family returned to Connecticut and I completed my MPH from George Washington University. During my MPH, I was able to complete a preceptorship in the Norwalk Public Health Department, getting to learn about the ins and outs of Connecticut healthcare. From there, I went to medical school at Temple in Philadelphia. I take full responsibility that my first year living in Philadelphia my Eagles won the Super Bowl.
I love neurology because it encompasses the art of puzzle solving with the intricacy of a well-performed physical exam. I cannot wait to explore all aspects of the field, but I am passionate about cost-efficient medicine and look forward to exploring avenues to achieve this goal.
Outside of the hospital, I enjoy playing basketball despite my size and athletic ability, going on walks and playing Pokémon Go, if you can catch me.
"We're from Philly, nobody likes us, we don't care" - Jason Kelce
"World Champions" - Chase Utley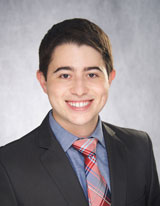 Alberto Varon
Medical School: Universidad Anáhuac Escuela de Medicina, Mexico
I was born and raised in Mexico City, where I went to medical school at Universidad Anahuac. During my clinical rotations I immediately fell in love with Neurology, I was amazed with the possibility of being able to localize a lesion with such precision. After graduating I worked in the Mexican Consulate in Miami, FL where I provided immigrants with reliable information on health topics, counseling, and referrals to the different health services available at their local communities. During this time, I also participated in a research project from Harvard's disparities unit studying elder minorities and their capabilities of preventing disability and depression via different interventions. I later worked as a research fellow for a year studying aneurysmal walls using high-resolution vessel wall imaging in the department of neurology at The University of Iowa. It is during this year that my interest towards vascular neurology increased.
Outside of medicine, I enjoy reading about technology and finances. I like spending time with my family and friends, traveling, trying new restaurants, playing videogames, and watching my Jacksonville Jaguars win (sometimes).
I am very happy to have matched to such an amazing program with incredible neurologists and colleagues.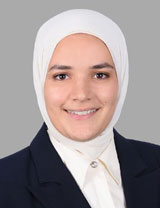 Ayatallah Ahmed
Medical School: Cairo University Faculty of Medicine, Cairo, Egypt
I'm originally from Egypt, one of the oldest civilizations that get to explore the brain anatomy via inserting a long hooked implement through the nostril, breaking the cribriform plate and removing the brain by the mummifiers. I graduated from Cairo University where I started teaching junior medical students neuro-anatomy on brain cadavers. At that point, I decided to pursue my career in neurology to explore more mysteries about the brain and solve cool puzzles.
After graduation, I participated in epilepsy research and I got to enjoy the brain mapping and focus localization. Connecticut is a natural beauty, and UConn has great faculty and a very supporting staff.
Other than being an intern, I enjoy outdoors activities specially zip lining, kayaking and hiking which you can really enjoy in Connecticut. In addition, spending quality time with close friends and family.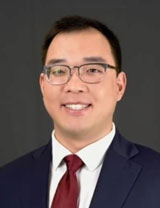 Victor Chan
Medical School: University of Queensland, Australia/Ochsner Health System, Louisiana
I was born and raised in San Francisco, California. I'm very proud to be a first generation college and medical school graduate in my immediate and extended family. My parents immigrated from southern China and moved to San Francisco where I grew up. I went to undergrad at Dominican University of California studying Chemistry and spent some time studying abroad at the University of Oxford studying human sciences and researching neural physiology and at Penn State Hershey researching Hydrogen Sulfide poisoning and pulmonary medicines. My medical school is the University of Queensland in Australia where I spent two preclinical years in the land down under and the last two in the Ochsner Health System in Louisiana! I've now travelled across the globe for my education and along the way, I've met some amazing people and learned so much about the world around me.
The reason why I love neurology is because of the intricacies of presentations that can have you scratching your head for answers and the investigative nature of neurology leading up to  that "Ah-ha!" moment when it all becomes clear. Neurology is a constantly evolving field that is ripe for innovation and we get to live through it!
Fun Fact: I've backpacked across England, France, Italy, and ended up in Greece where I found myself being an emergency aid for Syrian refugees.
Hobbies: I love cooking cuisines around the world. I am a self proclaimed cookware enthusiast, woodworker, watercolor artist. I am also a masochist with Dark Souls games.​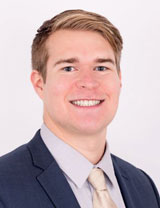 Bradley Garcia
Medical School: Geisinger Commonwealth School of Medicine, Scranton, PA
I was born and raised just outside of Philadelphia. I graduated from Ursinus College with a Bachelor of Science in health and exercise physiology. I attended medical school at Geisinger Commonwealth School of Medicine where I discovered my passion for neurology. Neurology is an exciting field of medicine full of diagnostic complexities in which a thorough history and physical exam is critical to localizing neurological disease processes. I look forward to exploring and learning more about all the different neurological subspecialties during residency. I am grateful to be completing my neurological training at UConn as they have an excellent training program with specialists in both of my main interests in headache medicine and sports neurology.
Outside of medicine, I enjoy reading, cooking, baking, and spending time with friends and family. I grew up playing many sports and went on to both play and coach college lacrosse. I remain a big sports fan, and I enjoy rooting for my hometown Philly sports teams.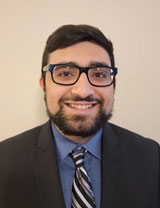 Matthew Mashayekhi
Medical School: University of New England College of Osteopathic Medicine, Biddeford, ME
I was born and raised in Connecticut. My interest in Neurology began during medical school after the neuroanatomy block. Being introduced to how the nervous system was wired and the different ways pathology could present fascinated me. I took the opportunity to then help teach the neuroanatomy course for the year below me which really solidified my interest in Neurology as well as medical education. Within neurology, I have an interest in movement disorders at this time, however; I am eager to be exposed to the different sub-specialties there are.
In my free time, I enjoy repairing and modifying electronics, especially video games. I like going to flea markets and yard sales to find electronic or games to add to my collection.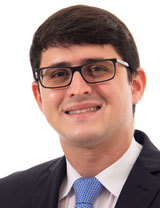 Daniel Moreira
Medical School: Centro Universitario do Estado do Para (CESUPA), Belem, Brazil
I was born and raised in Brazil. I did my medical school at State University of Pará, in the north of Brazil. ​My passion for neurology started on medical school when I noticed how interesting and incredible is the neurological reasoning. It is impressive how many details can be obtained by neurological examination with accurate topographic correlation and how vital is this approach to reach a final diagnosis. Clinical neurological examination remains as our powerful tool to direct us in this challenging specialty.
Outside of medicine, the majority of my free time I dedicate to spend time with my family, trying use every resource available to mitigate the distance between United States and Brazil. I also enjoy reading different books, specially biographies of people that I truly admire; watching soccer and the great brazilian teams playing; and expanding my collection of souvenirs from different places in the world when traveling.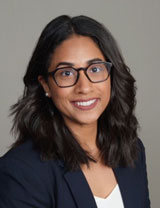 Charanpreet Padam
Medical School: Government Medical College, Amritsar, India
Hi! I bounced around the East Coast until finally settling down in Connecticut. While growing up, I used to visit India often. I loved exploring my culture, the history, and, most of all, the food! When I graduated high school, I knew I wanted to pursue my passion for medicine and desire to travel. So, I attended med school in India at GMC, Amritsar. If you ever visit Amritsar, don't forget to try chole bhature with lassi and see the beautiful Golden Temple!
During my medical education in India, I discovered my interest in neurology. From witnessing Multiple Sclerosis, epilepsy, migraine, and stroke to Potts disease in my own family, I could apply neurology to people I care for. After returning to the United States, I focused on research in neuroinflammation, specifically correlations between the phenotypes and genotypes of MS patients. Such experiences further allowed me to understand the complex nature of neurological disorders as a challenge for neurologists and the hardships of being a patient. I hope to create a difference by advancing the field from research and by increasing efforts to raise awareness.
Apart from neurology, I enjoy Punjabi Music, corny Rom-Coms, hiking, board games, and anything sweet. I love spending time with my friends (both old and new here at UConn)! And, of course, I am absolutely obsessed with my fluffy golden retriever, Mowgli. I try to spend as much time as I can bugging him as any typical dog mom would!
UConn is one close-knit family with devoted attendings who are always ready to teach. You always have the support and rigorous training you need to become a competent Neurologist. Plus, being located in Connecticut is truly the best of both worlds! You can enjoy city life in New York and Boston or the beautiful landscapes of New England.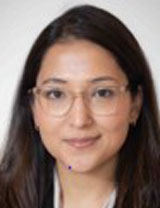 Melisha Budhathoki
Medical School: University of Connecticut School of Medicine, Farmington, CT
Hi, my name is Melisha. I was born in Nepal but grew up mostly in CT. I did my undergraduate at Boston University. It was there that I first became interested in Neurology while engaging in Alzheimer's Disease research. I attended medical school at University of Connecticut and I'm thrilled to also be doing my residency here! My subspecialty interests are broad and I'm looking forward to exploring all of them during residency. When I am not working I enjoy hiking/trekking, cooking, traveling and spending time with my friends.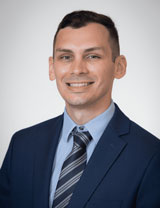 James Costanzo
Medical School: University of Connecticut School of Medicine, Farmington, CT
I grew up in Ellington, CT (home to the largest dairy farm in the state) with my parents, twin sister, and several German Shorthaired Pointers. My family has always had strong ties to UConn as my parents along with many aunts, uncles, and cousins attended school there. They are all very proud that I have received my education from UConn. My interest in neurology began in high school biology and chemistry courses and was strengthened after my grandfather contracted ALS. I'm proud to practice this medical specialty to honor his memory.
In my free time I enjoy watching films, following my favorite football team (Tottenham Hotspur), and spending time with my wife.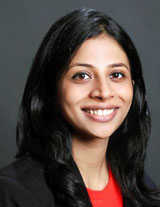 Pooja Jethwani
Medical School: B.J. Govt. Medical College, Pune, India
I was born and raised in Mumbai and completed my medical school in Pune. I have always been curious and during my time in med school, I found every single field very fascinating, however, neurology blew my mind (lol)! It has so many intricacies and details and yet so many unanswered questions. Every case seems like a mystery waiting to be solved! Therefore, I was naturally drawn to it. My current areas of interest are vascular neurology and neurocritical care but I want to explore all the subspecialties before I decide on my fellowship.
In my free time I love to travel, try out different cuisines, draw, and watch movies!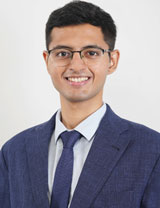 Ameya Kale
Medical School: Kasturba Medical College Manipal, Karnataka, India
I am from India. Born in the city of Hyderabad, in the state of Andhra Pradesh in South India, I grew up in New Delhi, in North India in a household full of medicine and music. Being raised by a tiger grandmom I was subjected to countless lessons in Indian Classical music and tennis, and a subliminal subconscious influence to medicine from my parents who were doctors themselves, all the while harboring the personal dream of being a pilot one day. It was much later that I realized that turbulence in the air was not my best friend.
When I landed up in medical school, I loved it. I realized that I was in the right place, and that I was very lucky to be there. Neurophysiology and neuroanatomy were personal favorites, and I lucidly remember sitting in class, 1 week into school, marveling at the physiology of the NMJ and the anatomy of the long tracts and how the pathophysiology correlated with the signs and symptoms of the diseases like myasthenia gravis and tabes dorsalis. It was fascinating to me how simple, ingeniously crafted clinical exam maneuvers could eke out so much detail about the disease. Choosing between Medicine and Neurology was hard, because I adored both. What made the difference was the quintessentially clinical nature of neurology - the history and physical exam are its unshakeable bedrock, and the fact that there is so much yet to be discovered. I am excited to explore its multiple facets but the parts of neurology that interest me the most right now are vascular neurology and neurocritical care.
Outside of medicine I enjoy hiking and exploring the outdoors, spending time with friends and subjecting them to the sounds of me playing guitar, read Terry Pratchett when I get the chance, or as a last resort, workout. I've recently found that I quite like cooking and cleaning, and that they are quite convenient hobbies to have.
I'm thrilled to have found a welcoming home here at UConn, filled with likeminded wonderfully nice people, and amazing clinical teachers and I'm excited to see what lies ahead.
"Today is a good day to try." – Quasimodo, The Hunchback of Notre Dame
"Only in our dreams are we free. The rest of the time we need wages." – Terry Pratchett, Wyrd Sisters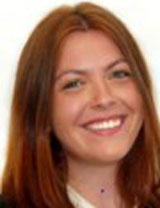 Melanie Orr
Medical School: New York Institute of Technology College of Osteopathic Medicine
I am originally from New Jersey, where I have lived close to the beach for most of my life. I grew up spending almost all of my time outdoors and loved exploring the ocean, hiking, and being around wildlife. I developed an interest in brain back in my high school years, which eventually lead me to study neuroscience at my undergraduate university. From there, I explored many different clinical career paths within neuropsychology, addiction medicine, neurosurgery, and of course neurology! I received my medical training in the greater New York City area and quickly learned that my passion lies in developing longitudinal relationships with patients with a focus on patient education and advocacy. My current interests within neurology include movement disorders, cognitive neurology, and headache, but I continue to have an open mind as I advance through my training!
Outside of medicine, my hobbies include fitness, portrait art, animal fostering, and of course spending time with my wonderful support system!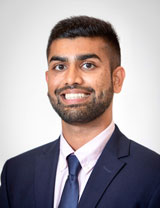 Srinath Ramanan
Medical School: University of Connecticut School of Medicine, Farmington, CT
I was born in India and moved to Connecticut at a young age. After my schooling in West Haven and New Haven, I started pursuing biology at UConn Storrs and was captivated by human anatomy and physiology. I enjoyed learning about the intricacies of the human body and the pathophysiology of normal cellular function.
After undergrad, I was a clinical research coordinator for 3 years at Yale's Alzheimer's Disease Research Unit. Here, I found my passion for neurology and clinical medicine. I carried this with me into medical school at UConn and am excited to watch it further unfold during my time here in residency. My interests within neurology include movement disorders, neurocritical care, and epilepsy.
Outside of medicine, I enjoy painting, exercising, tennis, golf, and learning about astronomy!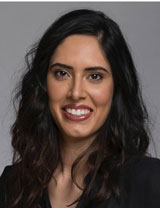 Alia Tewari
Hi, I'm Alia! I grew up in Toronto, Canada and could not be more thrilled to be in Connecticut and part of the Husky family! Fun fact: my sister was a Husky once upon a time and I'm thrilled to be following in her footsteps. My career interests include sports neurology, vascular neurology, and interventional neurology. Outside of work, my hobbies include playing/watching basketball and hockey, photography, and trying my hand at latte art – it's a work in progress!