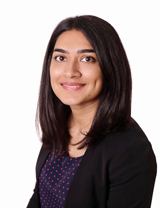 Pireh Ansari
Medical School: St. George's University School of Medicine, Grenada
I majored in Neuroscience at the University of Toronto, so I pretty much always knew I was going into Neurology. I spent a year in between undergrad and med school teaching high school math and physics. It was an incredible year, I think I learned more from my students than they learned from me! I then had a truly international medical school experience, I went to St George's University, did my first year of basic sciences in the UK, the second year in Grenada, and two years of clinical rotations in NYC.
I honestly believe that there's nothing in this world as endlessly fascinating or as beautifully complex as the human brain! I'm particularly interested in Movement Disorders as well as Cognitive Neurology.
Other than Neurology (of course), I am obsessed with movies and books (anything by Oscar Wilde, Jane Austen, Douglas Adams), I would take LOTR over Harry Potter any day (a controversial opinion I know!), I love escape rooms, graphic design and I truly believe chocolate = life!
"Expect problems and eat them for breakfast!" - Alfred Montapert (my motto for residency)
"Life is an exciting business, and most exciting when it is lived for others." - Helen Keller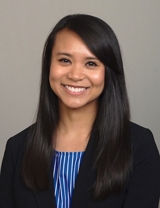 Katrina Badiola
Medical School: St. George's University School of Medicine, Grenada
Born in the Philippines, raised in New Jersey, and spent some time in New York. I did my undergrad at Rutgers University, masters at CUNY Hunter, and medical school at St. George's University in Grenada. All of Neurology is stimulating, but I have a special place in my heart for Movement Disorders, Headache, and Sports Neurology.
You can probably find me doing any of the following: reading a good sci-fi book, watching movies, planning my next trip, karaoke in the car, dancing in front of the mirror, or caring for my house plants. I am also looking for a board game buddy to undertake campaigns!
"Sometimes you gotta work a little so you can ball a lot." - Tom Haverford
"The worst thing about prison was the dementors." - Michael Scott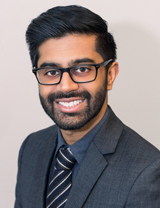 Aakash Bhargava
Medical School: St. George's University School of Medicine, Grenada
I was born and raised in the suburbs just outside of Toronto, and completed my undergraduate studies in life sciences at McMaster University. I attended St. George's University for medical school, and my connection to neurology developed during clinical rotations; the unique manifestations of pathology, the eloquence of the neurological exam, and the importance of rehabilitation strategies all drew me towards the profession.
UConn Neurology has been an exciting, supportive, and most importantly a friendly environment to train and learn. I'm extremely grateful for the close bonds and friendships between my fellow residents both inside and outside of work.
I still watch and root for my hometown teams, play golf and tennis, and enjoy all things trivia-related. I play the drums in a resident band (temporarily derailed due to Covid-19!).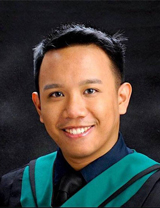 Ian Dimaandal
Medical School: University of the Philippines, Manila
Hello everyone! I am Ian! I was born in Manila, Philippines where I grew up and spent most of my early adult life. Even when I was young, I have been very much interested in human biology and I have planned on becoming the first physician in my family. I was fortunate to complete my medical education as part of the INTARMED program of the University of the Philippines- Manila. After which, I moved to California where most of my family is currently.
There is definitely nothing far more complex that the intricacies of the human brain. I have always been interested in Medicine and Neurology, especially the fascinating art of localization through physical examination. I am particularly interested in Neuro-immunology and Headache.
During my free time, I particularly enjoy travelling and going on food trips, immersing myself in different cultures and night market, watching movies, playing video games, solving puzzles and escape rooms with friends as well as playing net sports (table tennis, badminton, tennis, volleyball).
"The brain is a world consisting of a number of unexplored continents and great stretches of unknown territory." – Santiago Ramon y Cajal
"The brain is the last and grandest biological frontier, the most complex thing we have yet discovered in our universe" – James D. Watson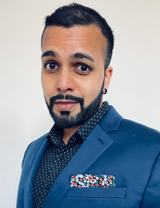 Danison Emmerson
Medical School: Medical University of the Americas, Nevis
Hello all! I grew up mostly in the Toronto area. I moved around a lot so I've lived in the tiny towns of rural Ontario (Tottenham) and in the Toronto city proper. I went to the University of Toronto with my major in Paramedicine/Human Biology. I spent my time during undergrad on an ambulance counting the days until I could go on to medical school and become an Emergency Physician or Trauma Surgeon... Thankfully, I encountered neurology in medical school and it was love at first sight and no looking back. I am grateful to be a member of the UConn Neurology family and could not imagine myself anywhere else.
In my spare time I read (mostly re-read J.K Rowling, Neil Gaiman, and Patrick Rothfuss), hang out with my friends(who are also my co-residents :), and try whatever is interesting that week.
An interesting fact: Although my birth place was listed as Sri Lanka and I was given a birth certificate by Sri Lanka I was actually born in transit in Farum, Denmark.
I love all of neurology but my passion lies in stroke/critical care neurology and medical education.
"Would I rather be feared or loved? Easy. Both. I want people to be afraid of how much they love me." - Michael Scott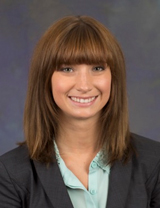 Sarah Germaine
Medical School: Western University of Health Sciences/College of Osteopathic Medicine of the Pacific
Hometown: Langley, BC, Canada
I was born in Vancouver BC and raised in Anchorage AK. In high school I took an anatomy class which sparked my interest in medicine and subsequently went to Montana State University for undergrad where I graduated from cell biology and neuroscience. Afterwards, I spent a year working as a psychiatric treatment counselor prior to going to medical school at Western University of Health Science COMP-NW in Oregon. During my first two years of medical school, I had the opportunity to be a part of the lifestyle medicine track at my school and help run the global health club.
My interest in Neurology stemmed from my neurology rotation in medical school in Montana where I became fascinated with how the brain works and the ongoing advancements that were being made in the field. I chose UConn for many reasons but most notably the supportive residents and faculty and the wonderful experiences that UConn provides in being exposed to countless interesting cases in the inpatient and outpatient setting.
In my free time I enjoy being outside hiking, biking and traveling to new places. I also love spending time with friends and family making food, watching movies and listening to live music.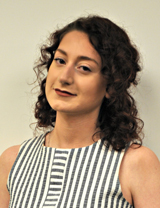 Mariam Tsikvadze
Medical School: David Tvildiani Medical University, Georgia
I was born and raised in Tbilisi, Georgia. A small country located in eastern Europe, known for its great food, amazing wine with ancient style of wine-making and exceptional hospitality. Growing up I always knew I wanted to become a physician, but fell in love with neurology during medical school from the very first neuroanatomy class, introducing me to the complex but remarkable world of the nervous system. I graduated from David Tvildiani Medical University in 2016 as a valedictorian and decided to move to US for neurology residency. I moved 8846 km from home in order to pursue my dream of becoming a neurologist. Initially it was hard to adjust to being so far away from family and friends, however, UConn soon made me feel like home, further solidifying my decision and love for neurology.
I enjoy every aspect of being a neurologist, from the detailed physical examination that still remains to be the strongest diagnostic tool in the hands of a neurologist to long lasting relationships you form with your patients in the outpatient setting or to more complex acute cases you encounter in the hospital. Inpatient setting is definitely where I feel I am at my best. That's how I found myself engrossed in the world of neuro-critical care and soon will be continuing my career in N-ICU Fellowship at Mayo Clinic, Florida.
Outside of medicine I love reading books, watching movies, solving puzzles, having trivia nights and playing board games with friends, as well as hiking, and playing tennis.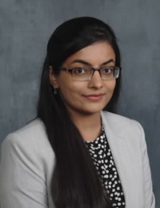 Nida Akram
Medical School: Nishtar Medical College and Hospital, Pakistan
I was born and raised in Multan also known as "City of Saints" located in Pakistan. I attained my medical education at Nishtar Medical University after which to broaden my horizons, I moved to USA. My fascination with the human brain and its complexity was always there but my passion for vascular neurology blossomed while I was working on various research and QI projects at Jackson Health System/UM in Miami, Fl.
Besides neurology, I enjoy reading, watching movies, cooking, crafts, and spending every minute I have with my family, especially my beloved daughter.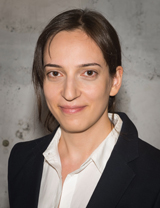 Hasmik Amirjanyan
Medical School: Yerevan State Medical University Named for Mkhitar Heratsi, Armenia
I am from Yerevan, Armenia, where I grew up and spent most of my life. There I completed medical school and started my career in neurology. The curious world of diagnostic challenges of Neurology has always fascinated me. It amazes me how almost any function of the brain, spinal cord, or nerves can be tested clinically with smart and ingenious methods of neuro exam. Love for neurology is what brought me all the way to UConn. I am especially interested in epilepsy and neuromuscular disorders.
In my free time, I like swimming, hiking, reading or listening to audiobooks, and playing board games with friends.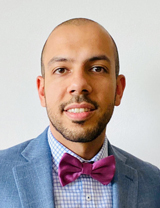 Ahmed E.
Medical School: Ain Shams University Faculty of Medicine, Egypt
I was born in Egypt. After completing medical school in Ain Shams University in Cairo, I moved to the United States. My passion towards neurology started during the early years of medical school however I decided to peruse it as my career after my first neurology rotation in the U.S.
I enjoy everything neurology has to offer however my particular area of interest is vascular neurology, neuro-interventional and neurocritical care. I am grateful for being a part of UConn neurology family and be able to practice neurology in a friendly and supportive academic environment.
I grew up playing soccer. I also enjoy playing tennis, hiking, music, going to concerts, and attending sports events.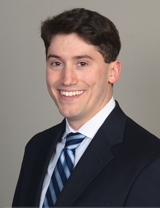 Ryan Kollar
Medical School: University of New England College of Osteopathic Medicine, Maine
I was born in southern New Jersey but moved to the shoreline region of Connecticut at a very young age, where my family lives to this day. I opted to remain in New England for the entirety of my post-secondary education and completed my undergraduate studies in bio-psychology at Tufts University and medical school training at the University of New England College of Osteopathic Medicine. During my medical school tenure, I had the opportunity to teach neuroanatomy to other medical students, cementing my interest in pursuing a career in neurology.
While I am fascinated by many areas of the field, I am presently considering specialization in either movement disorders, neuro-immunology, or epilepsy. I have particular interest in the intersection of neurology and psychiatry, especially in the practical management of functional neurologic disorders.
Outside of the hospital, I enjoy running, hiking, singing, discovering exciting new restaurants, and spending time with my friends and family.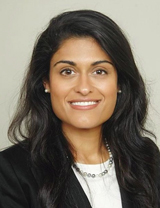 Keerthana Nalamada
Medical School: Norwich Medical School, University of East Anglia, UK
I grew up in New York, and went to high school and college in New Jersey. For undergrad, I attended Rutgers College where I studied Cell Biology and Neuroscience, which laid the foundation for my interest in neurology. It was here that I had the life changing experience of studying neurosciences at a medical school in the UK. While in England, I fell in love with clinical neurology and my now husband.
I moved to England, where I attended medical school and completed a foundation year in the NHS. The experience gave me an appreciation and understanding for public health care and preventive medicine. Living in England, I took every opportunity to push myself out of my comfort zone to learn and grow—joining Model UN, rowing, arts, hitchhiking, backpacking, and making lifetime friends.
At the start of Brexit, I moved back to the US for a research opportunity in Movement Disorders, a specialty I am interested in pursuing for fellowship. I am so excited to join the neurology department at UConn. The camaraderie between residents, support from attendings, quality of teaching, and clinical exposure make me really proud and happy to be part of the UConn neurology residency program.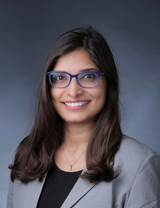 Shivanee Sodani
Medical School: Smt. Kashibai Navale Medical College and Hospital, India
Born and raised in Mumbai, I completed my early schooling there. I finished my medical studies in Pune under Maharashtra University of Health Sciences. Since my first year of medical school, I was absolutely fascinated by the intricate concepts of neuroanatomy. Neurology is one of the few fields in which an accurate history and skillful physical examination can lead you to the diagnosis. It continues to amaze me with its simplicity and complexity.
I am interested in pursuing vascular neurology after residency.
I love biking, playing badminton and traveling. I am huge Harry Potter and Friends fanatic!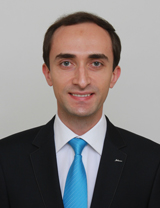 Musab Zorlu
Medical School: Hacettepe Universitesi Tip Fakultesi, Turkey
I am originally from Bolu, one of the greenest cities in Turkey with various kinds of trees in rich forests that cover 55% of its total area. Several tourist destinations in the city are among the best in the country which were probably the stemming points for my love of travel and exploring new areas. When I was in medical school in Ankara, I realized that there is much more to explore in brain! After my graduation, I spent some time at Weill Cornell Medicine working on the neurophysiologic characteristics of regaining consciousness after cardiac arrest.
I chose neurology simply because of the fact that I loved paying attention to details, every movement of the patients, twitch of their eyelids, changes in their pupil sizes and many other fascinating clinical manifestations of a complex system.
In my free time I enjoy playing basketball, spending time with friends and continue to explore the different areas in the northeast region.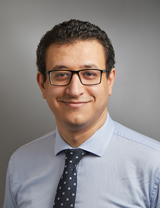 Mohamed Afify
Medical School: Tanta University Faculty of Medicine, Egypt
I come from Egypt, the land of the Pyramids! I was born and raised in a city called Tanta, where went to high school and afterwards Tanta University School of Medicine. After graduating, I worked as a primary care physician in underserved rural village for 6 months. Afterwards, I did an internship at the Italian Military hospital in Alexandria for a year. Then I started critical care residency for 8 months, before I moved to the US to work as a research fellow at Yale University comprehensive epilepsy center. There my love for neurology blossomed and so, I decided to take the next step and seek residency training in neurology. It was the happiest moment of my life when I learned I matched into neurology at University of Connecticut. I'm thrilled to go through this new journey at my new home.
My favorite thing to do in my free time is reading, especially fantasy. My favorite author is J.R.R.Tolkien and I'm a big fan of Harry Potter. Other than that, I would go running for exercise or watch a match of my favorite soccer team (P.S. Liver Pool).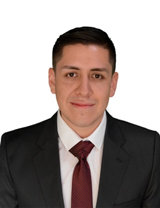 Juan Cabrera Pulla
Medical School: Universidad de Cuenca Facultad de Ciencias Médicas, Ecuador
I was born and raised in Cuenca, a small city in Ecuador. From an early age, I knew that I wanted to study medicine. I graduated from the University of Cuenca and decided to come to the United States to continue my medical preparation. Being away from my family and friends has been quite challenging but at the same time, they are the ones who have supported me since the beginning of this journey.
My interest in Neurology began when I was a child after my great grandmother was diagnosed with Parkinson's at age 60. This was a crucial moment where I realized the importance of the nervous system. I've always been fascinated with the human brain, because of how it allows us to define our reality, perceive and react to our environment, determine our personality, and relive countless memories.
I had the opportunity to work as a physician in different clinical settings during my year as an intern in Ecuador. I believe that treating neurological disorders results in the improvement of all aspects of life that make us who we are: how we think, move, communicate, or even accomplish the most complex activities.
Besides medicine, I love animals especially dogs, I like reading, jogging, doing outdoor activities with friends and family.
I am very thankful for being part of this wonderful program for my training in Neurology.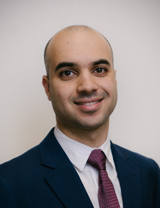 Sherif Elsayed
Medical School: Ain Shams University Faculty of Medicine, Egypt
Hello everyone! I am originally from Mansoura, a city in the north of Egypt. I went to medical school at Ain Shams University in Cairo then moved to the US for clinical rotations and research experience.
I love the field of Neurology especially the vascular and critical aspects of it. I am also interested in research and statistics which I would like to continue improving throughout my career. I find UConn a wonderful place to train especially for its friendly and welcoming environment.
Outside of medicine, I love spending time with family, soccer, reading, history, and recently got interested in the current issues facing the environment, climate, wildlife, and marine life.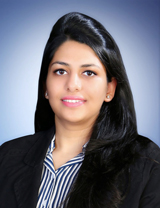 Shriya Gupta
Medical School: Dayanand Medical College and Hospital, India
I was born and brought up as a Punjabi, North Indian girl from India and did my medical school from Dayanand Medical College and Hospital, India. Since I entered medical school, I have had the desire to explore myself and the world and to reach beyond my limits, so I decided to pursue my residency and further training in the U.S and was beyond thrilled when I got matched at UConn.
I have always been captivated to traverse towards the unknown which led me to follow my passion towards being a Neurologist and make an effort in trying to understand the workings of the ever elusive human brain!
Besides medicine, I dabble a little in painting, especially with soft pastels, sketching, a little bit of singing, dancing, baking and always eager to learn new things and add another feather in my cap!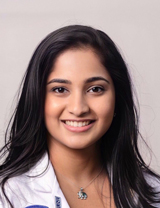 Neeharika Krothapalli
Medical School: University of New England COM
I was born in India and lived in Singapore for about six years before moving to Connecticut with my family when I was younger. I discovered my deep passion for neurology in middle school with exposure to amazing role models in the field. I attended Dartmouth College for undergrad, majoring in neuroscience. During my time in college, I had the opportunity to spend a semester abroad in Tanzania working in clinical research trials on malaria and pregnancy through the Harvard School of Public Health. There, I discovered my interest for global health that informed the journey I took in pursuing a Master's in Global Medicine at the University of Southern California. Through the program, I also spent time with Floating Doctors to serve remote island communities in Panama before attending medical school.
Residency is a formative time in a physician's career and I am thrilled to be at such a supportive program with seasoned clinicians to guide me in the art of neurology. In my spare time outside work, I enjoy dancing, cooking, traveling and taking long walks on the beach!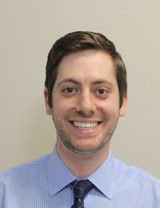 Ethan Miller
Medical School: Saba University School of Medicine
I was born and raised in Toronto, Canada. I attended Queen's University in Kingston, where I received a Bachelor of Science in chemistry. I became interested in neurology as soon as I started studying the nervous system in medical school. I enjoy learning about the complexities of the brain and spinal cord, and being able to localize lesions. My academic interests are vascular neurology and epilepsy; but I am still exploring the various subspecialty fields within neurology, as it is all intriguing! Outside of medicine, I enjoy traveling the world, fishing on weekends, playing the guitar and piano, practicing karate, and watching movies.
Fun facts: I hold a black belt in Shotokan karate and I was the lead guitarist and singer in a rock band.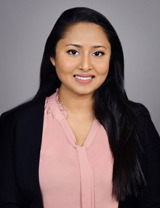 Aysha Siddika
Medical School: St. George's University School of Medicine, Grenada
I was born in Bangladesh and moved to the states with my family years ago. My family settled in Brooklyn and it became my home over the past 17 years.
I completed my Bachelors degree in biochemistry from Stony Brook University, and spent few years in the area after graduation for work and eventually Masters degree in Public Health. While getting my MPH, I realized my passion for Medicine. Neurology had always intrigued me even as a student, so choosing it as a specialty after medical school was a no brainer. I've always found the undiscovered aspects of Neurology fascinating. It's the challenge of unveiling the hidden mysteries what keeps me motivated.
I love adventure, I like learning new cultures, exploring new places and natural wonders especially near any beach. I may have a soul of a mermaid. I also like reading historical fictions, learning history in general. I enjoy watching Comedies like SNL, that 70s show, love re-reading the Harry Potter books, collecting anything related to Harry Potter. But most importantly, I am a proud New Yorker in heart no matter where I end up.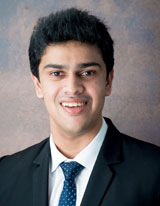 Anvesh Balabhadra
Medical School: Gandhi Medical College and Hospital, Secunderabad, India
I spent a majority of my life growing up in Hyderabad, India. I always had an affinity towards the brain since I was kid, so neurology came very naturally to me. There's a lot we know about the brain, but there's a lot more that we don't, and that's why I love it so much! Fields of particular interest are Stroke, Endovascular, and Neuro-Oncology.
Outside of medicine, I play an array of video games, but mainly DotA 2. Other interests include travel, exploring local cuisine, swimming, soccer, cricket, F1, and anime!
Fun fact: I eat ice cream everyday
"Whatever you do, always give 100%. Unless you're donating blood" - Bill Murray
"Don't you know the first law of physics? Anything that's fun costs at least 8 dollars." - Eric Cartman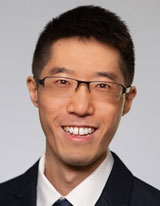 Jeffrey Chen
Medical School: St. George's University School of Medicine, Grenada
I was born and raised in northern Jersey, where I spent countless hours practicing piano and cello, playing tennis with my father, and solving math problems until they haunted me in my dreams. After high school, I studied chemical and biomedical engineering at Carnegie Mellon University. Then, I worked as a chemical engineer at an ethylene refinery plant for 3 years before I decided to embark on my medical journey at St. George's University. I felt that I have always gravitated towards neurology because there are many disciplines to explore and there is much potential about the brain that we have yet to unlock. For now, I will keep an open mind before I commit to one particular sub-specialty in neurology.
When I have free time, I like to play tennis and hearthstone. My favorite vacation spot is Taiwan because I love the night market street food as well as hanging out with my relatives!
Favorite Movies: The Terminator series, Total Recall, The Matrix, Parasite, Ex Machina, The Imitation Game, Harry Potter series, Marvel Movies
"If you're good at something, never do it for free." – The Joker
"Many of life's failures are people who did not realize how close they were to success when they gave up." – Thomas A. Edison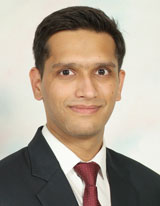 Ankush Maheshwary
Medical School: Government Medical College, Amritsar, India
I was born and raised in the city Amritsar, the cultural heartland located in northern India. I went to the Government Medical College, Amritsar for medical school to become the first M.B.B.S of the family.
During my year of internship at a tertiary care center, I thoroughly enjoyed solving the diagnostic challenges presented by the neurological patients and got a true insight into the vastness of clinical presentations. Within neurology I'm especially interested in movement disorders and behavioral neurology.
Outside of work I like to explore different hiking trails around the city. I enjoy playing ping pong, chess, and board games. Activities that help me de-stress are cooking and running marathons (movie marathons!).
My pursuit for residency has brought me to UConn, where I have found a second home. I'm thrilled to be part of this program and excited to share the journey with my amazing co-residents.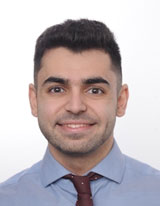 Yoram Ebrahimi
Medical School: Sackler School of Medicine - New York State/American Branch at Tel Aviv University
I'm originally from Great Neck, NY on Long Island. I did my undergraduate education at Binghamton University with a BS in neuroscience. I did my medical school at Sackler School of Medicine at TAU. Living in Israel was one of the best decisions I've made, helping find a good balance between work and lifestyle.
My interest in neurology started in undergraduate when I did research in neuroplasticity. It was one of the systems that made so much sense to me. I enjoyed how the brain integrated aspects of medicine and psychology but I found all aspects of neurology to be fascinating, whether it was epilepsy, autoimmune disease, neurodegenerative, neuromuscular disease - it all fascinates me. I'm mainly interested in cerebrovascular disease. Ever since I was in medical school, I found many exciting opportunities for research, and want to dedicate time to develop in this field.
In my free time, I like to go the gym or go for a run, living in Israel was a great environment for fitness. I often like to wind down with my guitar, playing music from classic rock to alternative. I enjoy practicing and learning about meditation. On weekends, I like to go home to spend time with my friends and family.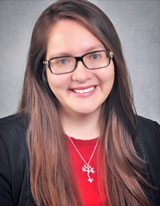 Brenda Pulgarin
Medical School: State University of New York Upstate Medical University
Hi! I'm Brenda. I was born in Ecuador and moved to NYC when I was 6. I have lived most of my life in NYC being exposed to amazing people and cultures as I navigated my college years at NYU. I decided to go to medical school at Upstate Medical in Syracuse. There I found a love for nature and the outdoors.
My passion for neurology emerged through my interest in understanding how people think and why they do the things they do. How all the pieces fall together to make up so a person is and what they say and do. I had the privilege of working along amazing faculty who instilled their passion for neurology onto me. I knew I was meant to be a neurologist after my first neurology thrombectomy case when I heard the joy in the voices of the endovascular surgeons as they celebrated the successful removal of a clot. Through these experiences I have developed an interest in stroke, endovascular and critical care. However, I am keeping an open mind as I explore all the amazing fields in neurology.
In my free time I love to bake, especially for other people. I love trying new recipes and altering ingredients to find out which spice combinations bring out the best flavors. I also love to explore both nature via trails and visiting parks as well as exploring new places. I am interested in exploring restaurants and attractions in the area. With my fascination for exploring its not surprising that I love to travel, visit new places, try new food, and meet new people!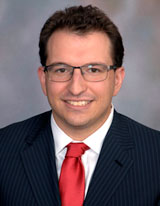 Jordan Siegel
Medical School: Lewis Katz School of Medicine at Temple University
I take great pride in being a Connecticut native, born in New Haven and grew up in New Canaan. In fact, my dad had to stop eating Pepe's to join my mom in the delivery room! Despite these roots, I am an eternally optimistic Philadelphia sports fan as my parents grew up in the City of Brotherly Love. I moved in high school to San Diego, California where not only did I become spoiled with great weather, but I met my eventual fiancée. Despite the weather, I attended the University of Pittsburgh where I was first to exposed to medicine via clinical research (including on strokes!) in the emergency room. After Pitt, my family returned to Connecticut and I completed my MPH from George Washington University. During my MPH, I was able to complete a preceptorship in the Norwalk Public Health Department, getting to learn about the ins and outs of Connecticut healthcare. From there, I went to medical school at Temple in Philadelphia. I take full responsibility that my first year living in Philadelphia my Eagles won the Super Bowl.
I love neurology because it encompasses the art of puzzle solving with the intricacy of a well-performed physical exam. I cannot wait to explore all aspects of the field, but I am passionate about cost-efficient medicine and look forward to exploring avenues to achieve this goal.
Outside of the hospital, I enjoy playing basketball despite my size and athletic ability, going on walks and playing Pokémon Go, if you can catch me.
"We're from Philly, nobody likes us, we don't care" - Jason Kelce
"World Champions" - Chase Utley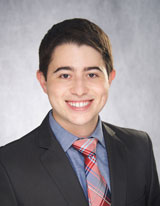 Alberto Varon
Medical School: Universidad Anáhuac Escuela de Medicina, Mexico
I was born and raised in Mexico City, where I went to medical school at Universidad Anahuac. During my clinical rotations I immediately fell in love with Neurology, I was amazed with the possibility of being able to localize a lesion with such precision. After graduating I worked in the Mexican Consulate in Miami, FL where I provided immigrants with reliable information on health topics, counseling, and referrals to the different health services available at their local communities. During this time, I also participated in a research project from Harvard's disparities unit studying elder minorities and their capabilities of preventing disability and depression via different interventions. I later worked as a research fellow for a year studying aneurysmal walls using high-resolution vessel wall imaging in the department of neurology at The University of Iowa. It is during this year that my interest towards vascular neurology increased.
Outside of medicine, I enjoy reading about technology and finances. I like spending time with my family and friends, traveling, trying new restaurants, playing videogames, and watching my Jacksonville Jaguars win (sometimes).
I am very happy to have matched to such an amazing program with incredible neurologists and colleagues.