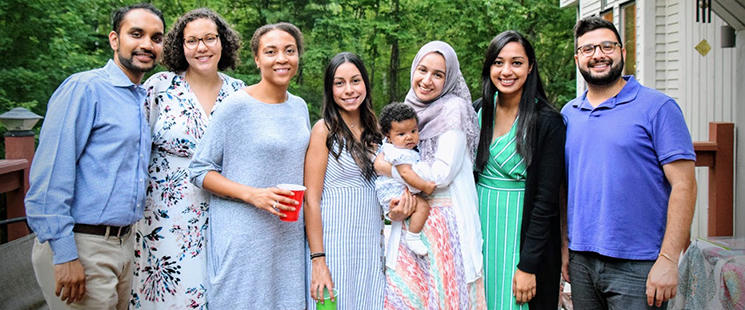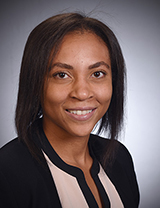 Dennay Burgess, M.D.
She/Her
I was born in Toronto and raised in the city of Mississauga, Canada. I attended Central Connecticut State University on a basketball scholarship; where I received a Bachelor of Science in biomolecular sciences with a minor in psychology. A research opportunity assessing neurochemical levels in relation to the physiological alterations of female hormones and women's health led me back to Canada at the University of Alberta where I completed a Master's of Science in the brain neurobiology research program. I completed my Medical Degree at St. George's University on the lovely island of Grenada. It was during my clinical years in Florida that I was drawn to family medicine because of the vast opportunities that provide me with the basis to continue to learn and practice a broad range of interests. I also find it a tremendous honor when a patient trusts me with their personal troubles and to be able to get to know them on a personal level while forming meaningful relationships. My interests lie in women's health, integrative medicine, behavioral health and preventive medicine. My personal interests are in health and wellness; I practice yoga, spin, strength training and meditation, which I try to incorporate on a daily basis. I love that which feeds my soul: the presence of loved ones, food, nature, movement and music.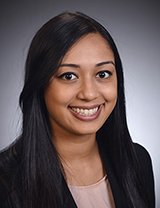 Elizabeth Darsan, M.D.
She/Her
I was born and raised in Queens, NY. I completed my undergraduate studies at CUNY: Brooklyn College, where I double-majored in Mathematics and Biology, with a minor in Chemistry. After college, I spent a year working as a Medical Assistant in a dermatology office, before starting medical school at Stony Brook University School of Medicine.
During my third year of medical school, it became obvious that family medicine was the specialty for me, with its flexibility, variety, and ability to practice "womb to tomb" medicine while creating meaningful patient-provider relationships. I care deeply about being an advocate and ally for my patients, education, and wellness, and this is the field of medicine that shares my values most closely.
What initially attracted me to UConn was the welcoming and supportive nature of the program. Combine that with faculty and residents who are extremely passionate to serve their patients and community, the collaborative culture, strong focus on both inpatient and outpatient medicine, and I could not be more excited to join the UConn/Saint Francis Family Medicine team! Outside of medicine, you can find me playing board games, going to Broadway plays, watching Netflix, eating dessert, and trying to keep my houseplants alive.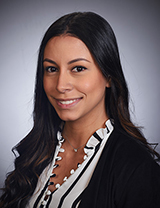 Daniela Gil Henao, M.D.
She/Her
I was born and raised in the beautiful city of Cali, Colombia. At the age of 15, I decided to move with my dad to Spain to attend high school. Since a very young age, I always knew I wanted a career in medicine. While finishing my studies and pondering where to attend medical school, I learned about Avalon Univ School of Medicine. I had the privilege to not only pursue my medical degree, but the opportunity to work with different communities and live on an amazing Caribbean island. I completed my clinical rotations in Chicago and West Virginia. While in West Virginia, I realized my passion for Family Medicine. I enjoy being able to provide continuity care to my patients and being able to see patients ranging in age from 1 month to 97 years old! What I treasure the most is building a long lasting bond with patients and their families while providing care for them.
In my free time, I love to horseback ride and baking. This is going to be my first time living in the North East and I can't wait to explore the area!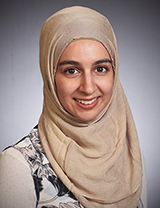 Sophia Rashid Khan, M.D.
She/Her
I was born in London, England but have lived all over including Connecticut and rural Saskatchewan. Since I have lived in Canada the longest though, I do consider myself a Canadian at heart. For my undergraduate degree I attended McGill University in Montreal where I studied Cell Biology, Anthropology and International Development Studies. It was here that my passion for medicine was born out of a desire to learn about the human body while also finding ways to offer something tangible to underserved populations. For my medical degree, I went to Saba University School of Medicine and discovered that Family Medicine was the best field for me as it offered a means of connecting with patients while also requiring a great breadth of knowledge. Outside of medicine I enjoy reading, cooking, and staying physically active. I enjoy running, cross country skiing, rock climbing, and hiking. I recently got married and so my husband and I like road tripping and try to travel as much as possible during our spare time.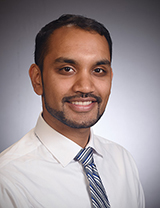 Kiran Lorick, M.D.
He/Him
I am from Queens, NY. I attended college at Stony Brook University, majoring in Biochemistry with minors in Business Management and Community Service Learning. After college, I worked in healthcare finance for almost three years. It was a great experience and I learned a lot about the healthcare industry, but I sought a career where I could effect positive change in the lives of others more regularly. My desire to become a physician blossomed as I worked with physicians and often observed the power of the doctor-patient relationship. Specifically, I saw the impact of educating and helping patients work towards wellness, and how that could also empower them to achieve goals in other aspects of their lives.
I returned to Stony Brook University for medical school. Going in, I was fairly certain that I wanted to be a Family Medicine physician. One of the key takeaways from my previous career is that many people have a hard time understanding their illnesses and struggle to navigate our healthcare system. Family Medicine allows me the opportunity to work with all patients, regardless of age, gender, medical condition, and treatment modality. Furthermore, I can be at the center of their care, helping to provide health education and direction within the rest of the healthcare system. My clinical experiences in medical school, especially volunteering at our student-run, free clinic (Stony Brook HOME) where I met many great mentors from our Family Medicine department, solidified my desire to go into Family Medicine.
I am extremely excited to be fulfilling my desire of becoming a Family Medicine physician at UConn! From my very first interaction with the program, it was clear that the faculty and administrators provide a supportive training environment and practice quality full-spectrum medicine. I will also be able to pursue my many interests in the field, including sports medicine.
Outside of medicine, I enjoy sports, running, watching movies, and spending time with friends and family.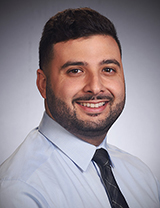 Alex Mafdali, M.D.
He/Him
Born and raised in Miami, Florida. I am excited to be bringing my talents to Connecticut! I earned my undergraduate degree from the University of Florida, where I majored in Health Sciences and I completed my medical education at Ross University. My charismatic personality and desire to "quarterback" patient's health gravitated me to the field of family medicine. I am a firm believer that the crux of effective healthcare depends on a collaborative interdisciplinary approach where patients have easy and adequate access to physicians, nutritionists, therapists, social workers, pharmacists etc. All who work together to create meaningful relationships and provide care for their shared patients.
Outside of medicine, you can find me fishing, hiking, traveling, playing tennis/golf, at the gym or at a concert. I am an avid sports fan (Dolphins, Heat, and Marlins) and enjoy attending all sporting events. I ultimately see myself pursing a sports medicine fellowship where I will be able to blend my passion for sports with my career as a physician. I am honored and excited to be joining the UConn Family!
Andria Matthews, M.D., M.P.H.
She/Her
I was born in Texas, raised in New Jersey and educated in Connecticut, and now have settled in Springfield, Massachusetts. My journey to medicine has been full of twists and turns. I majored in History at Yale, and went on to be a Management Consultant, and worked and lived temporarily in Colombia and Mexico. I eventually moved back to New Haven, Connecticut and spent several years working in the community for non-profit organizations such as the International Festival of Arts & Ideas and Artspace. It was during that time that I was inspired by the young people of New Haven to go back to school to become a physician.
I was drawn to Family Medicine because it gives me the opportunity to treat patients at all stages of life, from birth to 100+ years old! I'm passionate about combining patient care, with advocacy and teaching and believe that physicians need to be active both inside and outside of the clinic to help communities achieve better health.
I also have interests in women's health, mental health and Integrative Medicine, which combines practices like yoga and meditation with conventional medicine. I'm so excited to be training at Asylum Hill Family Practice with many of my fabulous mentors and I'm passionate about supporting the Hartford community in becoming healthier.