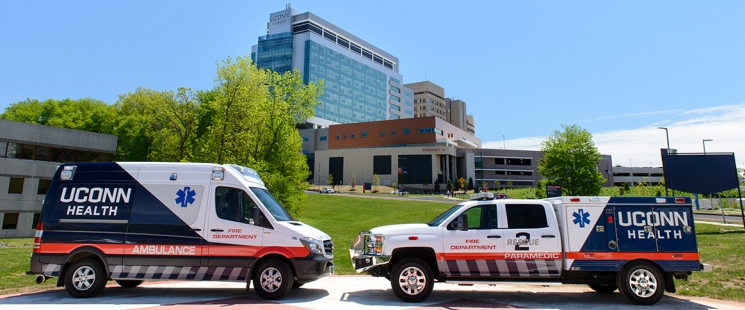 Applications for medical student away electives are being accepted through VSAS.
For question about away rotations you can contact Stephanie Swabski at swabski@uchc.edu.
The emergency medicine clerkship is required for fourth year medical students. During the first 8 days of the course, students are provided didactic sessions that help facilitate the student's approach to certain chief complaints they may encounter when seeing emergency room patients. Students are required to spend 14 clinical shifts in the Emergency Department. The following learning objectives are covered in this clerkship:
Treat a wide variety of acute outpatient problems.
Rapidly diagnose and initiate treatment in patients with time-sensitive conditions.
Recognize and stabilize critically ill patients (resuscitation).
Maintain care for more than one patient at a time (up to a student's own ability).
Become acquainted with certain common emergency department procedures (suturing, splinting and IV placement).
Residents as Mentors
This program is geared towards medical students interested in pursuing a career in Emergency Medicine. Our UConn Emergency Medicine residents have agreed to serve as mentors and will guide students through the application process and interview season. Other topics of discussion include life as an EM resident, suggestions regarding elective rotations, and any other subject the student deems important.
The following sites are currently available for Emergency Medicine:
Hartford Hospital
The Hospital of Central Connecticut
Manchester Memorial Hospital
Saint Francis Hospital and Medical Center
Saint Mary's Hospital
St. Vincent's Medical Center
UConn Health
Windham Hospital