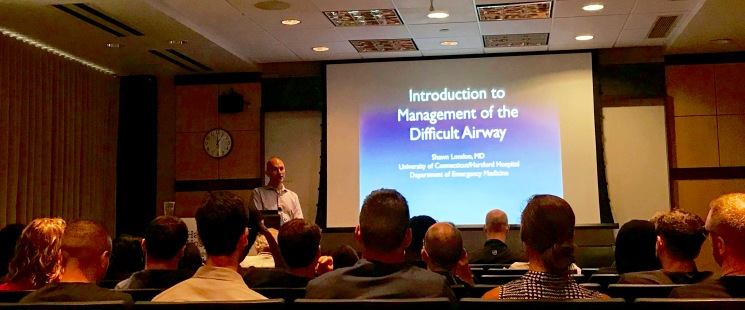 Case Conference: Two-hour weekly conference based on a three-year reading curriculum. The first 13-weeks of each academic year, referred to as the "life-threat series" are repeated annually.
First and Third Wednesdays of the month. Residents break down into groups by class and focus on level-appropriate curriculum.
PGY1 - Focus on EKG and x-ray interpretation, specific drug therapy, laboratory testing and physical exam techniques.
PGY2 - Focus on practical skill sessions and procedures.
PGY3 - Focus on administrative and EMS practicum.
Ultrasound Series: Year-directed lessons (YDLs) are at Hartford Hospital and are in addition to multiple one-hour CORE lectures during the year. Focuses on learning practical skills of ultrasound.
Simulation Medicine: Year-directed lessons held at CESI Center in the Education Resource Building on Hartford Campus. These sessions focus on learning practical skills of medicine in a simulated patient experience.
Continuous Quality Improvement (CQI): Monthly meetings held at Hartford Hospital. Case management and systems-based issues are discussed.
Journal Club: Monthly sessions held at EM faculty homes, area restaurants, or at the hospital sites. Articles are presented and discussed by residents with a critical review of current literature and statistical methods highlighted.
Grand Rounds: Fourth Wednesday of the month at Hartford Hospital in the Gilman Auditorium of the Conklin Building. Invited speaker lectures on emergency medicine topics.