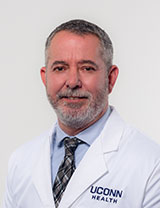 Thank you for seriously considering our residency program for your training. We are a collegial department with an involved and diverse faculty who are excited about the opportunity of training the next generation of dermatologists.
We have a wonderful cadre of full and part time faculty with diverse expertise in medical dermatology, pediatric dermatology, surgery, cosmetics, laser therapy, photobiology, dermatopathology, medical ethics and publishing. Our program has a strong protected didactic curriculum and ample elective time so that residents may pursue individual interests and understand the social and ethical complexities of practicing medicine. All of this is delivered in a supportive environment where both residents and faculty contributions are valued.
We are fortunate to be based at a major medical center and medical school that is located in a magnificent valley just outside of Hartford. The Farmington Valley offers a vibrant mix of urban and rural communities, is surrounded by many major colleges and prep schools, and is within two hours of Boston, New York City, and Vermont skiing. In addition, Hartford is the state capital and has four excellent theaters, a symphony, and an opera company. The Berkshires, local lakes, local ski slopes, shoreline beaches and an international airport are all within 30-60 minutes away. Excellent public and private schools, insignificant traffic, and affordable housing help enhance the quality of our lives. Our residents not only learn here at UConn Health, but at the Newington Veteran's Hospital, Hartford Hospital, and Saint Francis Hospital and Medical Center which provides a rich and diverse learning experience.
We look forward to reading your application and learning more about you as you learn more about us.
Brett Sloan, M.D., FAAD
Residency Program Director
Jane M. Grant-Kels, M.D., FAAD
Associate Residency Program Director
Gillian Weston, M.D., FAAD
Assistant Residency Program Director
DIVERSITY STATEMENT
The Department of Dermatology at UConn Health is dedicated to having a department and training program that reflects the medical communities we serve. We are committed to inclusion with respect to race, gender, age, sexual orientation and religion. Our learners, employees, and patients should experience an environment free of harassment, sexual misconduct, and discrimination. We will continue to promote an inclusive culture which supports, encourages, and celebrates diversity and inclusion.