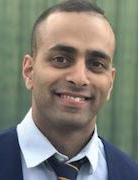 Angad Deengar, M.D.
Angad was born in India and did his early schooling in Mumbai before moving to Toronto during middle school. He completed his undergraduate studies at York University in Toronto, including one extremely rewarding year abroad at La Autónoma in Madrid, where he learned to speak Spanish. He went to medical school in the Dutch Caribbean, on the idyllic island called Saba, and rotated through 8 different cities for his clinical rotations. In 2017, he joined the Internal Medicine Residency Program at Norwalk Hospital. His goals include improving patient access to preventative medicine and improving his skills both as a procedurals and educator in the critical-care setting. While not in the hospital, Angad continues to play hockey or ski in the winter, and hike mountains in the summer. He hopes to continue traveling to new lands with his wife & soon-to-be-born child.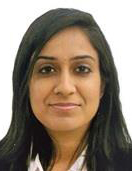 Simrina Sabharwal, M.B.B.S.
Simrina was born and raised in Punjab, India and attended Government Medical College, Patiala, India. She completed her Internal Medicine residency at the University of Connecticut, and is currently training in Pulmonary and Critical Care Medicine. Simrina's career interests include obstructive lung disease, interstitial lung disease, and medical education. In her free time, she likes to travel, hike, read fiction, and explore new cuisines.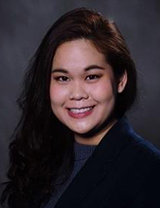 Soontharee Congrete, M.D.
Soontharee was born and raised in Bangkok, Thailand. She went to Faculty of Medicine Siriraj Hospital at Mahidol University In Bangkok, Thailand for her medical school training. She then completed her Internal Medicine Residency at St. Elizabeth's Medical Center in Boston, MA. Soontharee has an interest in obesity-related lung physiology and pulmonary hypertension. Outside of medicine, Soontharee is a foodie and enjoys cooking ethnic recipes. She also enjoys yoga, pilates, and barre.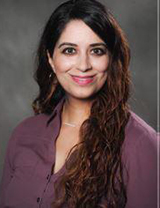 Nasheena Jiwa, M.D.
Nasheena was born and raised in Toronto, Canada and also lived and grew up in Overland Park, Kansas. She completed her undergraduate studies at the University of Kansas and double majored in Human Biology and French. She was also involved with university symphony orchestra and vocal performance in concert choir at KU. Following her undergraduate studies, she attended medical school at Saba University School of Medicine, Netherlands. She then completed her Internal Medicine residency at St. Mary's Hospital/Yale affiliate in Waterbury, CT where she also a completed a chief resident year. In terms of career and research aspirations, she is still exploring ideas. She has research and career interests in pulmonary arterial hypertension, asthma and ILD. Outside of medicine, she enjoys yoga, ice skating and cycling.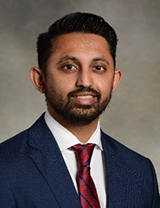 Anil Magge, M.D.
Anil was born and raised in South Windsor, Connecticut. He received his B.S. in Chemistry from Haverford College, PA. Following his undergraduate studies, he attended medical school at the University of Connecticut Medical School. He then remained at the University of Connecticut where he completed his Internal Medicine residency, Chief residency and is currently enrolled in the Pulmonary and Critical Care Fellowship. Anil hopes to pursue an advanced fellowship in interventional pulmonology. He has career interests in pleural lung disease, thoracic oncology, and academic medicine. Outside of medicine, Anil is an avid traveler and tennis player.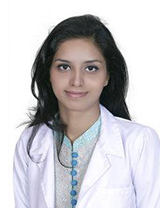 Hira Shahzad, M.B.B.S.
Hira was raised in Islamabad, Pakistan. She attended Aga Khan University Medical College in Pakistan for her medical school training. She then completed her Internal Medicine residency at the University of Connecticut where she also remained for her Pulmonary and Critical Care training. Hira's current career interests include pulmonary vascular disease, COPD, pulmonary hypertension, and septic shock. Outside of medicine she enjoys traveling and spending time with her family.