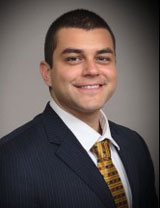 Joseph Bahgat, M.D.
Joe was born and raised in Cheshire, Connecticut. He completed his undergraduate studies at Quinnipiac University, CT. After finishing medical school, he completed his Internal Medicine residency at Stamford Hospital, where he served as a chief resident. Joe's interests include academic medicine, critical care and interventional pulmonology. In his free time, he enjoys traveling (has been to over 20 countries), playing the piano, playing sports, and spending time with his friends and family. He is a big New England Patriots fan.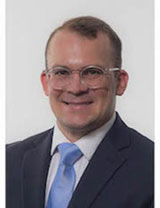 Garrett Fiscus, D.O.
Garrett was born and raised in Russell, Pennsylvania. He completed his undergraduate at Penn State University, completing a double major in Biology and Biochemistry. While at Penn State, he was a member on the Men's soccer team. Following undergraduate, he spent time as an assistant coach for the men's and women's soccer team. He completed medical school at Lake Erie College of Osteopathic Medicine in Erie, PA and subsequently completed his Internal Medicine residency at UConn. Garrett's academic interests include academic medicine, pulmonary hypertension, and interventional pulmonology. In his free time, he enjoys traveling, playing soccer, exploring new restaurants or cooking.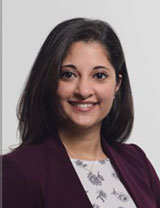 Sruti Velamakanni, M.D.
Although Connecticut has been my home for the last five years, I am originally from a suburb of St. Paul, Minnesota. Following my father's love of his career at 3M, I majored in Materials Science and Engineering at the University of Minnesota and worked with a team that created composite dental crowns. After college I accepted a career-defining position as a research assistant on a project that studied cryptococcal meningitis in Kampala, Uganda. My time on the wards of Mulago Hospital in Uganda inspired me to pursue medicine and work with the underserved. From the first day I stepped foot on the UConn Health campus in Farmington for my residency interview, everyone's warmth and commitment to their patients was overwhelming. Throughout my three years of residency, I found excellent mentorship in the section of PCCM among both the faculty and fellows. When it came time to apply for fellowship, I had no desire to train elsewhere. While I have just begun my fellowship at UConn, I am interested in pulmonary infections and have recently completed a project on latent TB. When I'm not at the hospital, you'll most likely find me dining in West Hartford, cruising on my peloton, or catching up on cringe-worth reality TV shows with my Mini Goldendoodle.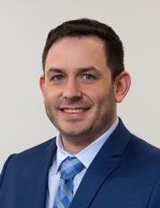 Daniel Condit, M.D.
Daniel was born and raised in Avon, Connecticut. He completed his undergraduate studies at Dickinson College in Carlisle, Pennsylvania, majoring in Biochemistry and Molecular Biology. He spent his junior year abroad at the University of East Anglia in Norwich, England. Following college, Daniel returned home to Connecticut and did a combination of research and volunteer work, including training for and volunteering as an emergency medical technician. He attended medical school at the University of Connecticut School of Medicine, where he subsequently completed Internal Medicine Residency. Daniel's academic interests include critical care medicine, ventilation strategies in ARDS, pulmonary vascular disease, and advanced procedures. Outside of medicine, Daniel enjoys traveling, baseball, exercise and hiking, and cinema. He is particularly fond of Maine beaches and lobster.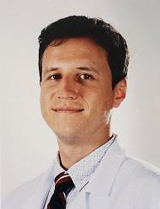 Fatjon (Tony) Hoxha, M.B.
Fatjon (Tony) was born and raised in Pogradec, Albania.
He graduated from University of Medicine of Tirana in 2013. The hospital where he did his medical rotations is named after the most famous Albanian in the world, Mother Teresa. Later, he worked as a general physician in a small village, thinking about one of his favorite Mother Teresa quotations: "Not all of us can do great things, but we can do small things with great love."
In 2016, he moved to the U.S. where he worked as a researcher at Yale New Haven Hospital and later to match as an Internal Medicine Resident at Yale-Waterbury Internal Medicine Residency Program, where he also completed a chief resident year.
As a Pulmonary/Critical fellow, he has a special interest in pulmonary arterial hypertension and obstructive lung disease. Outside medicine, his interest includes soccer (big fan of Juventus Football Club), ancient Illyrian/Albanian history, geography and travelling.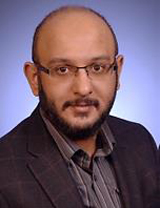 Resham Pawar, M.B.B.S.
Resham was born in Punjab, India. He migrated to the United States at a young age before returning to India to attended medical school. After completing his Internal Medicine residency at the Western Reserve Health Care in Ohio, he started his career in hospitalist medicine before joining pulmonary, critical care medicine. Resham's academic interests include COVID-19 sequelae, interstitial lung disease, and bedside ultrasonography. In his free time, he likes spending time with his children, work on cars and DIY projects.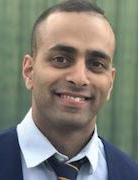 Angad Deengar, M.D.
Angad was born in India and did his early schooling in Mumbai before moving to Toronto during middle school. He completed his undergraduate studies at York University in Toronto, including one extremely rewarding year abroad at La Autónoma in Madrid, where he learned to speak Spanish. He went to medical school in the Dutch Caribbean, and rotated through 8 different cities for his clinical rotations, and came to Norwalk, CT for his Internal Medicine residency. His goals include improving patient access to preventative medicine, improving his procedural skills, and becoming an educator. While not in the hospital, Angad continues to play hockey or ski in the winter, and hike mountains in the summer. He hopes to continue traveling to new lands with his wife & young son.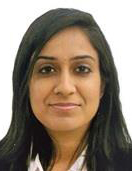 Simrina Sabharwal, M.B.B.S.
Simrina was born and raised in Punjab, India and attended Government Medical College, Patiala, India. She completed her Internal Medicine residency at the University of Connecticut, and is currently training in Pulmonary and Critical Care Medicine. Simrina's career interests include obstructive lung disease, interstitial lung disease, and medical education. In her free time, she likes to travel, hike, read fiction, and explore new cuisines.