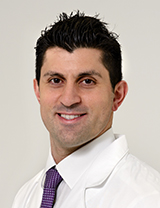 UConn Health has devoted a significant amount of resources to the development of the interventional pulmonary program at UConn John Dempsey Hospital (JDH). As a result, the program has grown at a rapid pace. Presently, JDH offers a variety of procedures that very few pulmonary/critical care programs can offer. 
Our pulmonary/critical care fellows have exposure to:
Argon plasma coagulation
Chest tube placement
Cryotherapy
Endobronchial ultrasound
Medial thoracoscopy
Navigational bronchoscopy
Photodynamic therapy
Pleural ultrasound
Pulmonary stenting (metal and silicone)
Rigid bronchoscopy with tumor destruction
Thoracentesis
Tunneled pleural catheters
The fellows participate in two operating room days a week while rotating through the pulmonary medicine consultation service at JDH. During the fellowship training program, the fellow will have the opportunity to participate in a unique approach to pulmonary medicine. They will participate in the full spectrum of care, that includes initial evaluation, procedure, multidisciplinary meetings (such as tumor board) to discussing results and plan of care with our patients.