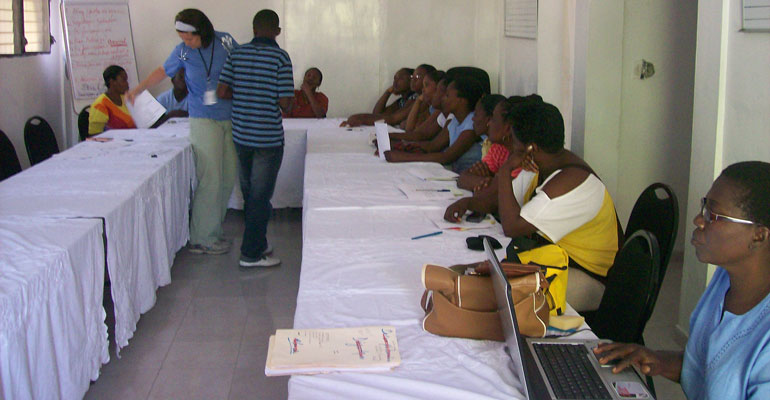 The University of Connecticut Internal Medicine Program's Global Health Track is a two-year longitudinal curriculum integrated within the main residency curriculum designed specifically for residents who envision working abroad or serving global patient populations. By the end of this track, residents will receive the training necessary to address the unique health needs of immigrants here in the U.S. and to deliver effective care abroad in a variety of resource-limited global health settings.
TRACK GOALS
The goal of the Global Health Track is to equip residents with the skills needed to function effectively and ethically in a variety of global health settings. Residents will gain the cross-cultural and medical skills needed to deliver high-quality care in a variety of global health settings. Residents will understand health conditions frequently encountered in low-income communities and gain insights into a broad spectrum of conditions not typically encountered in the US. Residents will identify strategies for the management and prevention of acute and chronic disease in low-resource settings. Residents will also learn a variety of strategies to incorporate global health into a career in medicine.
TRACK REQUIREMENTS
Residents are required to complete 3 key components of the curriculum. They will attend approximately monthly webinar sessions, focused on tropical medicine. They will participate in a variety of hands-on "tabletop" exercises focusing on skill acquisition and complete either an away elective or a research project.
CURRICULUM
Topics covered in the webinar series include:
Intro to Global Health
Global Migration/Refugee Health Part 1
Protozoal infections-Part 1: Malaria
Protozoal infections -Part 2
Nematodes part 1
Nematodes part 2
Cestodes
Trematodes
Bacteria part 1
Bacterial part 2
Bacterial part 3
Viruses part 1
Viruses part 2
Viruses part 3
Fungal infections
Global Migration/Refugee Health part 2
Non communicable diseases
Fever in the returning traveler
Mentoring
Case studies: Cardiac and GI
Case studies: Pulmonary and Renal Cases
Topics covered in the tabletop exercises include:
Global health simulation bootcamp
Ethics in global health
Obstetrical emergencies
Disaster relief
Point of Care Ultrasound
WASH (Water, Sanitation and Hygiene) programs
Trauma/orthopedic emergencies
In-flight emergencies
Refugee and Immigrant Health
Malnutrition
Global Health Careers
Global health symposium
MENTORSHIP
Residents are paired with global health faculty to explore career opportunities in global health, to assist with the timing and selection of their global health elective.
GH ELECTIVES
Residents work with mentors to identify a UConn-affiliated elective in their PGY2 or PGY3 year. Present and developing programs exist in Uganda, the Dominican Republic, Sri Lanka, Northern India, and Peru.
RESEARCH OPPORTUNITIES
Residents can elect to do a research project in lieu of an away elective. Depending on the country and topic area of interest residents may also be paired with ongoing student projects and work under the supervision of our director of global health, Dr. Kevin Dieckhaus.
For more information contact Dr. Susan Levine, slevine@uchc.edu