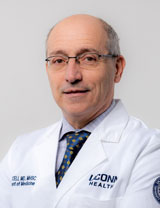 Welcome to the UConn Internal Medicine Residency Program! Thank you for visiting our site. Residency is an exciting and defining time in a physician's career and provides many opportunities to learn the fine art of medicine, make new friends, and grow both professionally and personally. We realize how important internal medicine residency programs are in determining each physician's career path. Consequently, we are committed to making our program a great formative experience for all our learners, and to helping residents achieve their future goals — whether it's in primary care, subspecialty training, research, or another avenue in medicine. To this end we have developed multiple tracks within the program which allow the pursue of the individuals' interests.
Our goal is to ensure that, by the end of the program, you will have a solid foundation in the knowledge and practice of internal medicine that will serve you well throughout your career. Our residency programs in Internal Medicine, Primary Care, and Preliminary Medicine offer an innovative curriculum, a broad range of elective offerings, and focused training and research experiences, while emphasizing your personal growth and professional responsibilities.
We will help you make informed choices about your career. We have skilled and dedicated clinician-teachers and mentors who will serve as role models for you, and dedicated staff who will guide you on your journey. We have state-of-the-art facilities, including a new hospital at UConn Health, so that you will have the opportunity to utilize the latest medical and information technologies. Throughout our clinical venues we care to a culturally diverse group of patients from all socioeconomic strata. Our goal is to help you in defining your professional identity, and becoming a skilled clinician who will never lose the passion to ask the "why". Again, thank you for visiting our website. We look forward to hearing from you and hope that you come visit our program.