Early Detection Saves Lives
Lung cancer is one of the most prevalent and dangerous cancers, proving fatal for more men and women in the U.S. than prostate, breast, pancreatic, and colon cancers combined. The exact cause of cancer is unknown, but there are certain factors or lifestyle choices that can put you at greater risk of developing lung cancer.
Fortunately, there is a new screening process that can detect lung cancer in its earliest stages using very low doses of radiation. A low-dose CT screening can detect lung cancer in its most treatable stages, and UConn Health is proud to offer this screening test through the Department of Diagnostic Imaging and Therapeutics.
A Computed Tomography scan (CT scan, also called a CAT scan) uses computer-controlled x-rays to create cross-sectional images of the body. The low dose CT scan of the lungs is quick, painless, and involves a minimal amount of radiation exposure.
Office Location
Department of Diagnostic Imaging UConn Health Main Building 300 UConn Health Boulevard Farmington, CT 06030 Directions
The risk factors for lung cancer are:
Current smoker or a former smoker who quit within 15 years
Frequent or prolonged exposure to secondhand smoke
Frequent or prolonged exposure to radon
A family history of lung cancer
If you think you may have an increased risk of developing lung cancer based on the above factors, your physician can help you determine if this screening test is right for you.
To make an appointment for a lung cancer screening, call UConn Health at 844-777-LUNG to discuss your health history and answer a few questions. A nurse navigator will call you back to discuss your eligibility for the screening test.
The lung cancer screening must be ordered by your primary care physician, and the nurse navigator can help with this process. If you do not have a primary care doctor, our nurse navigator can help establish a provider for you. The nurse navigator can also help you determine if your insurance will cover the cost.
UConn Health offers several options for anyone interested in quitting smoking. A nurse navigator can discuss these options and help you find a program that's right for you. For more information, visit our Smoking Cessation page.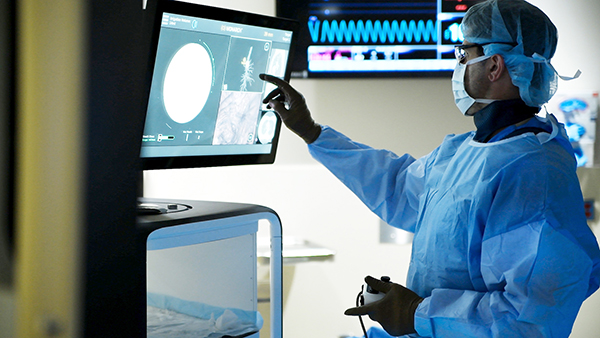 Robotic-Assisted Bronchoscopy
Lung cancer kills about 150,000 Americans each year. But when it is detected early, survival rates improve exponentially. UConn Health is the first hospital in New England to use a new robotic technology to diagnose cancer sooner, getting patients the treatment they need and saving lives.