Robotic-Assisted Bronchoscopy
Lung cancer is the number one cancer killer – claiming more victims each year than breast, colon, and prostate cancers combined. One of the reasons why lung cancer is so deadly is that it is difficult to diagnose safely and reliably when it is in stage 1 or 2. These nodules tend to be very small and deep in the periphery of the lung, requiring a transthoracic needle aspiration (TTNA) which has a higher complication rate1,2,3 than bronchoscopy. When a traditional, manual bronchoscopy is used, it often does not lead to a diagnosis.
With our Robotic Bronchoscopy program, UConn can now diagnose these small nodules during this early stage. This procedure is similar to traditional bronchoscopy and provides advanced precision and control that comes from robotic technology.
The Monarch™ Platform combines traditional camera views into the lung with computer-assisted navigation based on 3-D models of the patient's own lung anatomy. The platform is designed for bronchoscopic visualization throughout the procedure.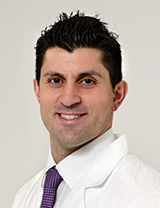 Omar Ibrahim, M.D.
Dr. Ibrahim is the only interventional pulmonologist in the state of Connecticut with the Monarch Robotic-Assisted Bronchoscopy System.
Wang Memoli JS, Nietert PJ, Silvestri GA. Meta-analysis of guided bronchoscopy for the evaluation of the pulmonary nodule. Chest, 2012; 142:385–393.
Wiener RS, Schwartz LM, Woloshin S, Welch HG. Population-based risk for complications after transthoracic needle lung biopsy of a pulmonary nodule: an analysis of discharge records. Ann Intern Med, 2011; 155:137–144.
Christopher R. Dale, MD,* David K. Madtes, MD,* Vincent S. Fan, MD, MPH,* Jed A. Gorden, MD, and David L. Veenstra, PhD*; Navigational Bronchoscopy with Biopsy Versus Computed Tomography-guided Biopsy for the Diagnosis of a Solitary Pulmonary Nodule: A Cost-Consequences Analysis. J Bronchol Intervent Pulmonol, 2012; 19:294–303.