The Neag Comprehensive Cancer Center proudly partners with the Division of Neurosurgery to provide complete care for patients with central nervous system tumors (brain and spine).
Brain and Spine Tumor patients have a unique set of needs that require specialized care. Our goal is to optimize their outcome by personalizing their care. This is accomplished by ensuring patients receive world-class surgical care in our state-of-the-art hospital and operating rooms and giving them access to world-class medical treatments. Our advanced biplane hybrid surgical room and highly experienced and internationally recognized team of surgeons allow us to provide superlative care with compassion.
Emphasis is placed on educating patients, their families, and the community, and also conducting research initiatives that contribute to not only trying to eradicate patient tumors but also improving quality of life.
Request an Appointment
To schedule an appointment or for more information, call Neurosurgery, UConn Health: 860-679-8080
We treat all primary and metastatic brain and spine tumors in a multidisciplinary fashion. Our cancer specialists work together with UConn Health's Neurosurgery team to personalize treatment plans and optimize individual outcomes.
To gain access to Duke's world-renowned Preston Robert Tisch Brain Tumor Center, the UConn Health Division of Neurosurgery is collaborating with Duke's PRTBTC for the co-management of UConn Health brain tumor patients. This important relationship will provide UConn Health brain tumor patients access to very specialized brain tumor treatments available at Duke. UConn Health and Duke envision brain tumor services to be provided by Dr. Ketan R. Bulsara's neurosurgery team at UConn Health with evaluation for additional treatments by Dr. Henry S. Friedman's team at Duke's Preston Robert Tisch Brain Tumor Center.
Statement about the collaboration from Dr. Bulsara: "Consistent with the personalized care goals of UConn Health, the collaboration with The Preston Robert Tisch Brain Tumor Center at Duke will provide the residents of Connecticut, and beyond, access to novel and potentially lifesaving clinical treatments in collaboration with the premier brain tumor center in the world."
Statement about the collaboration from Dr. Friedman: "This collaboration will allow patients with brain tumors who receive initial intervention at UConn to derive the benefit of the cutting-edge therapy available at The Preston Robert Tisch Brain Tumor Center at Duke."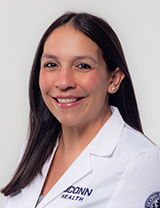 Tori-Lynn Pacelle, B.S.N., R.N.
Bile Duct, Brain, Colon, Endocrine Neoplasia, Gall Bladder, Head and Neck, Liver, Pancreatic, Rectal, Gastric
Phone: 860-466-9760
Email: pacelle@uchc.edu
Fax: 860-676-3434