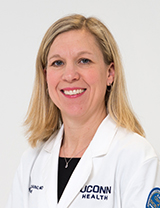 Welcome to the Minimally Invasive Gynecologic Surgery (MIGS) Fellowship website at the University of Connecticut School of Medicine. We thank you for your interest in our two-year fellowship program.
On this website you will find comprehensive information about our MIGS fellowship program, links to UConn Health, and all of its programs as well as information about the Greater Hartford area.
As you read about our fellowship you will see that the primary goal of our program is to provide exceptional education to the MIGS fellows. Fellows will acquire the advanced minimally invasive skills that will allow them to treat many complex gynecologic conditions. Graduating fellows will be adequately trained to pursue a career in academic medicine or clinical practice.
UConn Health has been designated as a Center of Excellence in Minimally Invasive Gynecology
This designation is reserved for health care facilities and surgeons who have demonstrated excellence in advanced minimally invasive gynecologic procedures shown to improve the quality and safety of gynecologic patient care and lower the overall costs associated with successful treatment. The MIGS team of surgeons, nurses and clinical support staff have lead the Division to earn this distinction.
UConn Health Center of Excellence in Minimally Invasive Gynecologic Surgery
Diversity Statement
Equality is a core value of UConn Health, its affiliated hospitals, and in the medical care provided. We are dedicated to having a department and training programs that reflect the medical communities we serve. We are committed to inclusion across race, gender, age, sexual orientation and religion in which all individuals feel empowered to be their authentic selves. Our learners, employees, and patients should experience an environment free of harassment, sexual misconduct, and discrimination. We will continue to promote an inclusive culture which supports, encourages, and celebrates diversity.