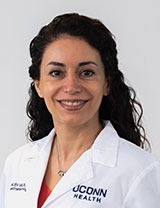 Thank you for your interest in the UConn Gastroenterology-Hepatology Fellowship Program! At UConn Health and at our affiliated training sites, you will learn and practice in clinical environments designed to meet the needs of the patients. You will work closely with gastroenterologists, hepatologists and other healthcare staff whose interests and expertise embrace all areas of digestive diseases.
Our program faculty and staff are dedicated to your education and career development. In your first year of fellowship, you will select a faculty mentor who can provide comprehensive educational advice, personal support and research guidance. You will meet with your mentor periodically throughout the program to review your progress and career goals and ensure that your educational needs are being met.
Fellows in our program start scoping on their first day of fellowship, and are provided with endoscopy blocks during every rotation so they can keep up with their skills and make good progress throughout the course of their training. On average, the fellows in our program perform more than 1,000 procedures by the time they graduate.
By utilizing four training sites, we are able to provide trainees with exposure to a diverse patient population and a varied clinical and research experience to develop skills needed in both clinical and academic careers. Fellows in our program are also given flexibility to develop their skills in multiple areas of gastroenterology, such as advanced endoscopy, hepatology, inflammatory bowel disease, esophageal disease and research.
Our fellows are provided with protected didactic time every week to stay up-to-date on the latest knowledge on treatments and advancements in the field of gastroenterology and hepatology. This also provides an opportunity for us to come together and connect as a group on a weekly basis. In addition, our program holds social gatherings each year such as an annual program well-being event.
I encourage you to explore our website and to contact us if you have any questions about our program.
Haleh Vaziri, M.D.
Gastroenterology-Hepatology Fellowship Program Director