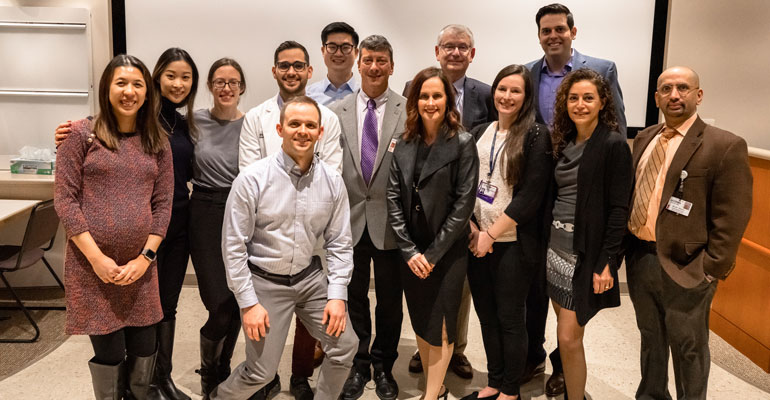 A variety of core conferences and didactic sessions are held on a weekly basis in the UConn Health Division of Gastroenterology and Hepatology, and fellows are given four hours of protected time to attend these educational conferences weekly. In addition, other didactics occur in the GI divisions at our affiliated sites, and fellows find topics of interest in conferences sponsored by other departments such as Internal Medicine and Surgery at all training sites. In addition, our fellows attend local, regional and national GI conferences and are encouraged to participate in a board review course during training.
Gastroenterology-Hepatology Grand Rounds
Presented by fellows or local, regional or national invited guest faculty lecturers.
GI Board Review
Fellows review Steinberg Board Review Course materials, including practice exam questions and answers, in a group study session with faculty.
Radiology Review & Pathology Review
Fellows review interesting clinical cases with expert faculty radiologists and pathologists.
Case Conference
Fellows review difficult or interesting clinical cases with expert guest faculty input.
Nutrition Conference
Fellows present a variety of topics related to basic and clinical nutrition and nutritional disorders.
Morbidity & Mortality Conference
Fellows and faculty identify cases that demonstrate morbidity or mortality and incorporate elements of sharing experiences to identify clinical situations and management decisions that led to adverse outcomes.
Apparent Cause Analysis Conference
Fellows identify patient safety events for group discussion and analysis as a quality improvement process.
Journal Club
Fellows and faculty review current or groundbreaking articles.
GI Guidelines Conference
Fellows review clinical guidelines from major gastroenterology, hepatology and endoscopy societies, including the AGA, ACG, AASLD and ASGE.
ACG & DDW Update Conferences
Fellows who attend the annual American College of Gastroenterology conference or the Digestive Disease Week conference present summaries of new information learned.
Motility Conference
Faculty and fellows present clinical updates on motility-related cases and topics.
Esophageal Conference
Faculty and fellows present topics related to the esophagus for group discussion.
IBD Conference
Faculty and fellows present clinical updates on IBD-related cases and topics.
Endoscopy Conference
Faculty and fellows review the ASGE's Gastrointestinal Endoscopy Self-Assessment Program (GESAP) modules and participate in exam-related question sessions on a variety of GI areas.
Professional Development Workshop
Fellows participate in sessions focused on professional development such as contract signing, practice management, life after fellowship and well-being.
Diversity Conference
Faculty and fellows review and discuss topics related to diversity, health disparities, social determinants of health, women's health and health policy.
Endoscopy In-Services
Fellows participate in hands-on training related to various equipment and materials encountered in the endoscopic setting.
Summer Series Conferences
Between the months of July and September, our fellows attend a series of introductory conferences focused on topics that help with on-call responsibilities as well as the prevention, evaluation and management of common clinical problems. Sessions on topics including IRB submissions, billing/coding and procedure logs also occur.
Multidisciplinary Conferences
Fellows and faculty participate in multidisciplinary conferences focused on common clinical cases/topics and share ideas regarding the management of complex patient cases. These conferences include a Combined Adult/Pediatric GI Conference (with faculty and fellows in the Connecticut Children's Medical Center Pediatric Gastroenterology Fellowship), a GI/Surgery Conference (with faculty and residents in the UConn General Surgery Residency), and multidisciplinary tumor boards and transplant conferences at Hartford Hospital & St. Francis Hospital.