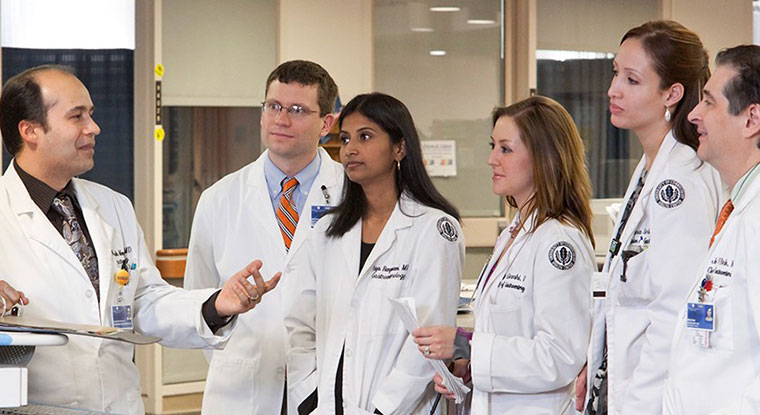 Our program's comprehensive clinical curriculum has been designed to meet the ACGME Program Requirements for Graduate Medical Education in Gastroenterology for patient care and procedural skills and the ABIM Certification and Board Policies for Gastroenterology. The curriculum provides a balanced training experience that prepares our fellows to achieve competence in the 13 GI Entrustable Professional Activities (EPAs). Electives in focused areas of GI such as motility or advanced procedures are also available.
In addition to hands-on clinical rotations, our educational program includes didactic instruction in weekly, half-day long conference sessions. Fellows are given protected time to participate in these sessions which include Gastroenterology/Hepatology Grand Rounds, clinical case conferences, journal clubs, board review conferences, and M&M conferences.
Our fellows are provided with dedicated research time during their two blocks of research/outpatient rotations in their second year of training, and they also participate in scholarly activities during clinical rotations throughout their time in our program. Research projects cover a broad range of areas including clinical research, patient safety, and quality improvement.
Each fellow selects a faculty mentor that they meet with regularly to learn research as well as academic skills; this provides an opportunity for fellows to explore specific areas of gastroenterology and hepatology and lays the groundwork for fellows who may be interested in pursuing academic careers.
A combination of clinical rotations and procedures, didactics, mentored research, and independent self-directed learning prepares our fellows to become expert consultants in our subspecialty.