Prostate cancer occurs in the prostate, a male reproductive gland located just under the bladder. Prostate cancer is the second most common cancer in men, but it also has one of the highest rates of successful treatment.
The symptoms of prostate cancer are similar to those of other prostate conditions such as blood in the urine or semen, difficulty urinating, frequent urination, pain during urination, or pain in the back or pelvis. If you are experiencing these symptoms, visit your doctor for a thorough examination.
Diagnosing prostate cancer commonly involves a few different tests including a full physical exam, blood work, and an ultrasound or an MRI. Once cancer is suspected, your doctor may order a biopsy of the tissue to look for cancer cells under the microscope.
Once a cancer diagnosis is made, your team of doctors will consider several factors such as the size and stage of the tumor and if it has spread before deciding which treatment option is right for you. Treatment plans can include any combination of hormone therapy, surgery, radiation therapy, or chemotherapy.
The outcomes of prostate cancer after treatment are very favorable if the cancer is caught before it has spread. Survival rates are higher than 90% if caught early. If you suspect you have prostate cancer, early diagnosis and treatment is the key to a favorable outcome.
Request an Appointment
To schedule an appointment or for more information, call: Toll-free: 800-579-7822 Local: 860-679-2100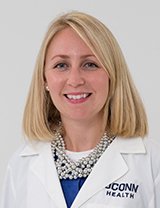 Ashley Aust, B.S.N., R.N.
Gynecologic Oncology and Genitourinary
Phone: 860-505-9104
Email: aust@uchc.edu
Fax: 860-676-3442