At the Neag Comprehensive Cancer Center, we provide state-of-the-art care for patients diagnosed with head and neck cancers. Head and neck cancers are cancers of the mouth, tongue, larynx, pharynx, nasal cavities, and salivary glands, and they affect tens of thousands of Americans every year.
Most cancers of the head and neck can be cured, especially if they are found early. Treatment varies according to the type, location, and extent of the cancer and often includes a combination of surgery, radiation therapy, or chemotherapy. UConn head and neck cancer specialists tailor treatment plans to their patients' needs, taking into account the type of cancer, the age of the individual, the degree to which the cancer has spread, and the overall health of the patient.
In addition, the program includes renowned cancer researchers who are leading programs directed to the prevention, diagnosis, and treatment of cancer.
The Head and Neck Cancer Program has a variety of dedicated medical professionals such as head and neck surgical oncologists, radiation oncologists, medical oncologists, nutritionists, and social workers. Specialists in neurologic surgery, prosthodontics, plastic surgery, oculoplastic surgery and dermatologic surgery are also readily available to assist, as necessary.
Request an Appointment
To schedule an appointment or for more information, call: Toll-free: 800-579-7822 Local: 860-679-2100
Head and Neck Surgery: including reconstruction of the oral cavity, pharyngeal or laryngeal cancer treatment, craniofacial resections for nasal and sinus cavities, neck dissection, and Mohs surgery for skin cancer
Radiation Therapy: including TomoTherapy with state-of-the-art Intensity Modulated Radiation Therapy (IMRT) and Image Guided Radiation Therapy (IGRT), brachytherapy (radiation implants), stereotactic radiosurgery and radiotherapy, and linear accelerator based radiotherapy
Chemotherapy: including neoadjuvant (induction) chemotherapy, concurrent chemotherapy and radiotherapy, clinical trials, and chemotherapy with and without radiotherapy
Plastic and Reconstructive Surgery: including local or regional pedicled flaps, and microvascular free tissue transfer (free flaps)
Rehabilitative Services: including speech and swallowing therapy, physical therapy, and occupational therapy
Medical Nutritional Therapy
Social Services
What to Expect During Your Medical Appointment
Patients of the head and neck cancer team are typically examined by all the various practitioners during their initial visit depending upon what kind of cancer is suspected. The team then discusses various treatment options and returns to the patient to convey its recommendations. This multidisciplinary approach greatly facilitates initial treatment planning and allows the patient and family to be presented with a choice of treatment options, if available. In addition to optimizing coordination of standard therapies, this approach also helps ensure patients access to the latest clinical trials and protocols. Reports summarizing findings and recommendations are sent quickly to referring physicians and dentists, as well as primary care physicians.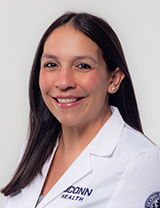 Tori-Lynn Pacelle, B.S.N., R.N.
Bile Duct, Brain, Colon, Endocrine Neoplasia, Gall Bladder, Head and Neck, Liver, Pancreatic, Rectal, Gastric
Phone: 860-466-9760
Email: pacelle@uchc.edu
Fax: 860-676-3434