UConn Health is the only site in Connecticut t to offer patients a revolutionary cancer treatment, the TomoTherapy® Hi-Art® treatment system.
TomoTherapy is an effective treatment for head and neck cancer, prostate cancer, gynecologic cancer and others. Its advanced system:
Customizes treatment delivery for each patient.
Acquires 3D images of tumors before every treatment.
Delivers precise targeting and attacking of cancer cells.
Minimizes radiation to healthy tissue.
"Precision and accuracy can make a big difference in treating some tumors that are adjacent to critical organs, such as the brain, head and neck, and prostate," said Robert Dowsett, M.D., chief of the Division of Radiation Oncology at UConn Health. The TomoTherapy system is housed within UConn Health's newly renovated, state-of-the-art Radiation Oncology center.
Before a patient receives TomoTherapy, a detailed three-dimensional image is taken of the area being treated. The physician then uses special software to "paint" on the image, identifying specific regions to receive radiation, and those areas to remain untouched.
Unlike previous technologies that use wide bands of radiation from a limited choice of directions, TomoTherapy uses rotating narrow "pencil" beams of radiation to treat the tumor from all sides, with variable intensity.
This treatment and technology was made possible by a generous donation from Connecticut natives Carole and Ray Neag, who have a long history of support to UConn Health and the university.
The Neags say that their interest in TomoTherapy stems from Mrs. Neag's radiation treatments, and their desire to put UConn Health at the forefront of cancer research and technology.
A Radiation Therapy that Revolves Around You
You don't have to travel to Boston, New York or even Hartford to find it. It's right here at the Neag Comprehensive Cancer Center.
Why TomoTherapy®?
The TomoTherapy® Hi-Art® treatment system gives clinicians everything they need to deliver the best radiation therapy possible.
The short story.
TomoTherapy treatment teams have the unique ability to:
Use daily CT imaging to guide treatment based on patient anatomy for that day, rather than for last week or last month
Customize delivery for each patient, surrounding the target with highly-precise radiation delivered from all angles
Minimize radiation exposure to healthy tissue
If necessary, adapt the treatment plan at any point
The rest of the story.
For more than 80 years, radiation therapy has been used in cancer care. Through the decades, the primary challenges have remained the same:
How can doctors be sure the beam is reaching the tumor as planned?
How can harm to healthy tissue around the tumor be minimized?
TomoTherapy meets these challenges with precision!
360º delivery. Conventional machine design allows radiation to be delivered from only a few directions. The Hi-Art treatment system's linear accelerator (linac) is mounted to a CT scanner-like ring gantry, which means TomoTherapy treatments can be delivered continuously, from all angles around the patient. More beam directions give physicians more control in how they plan treatments—and more assurance that dose will be confined to the tumor, reducing the risk of short- and long-term side effects.
Thousands of targeted beamlets. The Hi-Art treatment system uses a patented multi-leaf collimator (MLC) that divides the radiation beam into beamlets, all aimed at the tumor. Typically, tens of thousands of beamlets are used in a single TomoTherapy treatment session. Powerful software optimizes the contribution of each one to the total tumor dose, minimizing exposure to healthy tissue.
CTrue™ image guidance for every patient, every day™. Our unique ring gantry design facilitates a 360º delivery pattern. Perhaps even more importantly, it integrates true CT imaging that can be used on a daily basis to guide the accurate delivery of each treatment session. No other radiation therapy machine offers this seamless integration of image-guided and intensity-modulated radiation therapy. No other machine can.
How Is the Hi-Art® System Different?
A better way to deliver radiation therapy by targeting the tumor and sparing healthy tissue.
The Tomo® Process
The TomoTherapy® Hi-Art® system introduces a new, integrated way to deliver radiation treatments for cancer. The process makes it easier on clinicians and patients alike.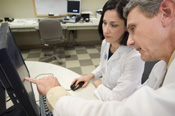 Planning. Before beginning a TomoTherapy treatment, the doctor uses 3D images from a combination of scanning technologies (such as CT and MRI) and special software to establish the precise contours for each treatment volume (tumor) and any regions at risk (sensitive organs or structures). The doctor then decides how much radiation the tumor should receive, as well as acceptable levels for surrounding structures. The Hi-Art treatment system calculates the appropriate pattern, position and intensity of the radiation beam to be delivered, to match the doctor's prescription as closely as possible.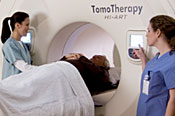 Patient positioning. As both a treatment delivery machine and a CT scanner, the Hi-Art system allows doctors to take a CT scan just before each treatment. With the scan, they can verify the position of the tumor and, if necessary, adjust the patient's position to help make sure radiation is directed right where it should be.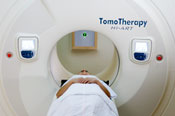 Continuous 360º treatment delivery. The Hi-Art treatment system delivers intensity-modulated radiation therapy (IMRT) with a helical (spiral) delivery pattern. Photon radiation is produced by a linear accelerator (or linac for short), which travels in multiple circles around the patient and moves in unison with a device called a multi-leaf collimator, or MLC. Meanwhile, the couch is also moving—guiding the patient slowly through the center of the ring. Each time the linac makes a loop around the patient it directs a unique, optimized set of radiation beamlets at the tumor. Quite literally, the Tomo process runs rings around cancer!
Questions and Answers
How long will the procedure take?
On the average, the full procedure takes approximately 20 minutes from when the patient enters the treatment room until they leave. This includes approximately five minutes for the daily CT to be performed and another five minutes for treatment to be delivered ("beam-on time"). The remaining time is used for patient set-up, positioning and image registration to ensure accuracy. The actual time will vary somewhat by patient.
Why perform a CT scan every day?
CTrue™ imaging, available only from the Hi-Art® system, allows clinicians to see what they plan to treat immediately prior to beginning each treatment fraction. This is important because anatomy can change from day to day. CTrue helps ensure that the tumor will not be under-dosed, and that radiation exposure to surrounding tissue will be minimized according to plan. In addition, daily CT scans can be used to adapt a treatment plan, if necessary.