CENTER FOR INDOOR ENVIRONMENTS AND HEALTH
News and Updates
National Healthy Schools Day Legislative Forum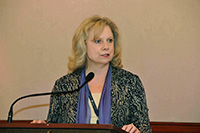 On April 30, 2013 Paula Schenck was invited to speak at the National Health Schools Day Legislative forum. Her talk is about 35 minutes into the program, which was taped by CT-N at the Legislative Office Building in Hartford.
Climate Change, Indoor Environments and Health
A 2010 report – Climate Change, Indoor Air Quality and Health, Prepared for U.S. Environmental Protection Agency Office of Radiation and Indoor Air authored by Paula Schenck, M.P.H., A. Karim Ahmed, Ph.D., Anne Bracker, M.P.H., C.I.H., and Robert DeBernardo, M.D., M.B.A., M.P.H., addresses green building programs with recommendations on prioritizing indoor environmental quality, public health, training needs of professional communities (including health providers) on buildings and health issues. The Institute of Medicine in recognizing that information on the effects of climate change on altering indoor environments with potential impacts to occupant health was lacking, published a report – Climate Change, The Indoor Environment, and Health in 2011. Dr. Eileen Storey was a member of the committee convened to address the concern.