CENTER FOR INDOOR ENVIRONMENTS AND HEALTH
Services

Problem Solving Services for Connecticut Schools, Offices and Homes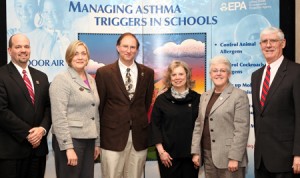 1. Overall Problem Assessment
Develop strategy for building/school indoor air quality program
Assess alternatives
Review and comment on remediation plans, specifically regarding impact to occupants and their health symptoms
Provide education and specialized training on indoor air quality and health
2. Health Assessment
Provide guidance on managing and tracking occupant symptom complaints
Review, organize and interpret health information available from health personnel
Interview building occupants – children and adults – about health symptoms and building-related patterns and trends
Conduct and evaluate office worker and teacher health surveys
Provide respiratory testing at the building (in conjunction with health surveys)
Consult community physicians on environmental aspects
Clinical Evaluation Services for individuals with concerns over building-related illness are available at UConn Health, Occupational and Environmental Clinic, 860-679-2893.
3. Building Assessment
Identify environmental factors and possible exposures that contribute to illness risk
Industrial hygiene visit and walk-through assessment
Review of industrial hygiene and engineering data
Develop reports with recommendations
4. Remediation Planning and Oversight
Recommend interventions
Provide guidance on protecting occupants from exposures during construction
Coordinate services from other specialized resources
5. Risk Communication
Develop risk communication strategy
Consult community physicians including pediatrics
Participate in educational forums for office/school communities
Coordinate communication among local health directors, State Departments of Public Health, and labor, environmental protection and education agencies (as appropriate)
Facilitate communications on health concerns among appropriate parties that may include: building owners and operators, employers, occupants, contractors, the public/communities, and school communities – district and school personnel, teachers, parents and students
6. Tools for Schools
Connecticut Indoor Air Quality Resource Team Trainings
Participate in Environmental Protection Agency's Indoor Air Quality Tool for Schools – School Health and Indoor Environments Leadership Development Summit Program
Supporting Teacher, Staff and Student Health in Our Schools
All school buildings should welcome each student and staff member with an indoor environment that works to allow and encourage the best results in teaching and learning. The Center for Indoor Environments and Health has actively worked to improve the environment where the school building's condition has contributed to occupants experiencing concerning health symptoms. Our knowledge and perspective on the problems school communities face results not only from our consulting experience directly with school districts, but our work with federal and state agencies.
Programs have included guidance on Environmental Protection Agency Indoor Air Quality Tools for Schools program, trainings customized for school nurses on illness and school environments, and guidance for clinicians on addressing health effects relating to mold/moisture in the indoor environment.
We were invited by the Connecticut Academy of Science and Engineering to participate in a critical review of indoor air pollution in schools requested by the Environment Committee of the Connecticut General Assembly that became a basis for the Indoor Air Quality in Schools Legislation passed in 2003.
Our experience is enriched by working closely with the physicians in the Division of Occupational and Environmental Medicine. When the clinician is concerned that the school environment is contributing to a patient's illness we review teachers' classrooms to identify possible environmental exposures. Then we provide guidance to the physician for his/her management of the patient, and suggest building interventions to school facility staff to improve the indoor environment. The adequacy of ventilation and the sources of biological and chemical air contaminants are key factors that contribute to the quality of indoor air.