Healthy Workplace Participatory Program Toolkit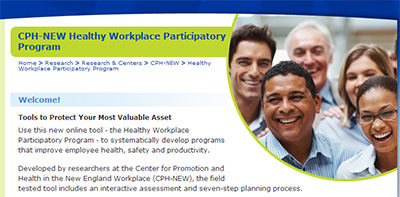 The Center for Promotion of Health in the New England Workplace (CPH-NEW) has released a new step-by-step online tool that helps organizations implement successful worksite health, safety and wellness programs.
Researchers at CPH-NEW designed and field-tested all of the materials and tools contained in the toolkit called the Healthy Workplace Participatory Program. The online tools engage employees at all levels in designing solutions necessary for today's workplace health, safety and wellness needs. At the heart of the program is a seven-step planning tool called IDEAS – Intervention Design and Analysis Scorecard. This scorecard approach helps front-line employees develop a comprehensive business case that analyzes costs, benefits, barriers and opportunities for each proposed health and safety or wellness solution. Worksheets and quick reference guides walk users through each step in the intervention planning process.
Webinars
NIOSH Webinar
Pilot Grant Webinar
To learn more, please visit CPH-NEW Healthy Workplace Participatory Program posted on the University of Massachusetts Lowell CPH-NEW web page.
Speakers Bureau
CPH-NEW Center of Excellence experts are available to assist organizations that are interested in promoting employee health.
Topics Include:
Obesity

Title
Understanding and Counteracting the Obesogenic Work Environment
Description
With more than one-third of U.S. adults being obese, many employers concentrate on weight management as a primary component of employee wellness programs. However, such programs often fail to recognize the physical and psychosocial aspects of work that might impact body weight, such as sedentary work, shift work, long shifts, job stress and other exposures. Focusing on these factors is critical for creating healthier work environments and lifestyles.

This session aims to explain how working conditions influence the health behaviors that contribute to obesity/overweight and how to create healthier work environments to support health.

Objectives

Understand pathways between work environment and obesity/overweight.
Describe strategies for addressing work-related risk factors for obesity/overweight.
Recognize one work-related risk factor to focus on in personal workplace.
Job Stress

Title
Beyond Breathing: Controlling Workplace Stressors as Part of a Comprehensive Employee Wellness Program
Description
Given the changes in workload trends in the U.S., this presentation demonstrates the links between stressful working conditions, health behaviors and health outcomes of the present workforce. An overview of the various types of job stressors, followed by a job characteristic model, demonstrates the ways in which the combination of these stressors can lead to poor health among workers. Examples of interventions aimed at organizational and individual change provide participants with a greater understanding of methods for addressing working conditions to reduce job stress.
Objectives

Understand the work environment characteristics contributing to job stress.
Explain the trajectory of illness as it relates to work-induced stressors.
Identify the process for incorporating the work environment into workplace wellness programs.
List three strategies for controlling and preventing work stressors.
Total Worker Health®

Title
What Is Total Worker Health®? How to Integrate Safety, Ergonomics and Wellness to Improve Performance in Your Organization
Description
When American workers become ill, their employers bear much of the cost. Chronic illness among employees forces employers to pay higher insurance premiums and hurts business by leading to diminished productivity and high turnover. In fact, according to data from the Kaiser/HRET survey of employee benefits, if employers were not responsible for their employees' medical costs, corporate profits would double.

Recognizing the importance of employee health, companies frequently offer worksite health promotion programs. However, such programs focus solely on changing individual behavior. We believe that this represents an incomplete approach, because health is shaped not only by personal choices, but also by the environment in which we live and work. The working environment – particularly work that is stressful, sedentary or takes place at the night – is known to contribute to obesity, cardiovascular disease, depression and other chronic illnesses. For this reason, any attempt to improve the long-term health of workers must address not only their lifestyle choices, but also the work organization that contributes to their disease.

This session presents employers with a path to promoting and protecting their employees' health holistically, by addressing both personal choice and work organization – an integrated approach known as Total Worker Health™. The rationale behind Total Worker Health™ will be discussed and examples provided. Finally, a tool will be suggested for use when building programs on the basis of Total Worker Health™.

Objectives

Recognize that poor health outcomes are a product of both environment and personal lifestyle.
Understand that Total Worker Health targets both environmental and personal risk factors.
List examples of workplace health outcomes that demonstrate the Total Worker Health approach.
Use the IDEAS Tool to apply the Total Worker Health approach to a real-world health and safety concern.
Ergonomics

Title
Combining Ergonomics and Wellness for Total Worker Health
Description
The health and safety of employees can be affected by ergonomic risk factors, personal /lifestyle risk factors, physical features, psychosocial dynamics and work organizational features. When developing a health promotion program, better health outcomes may be achieved by integrating conditions of the work environment and health behaviors of the employees.

This session provides attendees with an understanding of the Total Worker Health approach to improving employee wellness. With a focus on ergonomics, attendees will learn about the fundamental need to address both organizational and psychosocial issues when attempting to improve the work environment and health and safety of the employees. Various studies have found that the integration of workplace health promotion and occupational safety and health within the workplace can reduce disability and illness, reduce health care costs, and improve employee retention and productivity.

CPH-NEW offers a toolkit for the development of an integrated health and safety solution focusing on an employee engagement process (participatory process). By including the employee in the process, programs experience a greater buy-in from all levels of the organization, improved integration of employee needs, avoidance of unforeseen obstacles, a sharing of resources across departments and a reduction in competition for management attention.

Objectives

Explore ergonomic risk factors and interventions (workplace safety and health).
Explore the risk factors for poor health choice (workplace health promotion).
Understand the case for integration.
Use a toolkit for integrating and improving employee health.